2016-2017 MHSAA Volleyball Championships
2016 MHSAA VARSITY VOLLEYBALL CHAMPIONSHIPS

GOLD
SILVER
BRONZE
Girls' A
Boissevain Broncos
Rosenort School Redhawks
Elton Collegiate Sabres
Boys' A
Elton Collegiate Sabres
Rosenort School Redhawks
Rossburn Raiders
Girls' AA
Major Pratt
Green Valley Pirates
Niverville Panthers
Boys' AA
Carman Cougars Trojans
Steinbach Christian Flames
Collège régionale Gabrielle-Roy – Les Roys
Girls' AAA
College Louis-Riel Voyageurs
Dauphin RCSS Clippers
College St Norbert Collegiate Celtics
Boys' AAA
Neelin HS Spartans
Calvin Christian Collegiate Eagles
College Louis-Riel Voyageurs
Girls' AAAA
 

St Mary's Academy Flames

Vincent Massey Vikings
Boys' AAAA

 Lord Selkirk Royals

Miles Macdonnell Collegiate Buckeyes
Elton Collegiate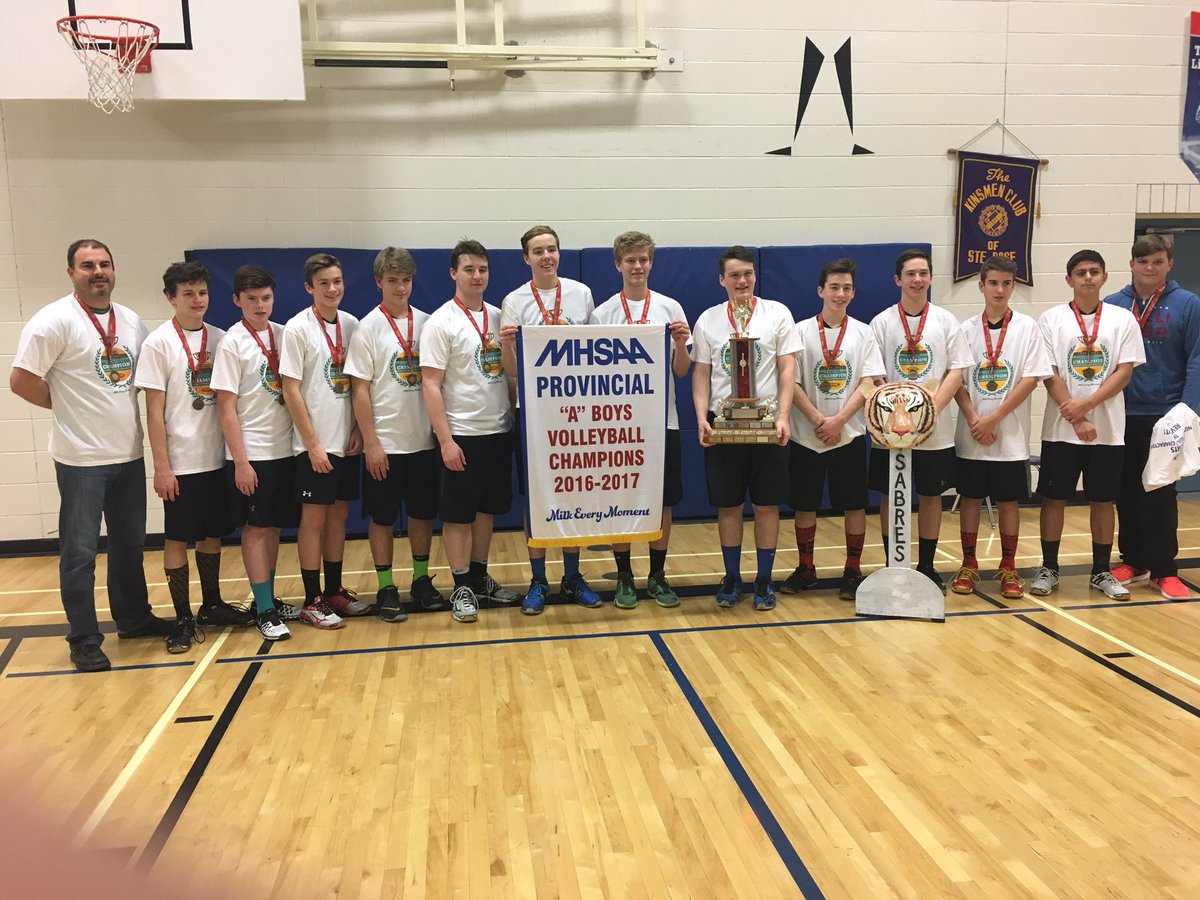 Winnepeg Free Press
Flames burn brightly in title match
St. Mary's Academy wins second consecutive v-ball championship
They're a team blessed with size, speed, pure talent and the calmness of knowing they'd been here before.
Monday night at the Investors Group Athletic Centre on the University of Manitoba campus, the St. Mary's Academy Flames brought all of those factors along with the same dominant play to win their second AAAA Girls' Volleyball Provincial Championship in as many years, beating Brandon's Vincent Massey Vikings.
'We were confident and we knew what we needed to do to win'– St. Mary's middle Laura Hill'What happened was the St. Mary's Flames happened'– Vincent Massey coach Michael DeGroot 
St. Mary's needed just three sets (25-15, 25-20, 25-14) to become the first repeat champion in varsity girls' volleyball in six years, capping off an impressive playoff run after not dropping a single set.
"We knew how to come into it from last year and we just came in how we came in last year. We were confident and we knew what we needed to do to win," said Flames middle Laura Hill, whose step-around went unmatched by Massey's defence, a performance that left her with a provincial all-star nod. "I think we had a game plan and we stuck to it. It helps that we've played a lot together over the years. We're very comfortable and we know each other really well."
The Flames lost just two games all season, both to the Westwood Collegiate Warriors who were dispatched by the Vikings in the semifinals, and placed first in two of three tournaments they entered.
"(I'm) extremely proud of the girls," Flame coach Christine Rewniak said. "We were able to come out, stay composed and follow the game plan. They came out and executed. Basically, I couldn't ask for any more from them."
Tears flooded the faces of some of the Vikings after the game. Ranked No. 5 heading into the playoffs, the team knocked off the MBCI Hawks before putting together a straight-set sweep of top-ranked Warriors to reach Monday's final.
It was a deep run from a team many wouldn't have expected to be in the championship game when the playoff bracket was released. Vikings coach Michael DeGroot, who had nothing but praise for his girls, offered an accurate assessment of what happened to his team on Monday night.
"What happened was the St. Mary's Flames happened," DeGroot said. "They're a really big, balanced team who are run, at the helm, by Julia Tays. She's amazing. And it doesn't stop there. They've got so much talent on that team. They were ready to play. They came out and stressed our service game and when you can't pass the ball directly to your setter, it really limits your offence."
Tays was named the provincials most valuable player after running St. Mary's high-octane offence throughout provincials.
"It was an all-around team effort," said Tays, who will head to Simon Fraser University in the fall on a volleyball scholarship. "We came out strong, not too many errors, which I think helped us in the first set for sure. We maintained the same level of play throughout."
Lord Selkirk's take-no-prisoners approach ends in boys' title
The bitter taste of a five-set defeat and an early exit in the quarter-final of last year's provincial volleyball championships didn't sit all that well with the Lord Selkirk Royals.
But a year later, and with that experience still heavily entrenched in their minds, the Royals left the Investors Group Athletic Centre redeemed Monday night with the AAAA Boys' Provincial Championship in a four-set defeat (25-17, 25-19, 22-25, 25-8) of the Miles Macdonell Buckeyes.
"We were pretty upset at the end of the year last year, we had better hopes of having a better season last year and we got doused pretty quick," said Royals head coach Jeff Scarcello. "We were in a bit of shock and we didn't know what to do."
Of course, this wouldn't be a story if they didn't figure it out. A year under the mantra "Practise hard, play hard" proved its worth, as did a team that bought into a plan to go two steps farther this season.
"It made me and my fellow seniors want to train that much harder," said outside hitter Owen Schwartz. "We just wanted to work that much harder and learn that much more. The kids in Grade 11 (this year) won (the junior varsity title) last year. They know what it takes and know how to win. That combined, it was tough to stop."
 Schwartz, named the most valuable player in the provincial tournament, set down kill after kill in the fourth set, putting his team on his back and guiding them to their second championship in four years.
"I've never had a finish like that," Schwartz said.
Schwartz saved his best for last.
"I have (seen him take over a game, but) not like that," said Scarcello. "You always knew he had it in him, but that was something special. In a moment like that, the spotlight is on him that big. That's a special performance."
Scarcello said the Buckeyes gave his squad headaches over the course of the season, and he knew they had to be prepared after the Buckeyes defeated the Dakota Lancers in the semifinal.
The Buckeyes just weren't able to replicate it on Monday.
"They've improved. They peaked again," Buckeyes coach Tim Au said of the Royals. "They were a strong team all season but they got even stronger at the end, for sure."
scott.billeck@freepress.mb.caTwitter: @scottbilleck