2016 Yukon Basketball Championships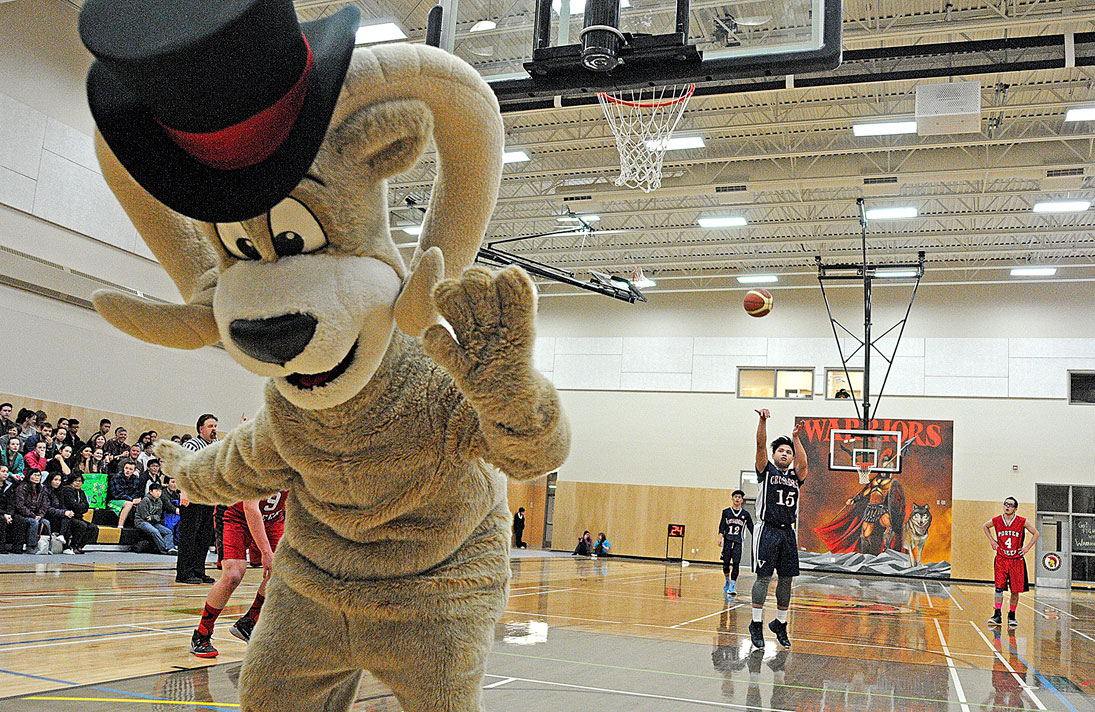 SHAKIN' HIS TAILFEATHERS – Porter Creek Rams mascot 'Rammy' attempts to distract Vanier Crusaders player Kyle Rubio during a foul shot attempt.
Crusaders, Warriors earn senior basketball titles
The Vanier Crusaders continued their senior boys basketball dynasty last night, crushing the Porter Creek Rams 73-53 in the championship final.
The Vanier Crusaders continued their senior boys basketball dynasty last night, crushing the Porter Creek Rams 73-53 in the championship final.
The senior basketball games were held in the brand-new gymnasium at F.H. Collins Secondary School.
Led offensively and defensively by tournament MVP R.J. Siosan, the Crusaders jumped out to an early lead that they never relinquished en route to their fifth straight title.
"This is huge for us," the 18-year-old Grade 12 student said post-game. "Everybody stepped up this game and our defence was big. Everybody did their job and hustled hard."
Siosan poured in 23 points from the guard position – many coming after defensive steals – en route to the win.
Teammate Dave Mindanao chipped in 18 and was subsequently named to the tournament all-star team.
Point guard Chris Nerysoo led the Rams with 12 points.
Other all-stars were Vanier's Ian News, F.H. Collins's Malcolm Muir, and Porter Creek duo Evan Milenk and Christian Ouimet.
Crusaders coach Sean McCarron said having one school win five straight titles in a sport is "pretty tremendous."
And he's not sure this is the end of the road for the Vanier dynasty.
"Most of these guys are back last year with a really strong group of Grade 9s and 10s, some of whom are going to play for us next year."
Tactically, the Crusaders were able to outmanoeuvre a taller Rams team.
"We have speed, which allows us to pressure further up the floor to create turnovers and get layups," McCarron said.
"We're not going to outrebound or outshoot them, but we can outrun them. We're not the biggest team. You don't find a lot of six-foot-six Filipino dudes."
The game also featured a hilarious battle between school mascots "Rammy" and "Leo the Lion." The two kept the hundreds of fans in attendance in stitches with their antics.
Meanwhile, the F.H. Collins Warriors dominated their Porter Creek rivals in the senior girls final, winning 61-37.
Led by two underage s
tars, the Warriors ran away with the contest.
Tournament MVP Jayden Demchuk led the way with 25 points, while fellow Grade 10 teammate Jetta Bilsky pocketed 18 en route to being named a tournament all-star.
Demchuk got the Warriors off to a strong start, scoring nine of her team's first 11 points.
The Rams were led by all-star Kennedy Cairns-Locke's 15 points.
Bilsky, 15, said the team's success stemmed from good, old-fashioned hard work.
"We were always in the gym," she said. "We pushed each other to work hard and made each other better on the court."
Added coach Ann Jirousek: "This team believed in themselves. They were highly skilled and worked hard, but they also liked being together as a team."
Grade 11 Warriors guard Dannica Nelson was also named to the tournament all-star team, as were Porter Creek's Emily Mervyn and Vanier's Blanche Pagobo.
The senior finals came on the heels of tournament action last weekend that determined the junior high and Grade 8 champs.
Porter Creek won the junior boys title – 52-45 over Vanier – while the Vanier junior girls edged F.H. Collins 51-50 in the championship game.
Grade 8 victors were the F.H. Collins boys and Vanier girls.