2017 SHSAA Curling Championship
2017 SHSAA CURLING CHAMPIONSHIP

BOYS CURLING
GIRLS CURLING
MIXED CURLING
GOLD
Carlyle's Gordon F. Kells High School
Holy Cross (Saskatoon)
Peacock Collegiate (Moose Jaw)
SILVER
Spiritwood
Esterhazy
Rosthern
BRONZE
St Joseph (Saskatoon)
Carduff
Rosetown
SPORTSMANSHIP
 Assiniboia CHS
 Johnson Collegiate
Boys' Curling Champions: Carlyle Carlyle's Gordon F. Kells High School
Girls' Curling Champions: Holy Cross, Saskatoon
Mixed Champions: A E Peacock
Mixed Sportsmanship Award: Johnson Collegiate (Regina)
Boys Sportsmanship Award: Assiniboia CHS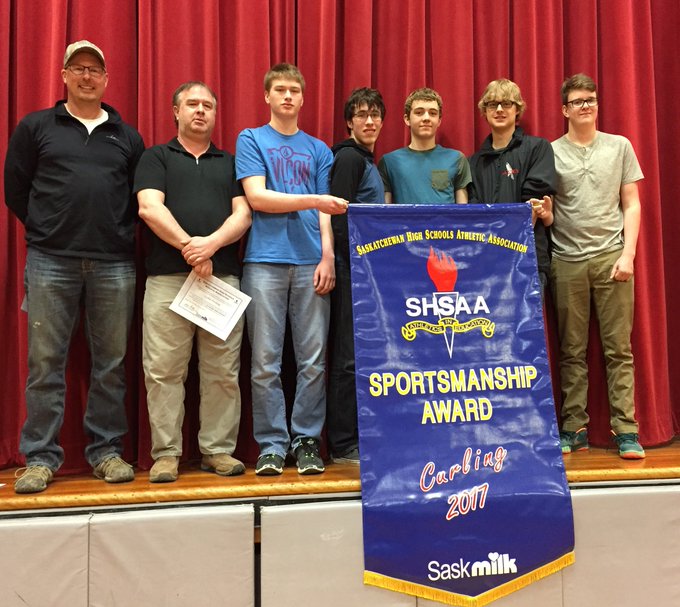 ---
GFK's Senior Boys Capture Curling's Top Title
The Senior Boys Curling Team from Carlyle's Gordon F. Kells High School became Saskatchewan's provincial curling champions, Saturday, March 11 in Assiniboia. Skip Lane Newell, third Zach Romaniuk, second Ethan Newell, lead Jace Fischer and alternate Brayden Hill- led by coach Brian Romaniuk- captured the Saskatchewan's top high school curling title in Assiniboia, competing against teams from Regina, Saskatoon, Yorkton, Tisdale, Assiniboia, Carrot River and Spiritwood.
The team from GFK curled three games on Friday, March 10- where they defeated Regina's Campbell Collegiate 11-7, closely followed by a 6-2 win over Spiritwood. Their last game of the day ended in an 8-4 loss to Tisdale. However, their draw to the button score was the best overall, which gave them the edge and put them in their first pool.
In Saturday's semi-finals, they defeated Saskatoon's St. Joseph's team 6-3, which put them in the gold-medal game against Spiritwood, which they won 9-2, clinching the provincial title.
Their coach, Brian Romaniuk says, "They were excellent. During Districts, Regionals and Provincials, they only lost two games. Every time they started to struggle, they picked themselves up and came back strong. It's definitely gratifying; the boys made me very proud and their hard work definitely paid off."
GFK principal Maurice Saltel agrees, adding: This is what makes this such an amazing story: In high achool athletics, there's only one sport where the size of the school doesn't matter- and this is it."
"That's what makes this such an extraordinary achievement."
On their return from Assiniboia, the team was treated to an impromptu welcome home as teachers, family members and friends gathered at Carlyle's curling rink late Saturday night.
"I think that's when (winning) really hit home for me," says skip Lane Newell. "Walking into the curling rink and seeing all of those people."
"I think I speak for everyone when I say it hasn't sunk in at all yet," says Brayden Hill, the team's alternate. "And I wasn't expecting the welcome we got- none of us were. But once I saw all of those cars at the rink late Saturday night, I realized that something was up."
"(The welcome) was awesome," adds lead Jace Fischer. "It really hit home then. All of those people- the whole top of the curling rink was full. Walking into that building, that's when it really started to hit me."
"It was our first full year curling together as a team," says second Ethan Newell. "This year, we practiced lots; we practiced together and our coach helped us out a lot. I thought we had a pretty good chance at Provincials, especially when we won the skills night on Thursday."
Third Zach Romaniuk agrees. "I still kind of believed we could win, but not at first. What stood out for me was the Thursday night before (Saturday's)  Provincials. At practice, we out-shot everyone else. That really made me think we had a chance."
"After the first two wins, we really started clicking," says Lane Newell. "After the third game…We kind of had a bad game against Tisdale, we screwed up and lost."
"Then the next day we had a team meeting and decided it didn't look so bad," added Lane. "We decided that even in our school, we've never won a banner for curling. So even if we just take home a silver, we'd still take home a banner for our school. But it turned out to be better than that."
Throughout the season, the team of five curlers has come together- and persevered on the path to provincials.
"Brayden (Hill) really stepped up during Regionals, as our alternate," says Ethan Newell. "I fell on the ice and my knee was in a brace and he really came through for our team."
"Basically, we've known each other and we're friends in curling and outside curling," Ethan continues. "Our coach has coached us all the way through. This year, we practiced real good and worked as a team."
"We're really good friends and we gell really well together."
Hill says, "Ethan was injured and I stepped up. That's what you do when you're on a team. Because I'm in Cadets, I can't practice with them every practice, but we're still a team."
"In Saskatoon, we were a very different team," adds Hill. "We've learned a lot this year and (Brian Romaniuk) is an amazing coach. And in recent months, he's also been coaching the juniors. But after that, he was working with us constantly."
Skip Lane Newell says of winning a provincial title: "It feels great- unbelievable. We just did what we had to do and what's really great is that we won against smaller schools with 200 kids or so and schools with 1,600 students."
Fischer says, "On behalf of all of us, we'd like to thank all of the people who supported us through the season and everyone who came out to the curling rink in Carlyle to welcome us home."
"We're a young team," adds Lane. "Two of us are in grade 11 and three of us are in grade 10. We were the youngest team at Provincials and we'd like to go back next year, too- to win."
– See more at: http://www.carlyleobserver.com/sports/local-sports/gfk-s-senior-boys-capture-curling-s-top-title-1.12685186#sthash.fa7dzXQ0.dpuf