2017 OFSAA Hockey Championships
OFSAA HOCKEY CHAMPIONSHIP – MARCH 21-24, 2017
GIRLS A/AA
Gold – ÉSC L'Escale (NCSSAA) over All Saints  (LOSSA)
Bronze – St Michael's SS (WOSSAA) over Kincardine DHS (CWOSSA)
BOYS' A/AA
GOLD – Belle River DHS (SWOSSAA) over St Mary's CHS (GHAC)
BRONZE – Holy Cross CSS (SOSSA) over Immaculata HS (NCSSAA)
It started as a quest for a medal and ended up with the first area gold in boys' high school hockey in more than a decade.
The No. 4-seeded Belle River Nobles scored late in regulation to force extra time and then won in a shootout to capture the OFSAA boys' A/AA hockey championship in Fort Frances.
"When we were told we were fourth, we had that moment where we thought we had a shot, but we took it one game at a time," said Nobles goalie Patty Timpany, whose team became the first area OFSAA boys hockey champ since Essex in 2004.
The Nobles scored with 77 seconds left in regulation and captain Cody McFarlane netted the only goal in the five-round shootout to give Belle River a 3-2 win over the No. 3-seed Hamilton St. Mary's Crusaders in the gold-medal final.
"It was pretty awesome," Nobles forward Colton O'Brien said.
It was a tournament where the Nobles played the role of comeback kids on an almost daily basis.
Belle River rallied with two goals in the third period to tie No. 6 Clinton St. Anne Eagles 2-2 and clinch first place in the team's pool with two wins and a tie.
"That was huge," said Dave Bracken, who coaches the Nobles along with Mike Smith. "We were still going to advance, but it just set us up on a little different path to the quarter-finals, semis and final. That was such a turning point."
Tied at 2-2, the Nobles scored two-unanswered goals in the third period to beat the No. 5-ranked Campbellford Flames in the quarter-finals to reach the medal round for the first time in school history in five attempts.
In the semis, the Nobles rallied from a one-goal deficit after the first period with single goals in the second period and third period to beat the No. 7-ranked St. Catharines Holy Cross Raiders 2-1.
"We're more of a comeback kind of team," the 15-year-old O'Brien said.
The club would need to do it again in the final. O'Brien scored to tie the game at 1-1 and then scored a power-play goal with 77 seconds left in regulation to tie the game at 2-2 and force overtime.
"They had a pretty good PK (penalty kill) and a good goalie in net," O'Brien said. "Ryan Nicholson fed me and I went to shoot and saw there was no lane. So, I stopped and stepped around and coach Smith said to go blocker side and just shot in that area."
Timpany did not allow a goal in the shootout and was mobbed by his teammates after thwarting Hamilton's final shooter.
"I just stop the puck and try to give our guys a chance to win," Timpany said. "It's easier said than done, but I just go out and do what I can.
"We got down, but we never got down on ourselves. I knew the guys could rally. It's still kind of surreal."
Girls' AAA 
GOLD – Medway (WOSSAA) over Lawrence Park (TDSSAA)
BRONZE – Brantford Collegiate (CWOSSA) over St Peters (COSSA)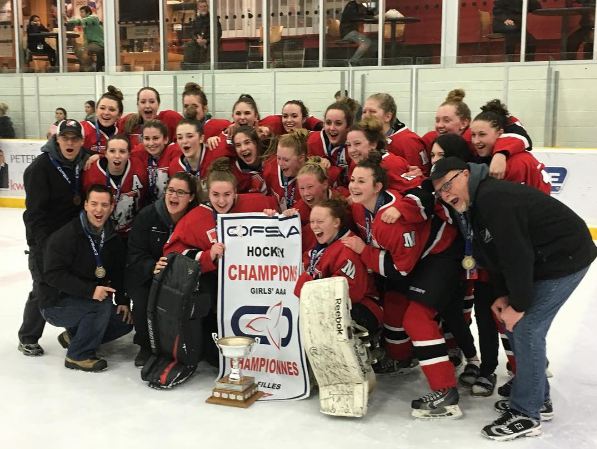 Revenge is a dish best served ice-cold.
A year after being knocked out by Lawrence Park in the OFSAA semifinal at Stratford, the Medway girls hockey team blasted the top-seeded Toronto high school 5-1 to claim a long-awaited AAA gold medal Friday in Port Credit.
The third-ranked Arva school upgraded their bronze medal from 2016 with a perfect 6-0 run through the tournament this week. They're the first London and area team to win the provincial title at the AAA level since Lucas in 2008.
Brantford finished in third spot.
Earlier Friday, Medway dumped Peterborough St. Peter's 5-1 in the semifinal with early goals from Maddie Melo, Melanie Clayton, Erin Ross, Kirsten Vandenheuval and Hannah Finlayson.
They won a dramatic quarterfinal 3-2 over Aurora St. Maximilian Kolbe Thursday with Melo providing the sudden-death overtime winner just 22 seconds left before a shootout.
Medway swept their three games in pool play, beating St. Thomas of Villanova, Napanee and Brooklin.
At the A/AA championship in Stratford, the hometown St. Michael Warriors saw their OFSAA reign end but kept their medal streak alive. The Warriors lost their bid for a third straight championship with a 3-2 overtime semifinal defeat to the L'Escale Cougars Friday morning, but the hometown club salvaged the bronze medal with a 4-1 victory a few hours later over the Kincardine Knights.
"We were all bummed at the start, but then we realized this is also a great accomplishment and we decided to come out strong as a team," Warriors captain Brooklyn MacLean said.
After claiming silver three years ago, this marks a fourth straight season with an OFSAA girls hockey medal for St. Mike's.
"Medaling four times in four years, that's pretty incredible," fourth-year Warrior Lexi Templeman said.
The Cougars, ranked No. 13 of 16 entries, won gold. The club from Rockland captured the championship with a 5-4 overtime win over the All Saints Raiders from Whitby, taking out top-seeded St. Mike's, the No. 2 Grimsby Eagles and No. 4 St. Theresa Titans on their march to the banner.
With files from Terry Bridge, Stratford Beacon Herald
BOYS' AAA
GOLD – St Martin (ROPSSAA) over St Teresa of Lisieux (YRAA)
BRONZE  – Malvern Collegiate (TDSSAA) over Denis Morris (SOSSA)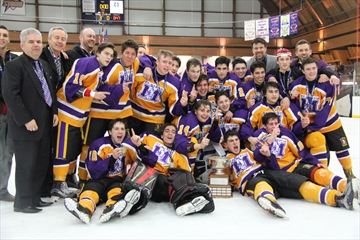 Mississauga News
They may not have started well, but the St. Martin Mustangs certainly finished well at the Ontario Federation of School Athletic Associations (OFSAA) boys' AAA hockey championships this week in Mississauga.
A few days after opening the tournament with a 5-1 loss to Richmond Hill's St. Theresa of Liseux, St. Martin won their next five games, capping off their run with a 3-0 win over the same team in Friday's championship game at Port Credit Arena.
"We have a young team, only three Grade 12s and most of our core is Grade 10s," said Mustangs coach Andrew Nahirniak.
"Maybe they weren't prepared for the big stage (in the first game) … but they grew up and played like men."
Anthony Aguanno scored the game-winning goal while Riley Sutherland scored twice, including one on an empty net with two minutes remaining.
Lucas Lorimer earned the shutout and helped the Mustangs survive a 5-on-3 penalty kill in the third period.
St. Martin has a lot of talented players, allowing them to play a run and gun style, but they had to pay more attention to detail on the defensive end, especially after leading scorer Philip Tomasino was ruled out of the line up due to injury following Thursday's quarter-final.
Sutherland, who was also part of the Mississauga Reps' OHL Cup championship team on Monday, said the Mustangs had to play more of a blue collar game to shut down St. Theresa.
"We had a great goaltender play today and a great set of coaches," he said.
"Players blocked shots and got the job done when we needed them to. It's just a great group of guys."
Our Lady of Mount Carmel also represented Mississauga at OFSAA, going 1-1-1 through the round-robin.
Both Mississauga teams boast a number of high-end AAA players who will likely go on to play in the OHL or other levels of junior hockey next year.
Nahirniak is excited to see how April's OHL Draft shapes up.
"I don't know where any of them are going to go, but I can tell any OHL coach that these are great young men and they'd be lucky to coach them."