ASAA 2017 Unified Bocce Tournament
Unified Bocce – Lethbridge
Unified Sports Bocce Tournament in Lethbridge in partnership with Alberta Schools' Athletic Association is presented by Winston Churchill High School. This is the first Unified Sport event in southern Alberta!
The bocce competition will have 20 students from Winston Churchill High School, Immanuel Christian High School and Magrath High School competing from 1 p.m. to 3 p.m.
@wchslethbridge hosts Unified Bocce Outdoor Festival – the first such event in @ASAA South Zone: http://www.lethsd.ab.ca/view.php?action=object&id=51201&stream=Homepage%20News …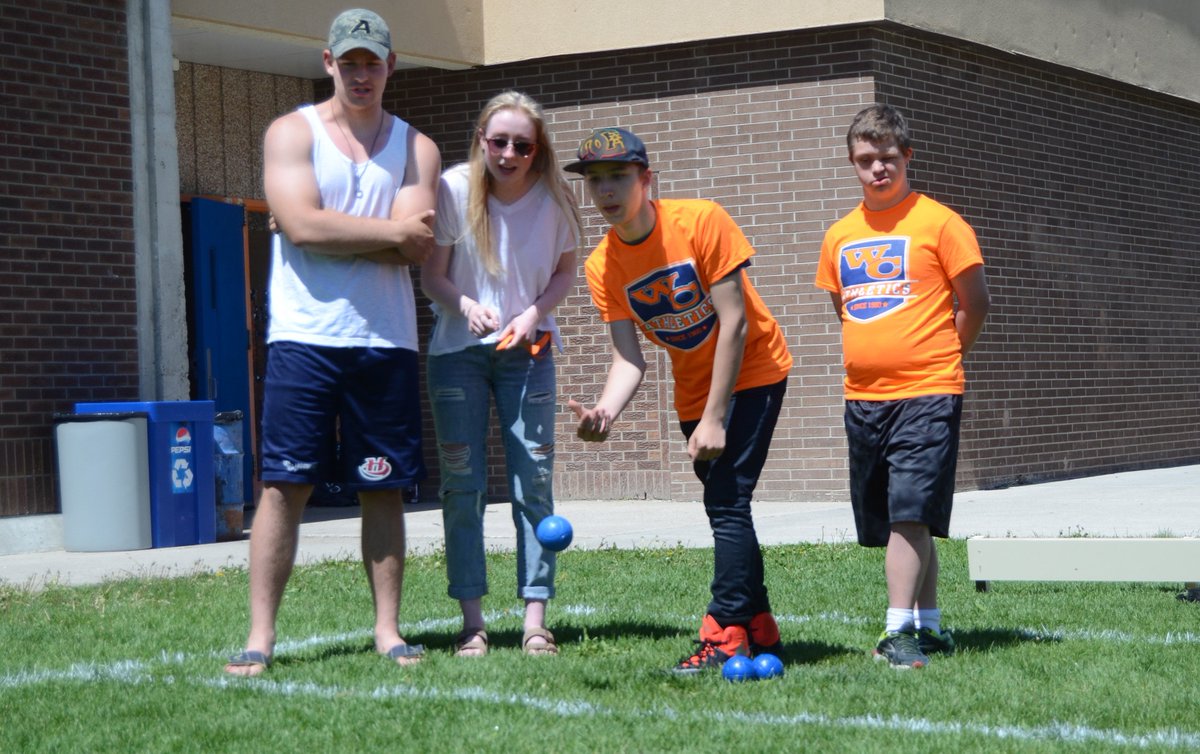 @ASAA @LethSD51 Great Day for the first Unified Sport Event in Southern AB! Churchill Rocks! @wchslethbridge
Winston Churchill High School hosts Unified Bocce Outdoor Festival
Friday, Winston Churchill High School hosted the first Alberta School Athletic Association Unified Sports event ever to be staged here in the South Zone.
Jonathan Dick, Tony Quan and Toby Boulet organized the 2017 WCHS Unified Bocce Tournament, which included participants from WCHS, Immanuel Christian High School and Magrath High School.
Five teams took to the field for the Special Olympics Unified Sports event, which aimed to bring athletes with and without intellectual disabilities together for competition and socialization. The program is intended to create an environment where meaningful competition can take place, as coaches must strive to create an atmosphere that's supportive, fun and competitive.
Katherine Dalusong, Marketing and Communications Manager for Special Olympics Alberta, attended the Lethbridge event, and spoke about the growth of Unified Sports.
"We're incredibly proud to be able to bring Unified Sport to Canada. With our partnership with Alberta Schools' Athletic Associations, we've been able to host eight Unified Sport events in Alberta."
Dalusong added she was pleased to see Lethbridge jump on board.
"The Winston Churchill High School Unified Bocce event will be our first Unified Sport event in southern Alberta, and we're delighted that three high schools are taking part in this event. We see great growth and potential to reach out to more schools who have embraced the full inclusive spirit of sport. For the 2016 Unified Bocce season, we saw 80 athletes and partners take part in the Unified Bocce competitions in Edmonton and Calgary."
For Dalusong, the United Sports events go a long way towards bringing people together to celebrate sport.
"We're looking forward to breaking stereotypes about people with intellectual disabilities and showing we can all play on the same team."
WCHS athletic director Toby Boulet added the event was a positive experience for participants.
"The student athletes from the three schools had a great time. There was lots of apprehension at the start, but by the end there was so many smiles."
Boulet is looking to make the Unified Bocce Tournament even bigger in 2018.
"We expect many more teams and schools, as this will become an annual event at Churchill to celebrate the many fantastic students in all of our schools. We have eight bocce sets and we only used two, so there is room to grow."
Date posted: May 29, 2017
---
Special Olympics program expansion brings bocce tournament to Edmonton
Students from Bev Facey High School compete in a Unified basketball competition run by Special Olympics Alberta and the Alberta Schools' Athletic Association last year. Unified Sports allow students with and without intellectual disabilities to compete on the same teams. The Alberta initiative has recently added bocce to the roster for the 2016-2017 school year.
High school sports are about to get a little more inclusive.
A program that has students with and without intellectual disabilities compete together on school sports teams is expanding to include two bocce tournaments in Alberta this October.
The Special Olympics initiative is widespread in the United States, where students in more than 4,300 middle and high schools participate.
Canada has been slower to embrace Unified Sports, though Ontario holds Unified competitions alongside the Special Olympics high school championships and Alberta has been experimenting with the program for about a year.
John Paton, the executive director of the Alberta Schools' Athletic Association, told the Examiner he had been hearing about Unified Sports for a number of years, but it wasn't until a presentation by the school athletic association in Washington State inspired him to bring the program to Alberta.
Alberta's high school program, which is funded by grants from the provincial and federal governments, launched last year with basketball and track and field competitions.
The basketball tournament drew 33 participants to an Edmonton event and 45 to one in Calgary.
Shanna Kurylo, the program co-ordinator who has been pitching Unified Sports to schools around the province for just over a year, said feedback from athletes and coaches "was absolutely incredible" at the events.
One assistant principal said his students were more excited to be there playing basketball than they were for their school trip the next month.
The idea behind the movement is to get students (those with disabilities and those without) interacting and building relationships. Athletes get to compete for their school and partners and coaches gain mentorship and leadership experience.
"What struck a chord with me was a comment from a teacher who said that the kids who didn't have intellectual disabilities were now walking down the hall and giving other kids high fives," Paton said.
As of Friday, eight teams had registered for the Edmonton bocce tournament, which is scheduled for Oct. 7 at the Edmonton East Soccer Centre, 12720 Victoria Trail.
The best Alberta bocce team will get the chance to travel to Ontario to participate in the Special Olympics Ontario High School Championships in June.
Kurylo said she's been working hard to expand the program and convince more schools to join. (Compared to traditional sports teams, the time commitment is low and teams typically practice at lunch to avoid conflicts over field usage).
But it can be tough to explain how rewarding it is without showing staff the smiles on kids' faces or the excitement in the air at a local championship.
"It's something that you really have to see and go experience to understand it," she said.
---