Athletics Canada Foundation Scholarships Are Awarded

Mark Bujnowski and Laura Dickinson winners of inaugural Athletics Canada Foundation scholarships
Mark Bujnowski from Mount Brydges, Ont., and Laura Dickinson of Miramichi, N.B., have been named winners of the Athletics Canada Foundation's inaugural high school scholarships. The scholarships are part of Athletics Canada's ongoing partnership with School Sport Canada (SSC), which also includes Fundamentals of Athletics Learning E-Modules available to high school coaches at no cost, and in 2017, www.AthleticsCanada.tv live webcasts of the ASAA, BC High School Sport and OFSAA Track and Field Championships.
Brett Miller and family, Jeannie (wife), Julien and Philippe (sons) and Alexia (daughter), spearheaded the effort which enabled the necessary funds to be raised for these scholarships, and they certainly didn't take the road less traveled. The Millers' challenge, to take on the Canadian Death Race. You can read about their journey here. "On behalf of the Athletics Canada Foundation, I want to thank the Millers for going the extra mile, 125km to be exact," said Rob Guy, Athletics Canada Chief Executive Officer. "The Millers are a great example of the positive impact alumni can have on ensuring the sport is in good hands for decades to come."
"Mark and Laura exemplify excellence in educational athletics; what an outstanding opportunity to recognize Canada's finest student athletes and an extraordinary commitment to growing the sport of Athletics in Canada" said John Paton, School Sport Canada President.
Mark Bujnowski currently attends Holy Cross Catholic Secondary School in Strathroy, Ont., and is registered to attend the University of Guelph in September to pursue a Bachelor of Science in Agriculture. He has already won national titles in the youth and junior age categories in the discus and shot put. His OFSAA career counts gold medals in the Junior Boys Discus, Senior Boys Discus and Senior Boys Shot Put. In 2016, he also competed at OFSAA Basketball. His on-field accomplishments extend to academics, having been on the Honour Roll in 2014-2015, 2015-2016 and 2016-2017, and in 2014-2015 he received the Manufacturing Engineering Award.
Laura Dickinson attends Miramichi Valley High School in Miramichi, N.B. Dickinson won gold at the 2016 Legion Youth Championships in the 2000-metres and 3000-metres steeplechase. She was high school provincial champion in 2014 through 2016 in the 1500-metres and 3000-metres. In 2013 through 2015 she won provincial high school championships in cross country running. Dickinson also competes in basketball and soccer. She has received the Miramichi Valley High School Academic Excellence Award in 2013, 2014, 2015 and 2016. A strong community activist, Dickinson has helped raise $1,500 for KidSport, teaches healthy eating classes, is part of her school's Graduation Committee, serves as Student Council Director of Promotions and organized Run for the Cure in 2016. Next year Laura will attend the University of Guelph.
The presentations will take place at the scholarship winners upcoming respective provincial high school Championships:
OFSAA Track and Field Championships (Mark Bujnowski)
Belleville, Ont.
June 1 – 3
NBIAA Track and Field Championships (Laura Dickinson)
Saint John, N.B.
June 3
– See more at: http://athletics.ca/mark-bujnowski-laura-dickinson-winners-inaugural-athletics-canada-foundation-scholarships/#sthash.5Ll5mI4N.dpuf
Funding the future; Athletics Canada
announces high school scholarships
Athletics Canada understands the importance of introducing and keeping youth involved in athletics. As a result, the Athletics Canada Foundation is pleased to announce funding for two scholarships for 2017 graduating high school student-athletes.
"We are committed to promoting excellence and nurturing the development of young athletes. With this mission in mind, we are proud to announce the creation of the Athletics Canada Foundation Scholarship," said Rob Guy, Chief Executive Officer. "Athletics Canada will continue fundraising efforts to ensure the Athletics Canada Foundation Scholarship becomes an annual opportunity for graduating student-athletes."
The $5,000 scholarships will be awarded to one male and one female multi-sport athlete with a passion for athletics who is graduating from high school and committed to continuing athletic and academic pursuits in Canada.
Update posted on 01 June 2017
Mark Bujnowski of Ontario and Laura Dickinson of New Brunswick are the winners of the inaugural Athletics Canada Foundation scholarships – See more HERE!
Way to go Laura…congratulations!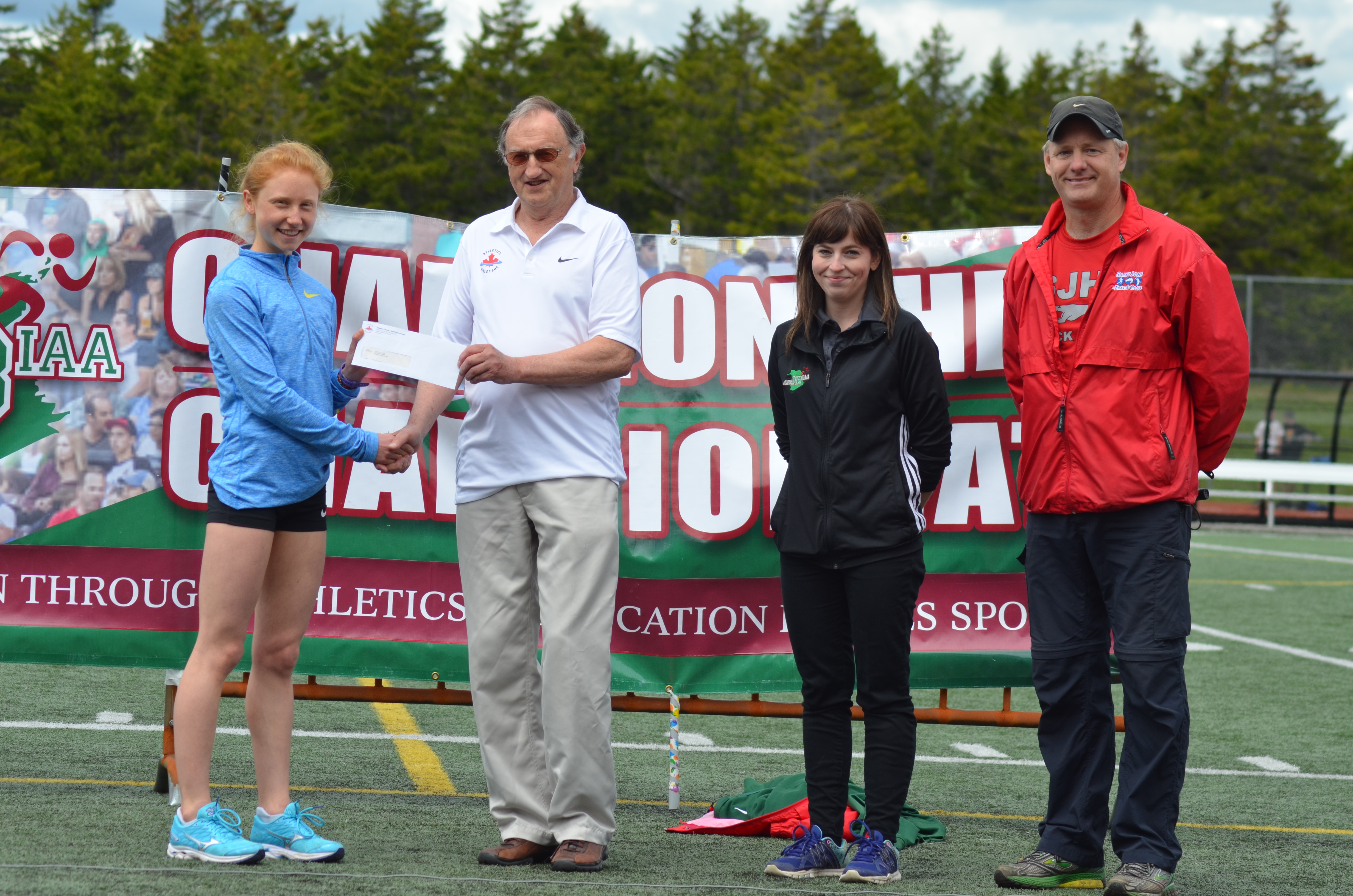 S