BCSS 2016 Girls' Field Hockey Championships
BCSS 2016  GIRLS' FIELD HOCKEY CHAMPIONSHIP

 
GOLD
SILVER
BROZE
AA
J Lloyd Crowe Secondary
Colingwood School
Seycove Secondary Community
AAA
Cowichan Secondary
 Kelowna Secondary
 Handsworth Secondary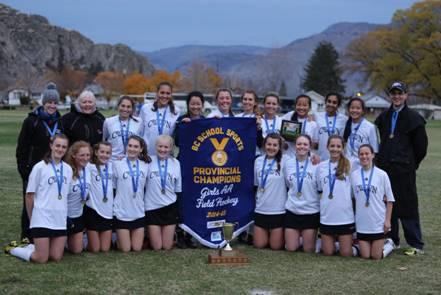 Cavs and Seyhawks hit podium at field hockey provincials – Collingwood keeps streak alive while Seycove scores medal for the first time
ANDY PREST / NORTH SHORE NEWS
NOVEMBER 8, 2016 02:37 PM
It was silver and bronze for North Shore teams at the AA provincial field hockey tournament, as one perennial powerhouse kept its reserved podium place while a newcomer grabbed a piece of hardware for the first time in school history.
The Collingwood Cavaliers, last year's champions, made it back to the final before losing to their Vancouver Island private school rivals Crofton House 1-0 in the championship game. The Seycove Seyhawks, meanwhile, made it to the final four for the second time in school history – last year was the first – but this year they took one more step, claiming bronze with a shootout win over St. Michaels University School in the third-place match.
"I think for them winning that bronze medal was honestly just as good as coming first," said Seycove's Melanie Reid, who coaches the team with Ray Yip. "There were lots of happy tears, they were very excited. It was also an emotional game being so many players' last games together at our high school."
The bronze-medal win capped off a mad rush to end the season for the Seyhawks, who only played four regular season games due to cancellations and then had to travel to Victoria for a three-way showdown for one wildcard provincial berth. In the wildcard tournament Seycove beat Little Flower Academy in a shootout and then topped Glenlyon Norfolk School 3-0 to earn a trip to the provincial championships running last week in Trail. At provincials the excitement continued as Seycove beat the host team, J.L. Crowe secondary, in a quarterfinal shootout before pushing powerful Crofton House to the limit in the semifinals, losing 2-1 on a goal scored after regulation time had expired in the second half.
"It was a bit of a heartbreaker, but I was happy that we played so well against the top team," said Reid, adding that the Seyhawks quickly refocused and came into the bronze medal game excited about claiming the team's first ever medal. "They were very fired up. … Every game they played they seemed to get better and better."
Seycove carried much of the play against SMUS although they couldn't find a breakthrough as the teams were deadlocked 0-0 heading into the shootout. With a medal on the line star goalie Emma Menchions was stellar once more as Seycove blasted their way to bronze. Grade 9 star Kate Rogers and Grade 12 Kendra Kerr led the way as the team's dedicated field hockey players, said Reid, while the rest of the team – mostly elite soccer and basketball players moonlighting as stick swingers – brought athleticism to the pitch.
The medal was a long time coming for a school, always better known for its soccer team.
"I played as a student there – we were terrible," said Reid with a laugh, speaking about her stint on the Seycove field hockey team in the mid-2000s. The Seyhawks nearly broke through last season when they finished fourth, and with most of the players back for one final shot this year they took the next step.
"We kind of had the goal coming in that we wanted to medal," said Reid. "We knew they came fourth (last year) and I think they kind of felt that they might have been lucky to end up fourth – you know, stars aligned and everything kind of worked out and they ended up fourth. This year it was just different in the fact that they were like, 'No, we are a good team, we deserve to be here and we want a medal.'"
As for the Cavaliers, they faced the same foes as Seycove in the final four with the same results. Collingwood took on SMUS in the semifinals and got all they could handle from Anna Mollenhauer, a player on the senior national team who scored all three goals in a 3-3 tie that sent the game to a shootout. Collingwood star goalkeeper Natalie Dalton got her revenge in the shootout, stopping Mollenhauer and all the other SMUS shooters as the Cavs took the shootout 3-0.
In the final Collingwood continued their long-running battle against Crofton House – the two teams met in last year's final with Collingwood claiming gold. The roles reversed this year, however, with Crofton House cracking in a goal with two minutes left to claim a 1-0 win.
"It feels like every year we face them. It was a great fight right to the end," said co-coach Ashleigh Gold. "We got chances, and they got chances. It was a pretty good battle."
Sarah Bruner, another co-coach along with Catherine Underwood, credited Dalton with keeping the score close.
"Natalie was absolutely phenomenal," she said. "It could have been six or seven nothing. Luckily she had her A-game on and held them until the last three minutes there."
While Dalton kept things close in the crease, the Cavaliers were led on attack by Grade 12 midfielder Madison Connell.
"She has this never-give-up attitude on the field, and because of that it increases the level for everybody," said Gold. "Nobody is going to give up when they are playing with Maddie because of the amount of heart and soul she leaves on the field."
In the end, however, it wasn't enough to topple Crofton House in the final, and the Cavaliers were left with silver. It wasn't the colour they were looking for, but it did continue their impressive podium streak at provincials: the Cavs have claimed a medal in nine straight provincial championships, including four golds, three silvers and two bronzes.
This year's silver stings, said Gold, but the players should be proud.
"The girls were obviously devastated to not come out with the win. They were heartbroken. But when we talked to the team at the end of game, we asked them if they gave everything and left everything on the field, and their answer was a resounding 'yes, we did.' That's all that we can ask from a team. We were really proud of how hard they played, how well they played – just the amount of heart and soul that they have for this sport and for this team."
 – See more at: http://www.nsnews.com/sports/cavs-and-seyhawks-hit-podium-at-field-hockey-provincials-1.2543697#sthash.6nCjNoU3.e8GmgSK9.dpuf
AAA Champions Cowichan Secondary