BCSS 2018 Aquatics Championship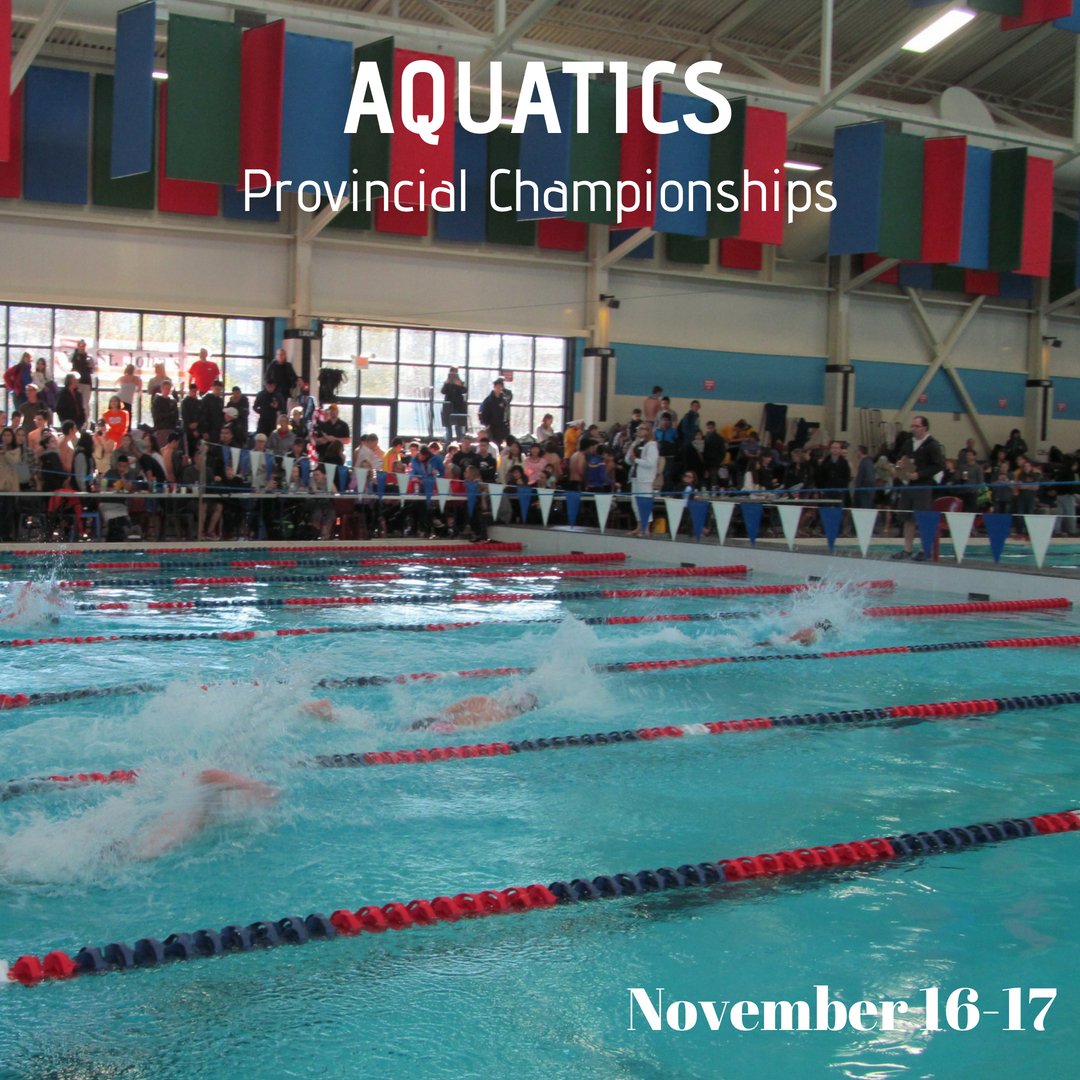 2018 Provincial Champions
A Girls: Aberdeen Hall Preparatory School
A Boys: Meadowridge School
AA Girls: West Point Grey Academy
AA Boys: West Point Grey Academy
AAA Girls: Penticton High School
AAA Boys: St. George's School

2018 Provincials Meet Results
Boys A
Boys and Girls AA
Girls AAA
---
Claremont Swim Team Finishes a Great Year at the Provincials
by Christine Knapp – Wednesday, 28 November 2018, 3:55 PM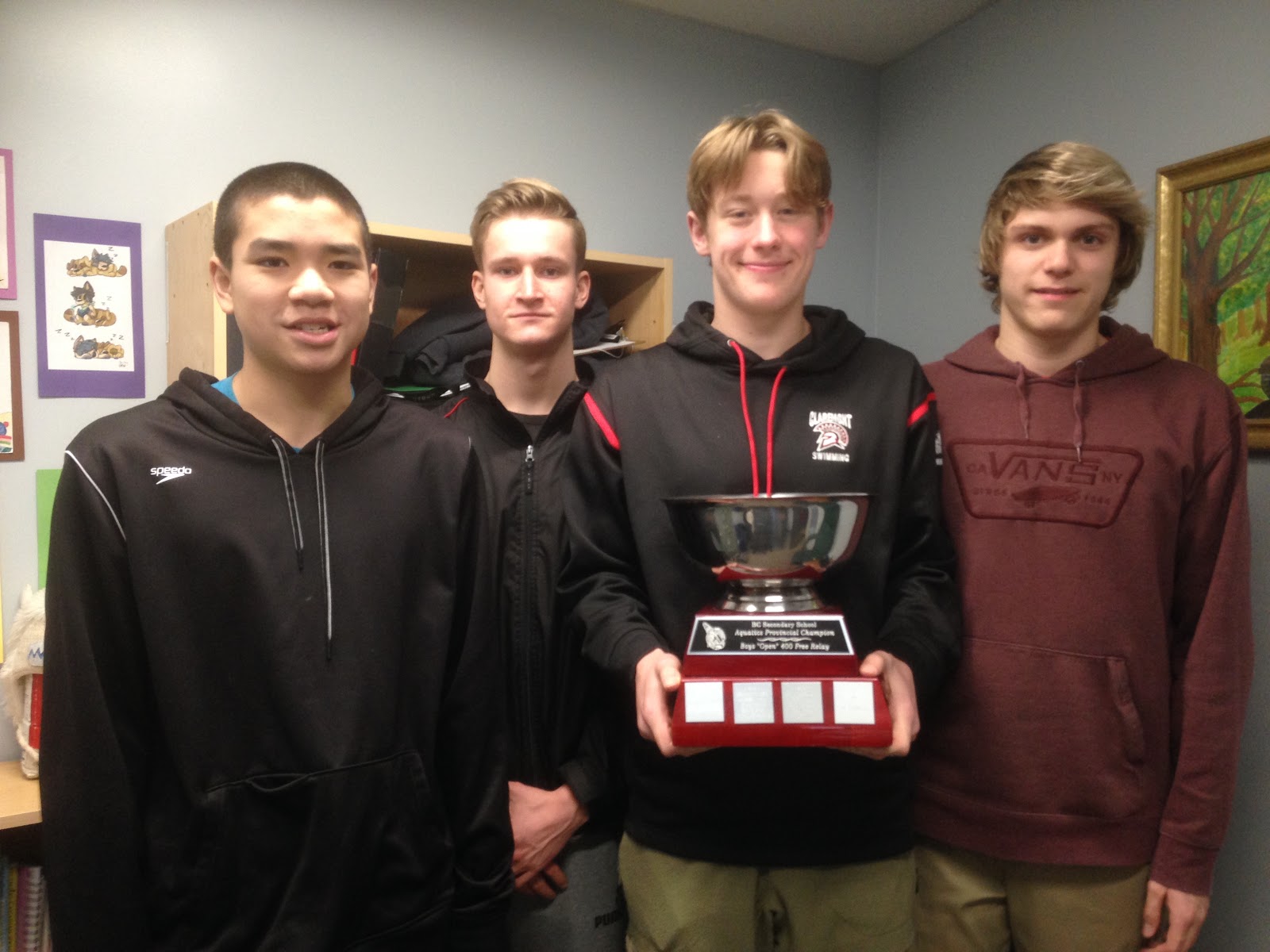 Last weekend, the Claremont Swim Team competed at the High School Provincials.  Every team member swam in the finals on Saturday and our 6 boys came 5th in the province against much larger teams.  Our 4 girls were 11th.
Highlights:
Chantel Jeffrey:  

Gold

in 100 Free, 100 Fly (with a

Provincial record

) and 200 IM.  She is still undefeated in High School competition!  

Keir Ogilvie:  

Silver

in 100 Fly.

Sam Beyak:  

Bronze

in 50 Free.
And the swim of the meet:
Sam Beyak, Marcus Mak, Matt Clavelle and Keir Ogilvie

GOLD

in the 4×100 Free Boys Open Relay.  They got a really big trophy!
Matt Clavelle came home with a $250 Bursary from BC School Swimming.
Please join me in congratulating all the swimmers on a fantastic season.
Senior Swim Team Earns 
BC School Sport Boys 'A' Provincial Banner
The journey towards Swimming Provincials started before the school year even began, when senior students Tim and Matthew worked together to propose a high school swim team.
They went through all the proper procedures to get things started, and put in a lot of work before the season could even begin. In September, they achieved their goal, and Meadowridge's first-ever High School Swim Team was established.
The team had just under two months until the Fraser Valley Championships in Surrey… a meet that is the only way to get to provincials! As prepared as the team was, luck was not on their side: the meet was cut short due to a power outage and was rescheduled for early November. From this, our small team got even smaller, as qualifying for provincials was that much harder.
Thankfully, due to a lot of practice and dedication, our swimmers fared well in the rescheduled meet. Tim did exceptionally well, taking first in all four of his events. Matthew also did extremely well, qualifying for all four of his events. Both swimmers entered the maximum number of events allowed, and they did so with a strategy in mind. The two swimmers promised me that this was the way to win a provincial banner.
Over the weekend, Tim and Matthew headed to the Provincials and swam with all their might against some of the best swimmers from not just the province, but the country. In every preliminary heat on Friday, the two swimmers qualified for the finals on Saturday. Tim and Matthew swam eight final events over the course of six hours on Saturday. Tim earned a Silver medal in the 50-metre Free with a time of 24.11 seconds. (I've seen sharks that weren't as fast!) Matthew made the 'A' finals in both the 100-metre Fly and 50-metre Free. (Amazing!) In all eight events, the Meadowridge Gryphons earned points.
By the weekend's end, we learned we'd be taking the BC School Sport Boys 'A' Provincials Banner home to Meadowridge! It was amazing to hear our school's name called out over the PA system and to see the smiles on our swimmers, parents, and my own face.
Congratulations to our students that were a part of the Meadowridge Swim team: Tim T (Grade 11), Matthew A (Grade 11), Hannah B (Grade 10), Titus L (Grade 10), Ray L (Grade 9), Daphne L (Grade 9) and Tsz Wun W (Grade 8).