The defending champions were unstoppable at this year's provincials and are best in B.C. again.
Chilliwack's Unity Christian Flames repeated as B.C. champs in single A senior girls' volleyball, defeating the Aberdeen Hall Gryphons in straight sets in Saturday night's final in Nanaimo. The Unity girls won all their matches at the tournament and didn't even drop a set.
The host Nanaimo Christian School Trail Blazers earned bronze, beating Kelowna Christian earlier in the evening, 25-21, 25-21.
The gym was loud for the final, mostly in support of underdog Aberdeen Hall, but the favourites began to dominate in the second and third sets, especially, to win 25-22, 25-14, 25-17.
"In the first set we were super nervous, but we got into the second set, we played our game, we controlled what we could do on our side and we worked together, we played for each other and that was most important," said Unity's Kirsten Kampman, tournament MVP. "Everybody stuck to what they could do … and everyone played well."
There were some lengthy rallies in which both teams refused to let the ball hit the court and Kampman said some of those efforts lifted her team's energy.
"[When] everyone is hustling, it shows that we're going for everything – no point is just given."
She said some of Unity's traits that allowed them to become champions were the trust they showed in one another and their willingness to work together.
"We've been together for several years now and we know each other and everybody knows what they do best and what they can contribute to the team. So I think that's how we work," Kampman said.
story continues below
View image on Twitter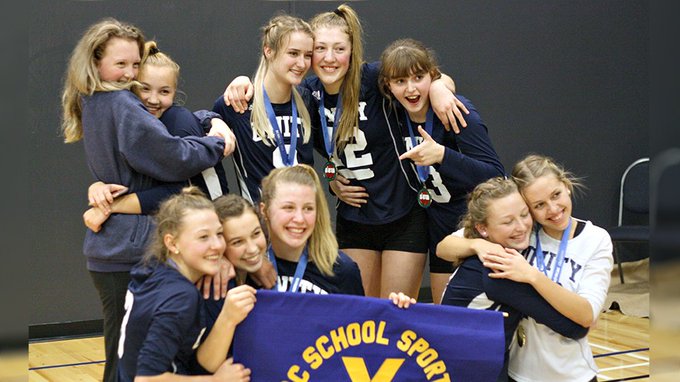 Unity Christian won the provincial championship for single-A senior girls' volleyball, beating Aberdeen Hall in straight sets in tonight's final. Nanaimo Christian placed third. Congratulations to all participating teams…
 As for the host Trail Blazers, they lost only one match at provincials, and that came against Unity in the semifinals.
Alex Tanaka, NCS coach, said there's nothing more a coach could ask than a provincial medal, and that wasn't even his team's primary goal.
"We came in wanting to do better, up our game [compared to] last year and we did it, much more than anticipated," he said. "A third place looks really good for us, so we are just over the moon with these results."
Tanaka said the tournament – the first-ever provincial championships at the brand-new NCS gym – was seamless.
"There were so many people involved in the organization of this tournament," he said. "Since last December we've been in the planning mode with parents, with coordinators, with sponsors, and when you have a great team, great things like this happen."