BCSS 2018 Ultimate Championship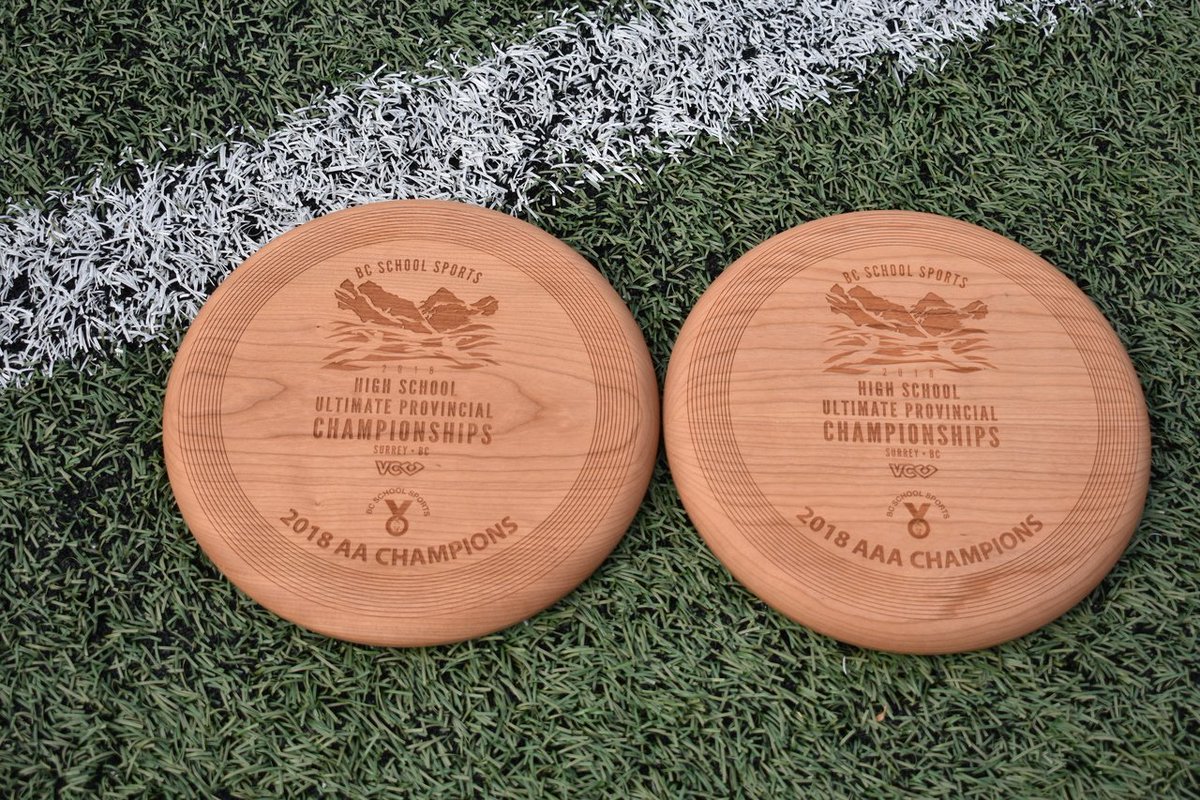 BCSS 2018 ULTIMATE CHAMPIONSHIPS

GOLD

SILVER

BRONZE

AA
R C Palmer Secondary School
Regent Christian Academy
St Thomas Moore Collegiate
AAA
Eric Hamber Secondary School
Queen Elizabeth Secondary School
Sir Winston Churchill Secondary
R C Palmer SS
Eric Hamber SS
---
Palmer soars to ultimate provincial title
City champion Griffins cap outstanding season with dominant performance in Surrey to be crowned B.C. "AA" champions
 Mark Booth / Richmond News   MAY 27, 2018 12:14 PM
The RC Palmer Griffins have capped a dominant season in style — capturing the B.C. High School Ultimate "AA" Championship at a sun-drench Newton Athletic Park on Friday afternoon.
The Griffins concluded an unbeaten run with a 13-1 victory over Surrey's Regent Christian in the gold medal game. They were the class of their 14-school tier and were never really tested over the two-day tournament.
Palmer opened with round-robin wins over Port Coquitlam's Arch Bishop Carney (13-5) and Vancouver's St. John's (13-3), before blanking Burnaby's Carver Christian (13-0) in the quarter-finals. It was another lopsided affair in the semi-finals — a 13-3 romp of St. Thomas More.
Being one of the smallest secondary schools in the city certainly worked in the Griffins' favour now that the ultimate championships are being run by B.C. School Sports for the very first time.
Palmer received a steady diet of "AAA" competition all season in the Richmond League and still claimed the city title with a victory over the Richmond Colts in the final earlier this month. In the post-season, the Griffins moved into their own "AA" tier, winning the Lower Mainland title in convincing fashion. B.C. School Sports used the same tiering for the provincials.
"We have always been up against 'AAA' teams and have to test our skills against schools that our way bigger than us. We have learned how to play with the intensity that is required against all 'AAA' teams and we just carried it on to this provincial tournament," said head coach Fred Gumangan.
It was evident in the early going of the gold medal game Palmer was simply at another level compared to its opponent. It's a reflection too of a program that features many players that go on to participate in summer junior leagues and even beyond to the national level. Grade 12 standout Ada Chang was recently named to Canada's U20 team.
Gumangan is a Palmer grad himself who played with about half of the current team. He has brought to the program is knowledge as a player at the adult league level and also attending coaching workshops.
"I just wanted to come back because in my last year I kind of wished we would have done a bit better," he continued. "I know lot of these kids have so much passion for the sport and I just wanted to give them some more to make them better players."
Gumangan puts a heavy emphasis on fitness and the Griffins have the ability to wear opponents down with their possession style of game.
"We try not to be too aggressive and take it slow. Our seniors play at a very mature level. They are all eager to learn new things and work to perfect the basic fundamentals. That's the same for every sport," added Gumangan.
The future looks bright for the Griffins too with a roster that features also includes players in Grades 11-to-9.
Their championship team features: Ada Chang, Joey Wong, Rebecca Sayson, Alyssa Ang, Kate Xu, Stella Zarei, Kelsha Wong, Rana Ghadymimahani, Joan Liu, Eric Kuo, Nelson Lee, Quentin Bautista, Ryan Lam, Steven Ang, Alvin Tsai, Meir Lin, Eric Chang, Liang Liu, Meidy Liu, Jeffery Han and Vince Tan.
Assistant coaches: Michael Kwan and Calvin Ki. Managers: Joseph Strong and Jeffrey Leung.