BCSS 2022 Jr Boys Basketball Championships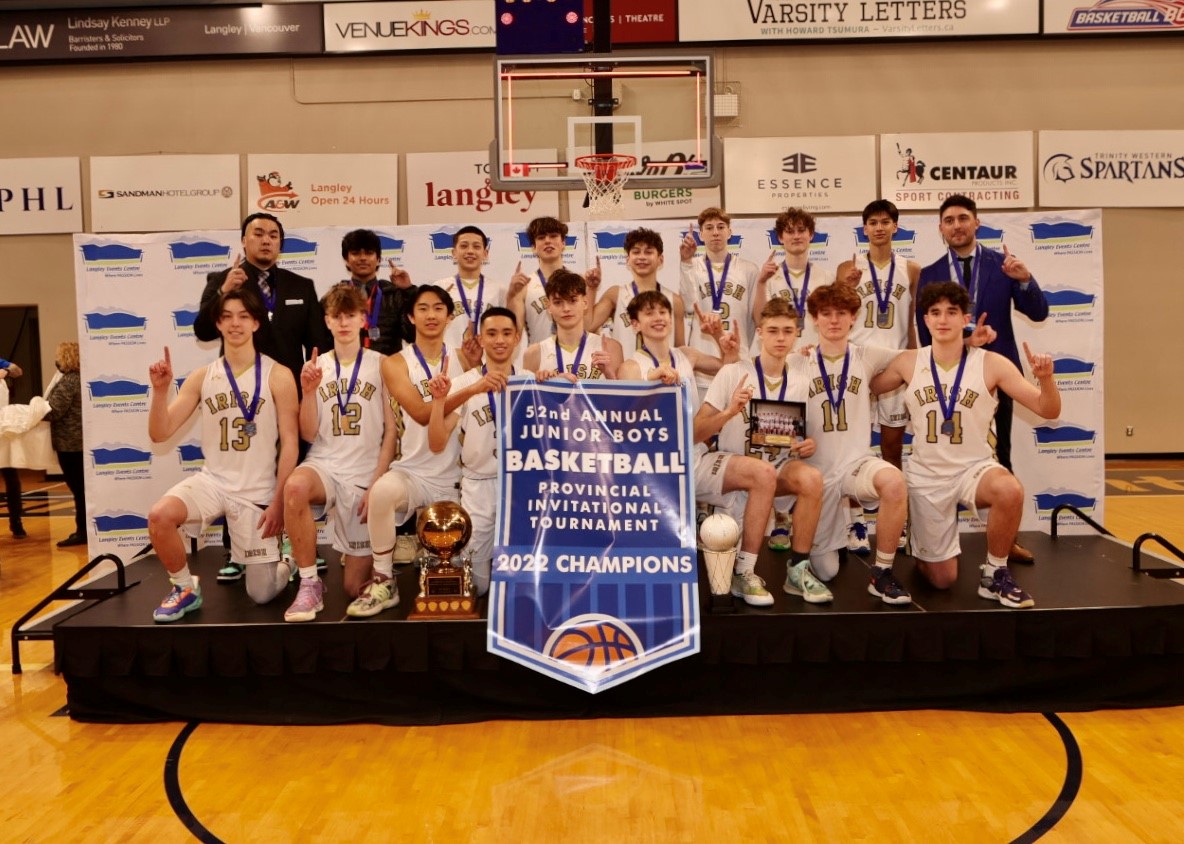 The Vancouver College Fighting Irish are the 2022 Junior Boys Basketball Provincial Invitational Tournament champions after a 51-45 win over the Burnaby South Rebels on March 1 at Langley Events Centre. Paul Yates Vancouver Sports Pictures
2022 BCSS Junior Basketball Championship Participants
| | |
| --- | --- |
| SEED | BOYS |
| 1 | Vancouver College |
| 2 | Fleetwood Park |
| 3 | Burnaby South |
| 4 | Lord Byng |
| 5 | Oak Bay |
| 6 | Mennonite Educational Institute |
| 7 | Kelowna |
| 8 | Semiahmoo |
| 9 | Claremont |
| 10 | Handworth |
| 11 | West Vancouver |
| 12 | Rick Hansen |
| 13 | Duchess Park |
| 14 | Tamanawis |
| 15 | Walnut Grove |
| 16 | Rutland |
| 17 | Nanaimo District |
| 18 | Lord Tweedsmuir |
| 19 | St Thomas More Collegiate |
| 20 | Brookswood |
| 21 | King George |
| 22 | Terry Fox |
| 23 | St Patrick |
| 24 | Sa-Hali |
| 25 | St Michaels University School |
| 26 | Prince George |
| 27 | Spectrum |
| 28 | Pacific Academy |
| 29 | Caledonia |
| 30 | R E Mountain |
| 31 | Summerland |
| 32 | Salmo |
A wire-to-wire victory capped off a perfect season for the Vancouver College Fighting Irish.
The Irish hit a three-pointer on their first possession and were off to the races, scoring the first nine points in what became a 51-45 win over the Burnaby South Rebels.
The two teams were playing in the championship final of the 2022 Junior Basketball Provincial Invitational Tournament on Tuesday night at Langley Events Centre. Thirty-two teams had tipped off on Saturday morning with the dream of hoisting the championship trophy but four days later, it was the No. 1 seeded Fighting Irish who fulfilled that goal.
"These guys, their history has been tough, they fell short a couple of times," said Vancouver College coach Ryan Shams, referencing the fact that his roster (which had just one Grade 9 among its 15 players) had lost the Grade 8 championship game as well as both the championship games in Grade 8 and junior football. "That made them even hungrier. They are just a bunch of ballers and competitors."
"We started last spring and had one goal the whole time and it was just to get the championship. They didn't take a day off; we took it one win at a time," he added,
"It feels good not to be 0-4 and finally get a title. Ever since we lost in Grade 8, we have been working hard," said Roko Maric, who scored 15 points – second on the team to teammate Aidan Lear's 16 points – and was named the Most Valuable Player.
Maric was a difference maker on both ends of the floor as he was a deterrent whenever Burnaby South tried to get into the line, altering shots with his six-foot-eight frame and cleaning up on both the offensive and defensive boards.
"I don't really care about the MVP, it is not about the individual award, I am just happy that we had two close games and pushed through and were victorious. It was a team win," he said.
The Rebels, who came in seeded third, cut the deficit to 19-17 in the second quarter but could get no closer as Vancouver College was able to maintain a multiple possession advantage for the rest of the game, leading by as many eight points before closing out the six-point victory.
"Even with a good start, in the timeout I said to the guys we know they are going to make a run, they are a great program, a well-coached team. We knew it was coming and just had to weather the storm," Shams said.
The lead was just four points at the half, but every time Burnaby South tried to make a run, the Irish were effective at limiting the damage with the Rebels never scoring more than five consecutive points.
"We were a bit sloppy in the first half, but we didn't let that get to our heads, we just played like how we were supposed to," Maric said.
It was the second matchup of the season between the two teams with Vancouver College prevailing both times on their way to the 33-0 season.
"We didn't expect to go undefeated, that is obviously a bonus. We just wanted to come home with that banner," Maric said.
"It is one game at a time for us, but obviously it is pretty legendary what we did. We took it one game at a time and knew we had a target on our back going in with an undefeated record," Shams said. "It (a title) has been a long time coming. We took no days off, one practice, one game at a time, and we just got it done."
The title was the first for Vancouver College since 2012 and their championship that season made it four titles in the past six years. They finished third in both 2018 and 2019 and fifth in 2020.
Lordrikk Sheed Gutierrez led the Rebels with 16 points.
Vancouver College's Vince Velasquez was named the Championship Player of the Game as well as the tournament's Best Defensive Player and a Second Team All-Star.
The First Team All-Stars consisted of Aiden Lear (Vancouver College), Roan Mendoza (Burnaby South), Lordrikk Sheed Gutierrez (Burnaby South), Jovin Sunner (St. Patrick) an Finnley Lillis (Oak Bay).
Joining Velasquez as Second Team All-Stars were Izaac Gonzalez (Burnaby South), Ryan Lester Garcia (St. Patrick), Toren Franklin (Oak Bay) and Izaec Oppal (Fleetwood Park). Camilo Libreros (St. Michaels University School), Logan Stewart (Brookswood), Calvin Kuzyk (West Vancouver), Kaizer Nystrom (Walnut Grove) and Jovan Kooner (Rick Hansen) were each Honourable Mentions.
And the Prince George Polars were presented with the Most Sportsmanlike Team Award.
The third place game required double overtime as Vancouver's St. Patrick Celtics hit a late three-pointer to tie the score at 55 before eventually winning 68-64 over Victoria's Oak Bay Bays.
Champions
Vancouver College Fighting Irish
Finalists
Burnaby South Rebels
Top 10 Teams
1. Vancouver College
2. Burnaby South
3. St. Patrick
4. Oak Bay
5. Fleetwood Park
6. St. Michaels University School
7. Brookswood
8. West Vancouver
9. Walnut Grove
10. Claremont
Most Valuable Player
Roko Maric, Vancouver College
Best Defensive Player
Vincent Velasquez, Vancouver College
Championship Player of the Game
Vincent Velasquez, Vancouver College
Most Sportsmanlike Team
Prince George Polars
First Team All-Stars
Aiden Lear, Vancouver College
Roan Mendoza, Burnaby South
Lordrikk Sheed Gutierrez, Burnaby South
Jovin Sunner, St. Patrick
Finnley Lillis, Oak Bay
Second Team All-Stars
Vincent Velasquez, Vancouver College
Izaac Gonzalez, Burnaby South
Ryan Lester Garcia, St. Patrick Celtics
Toren Franklin, Oak Bay
Izaec Oppal, Fleetwood Park
Honourable Mentions
Camilo Libreros, St. Michaels University School
Logan Stewart, Brookswood
Calvin Kuzyk, West Vancouver
Kaizer Nystrom, Walnut Grove
Jovan Kooner, Rick Hansen