BCSS 2023 Ski and Snowboard Championship
BCSS 2023 SNOWBOARDING AND SKIING TEAM CHAMPIONSHIP
| | | | |
| --- | --- | --- | --- |
| | GOLD | SILVER | BROZE |
| SNOWBOARDING BOYS GIANT SLALOM | Lake District Secondary School | Smithers Secondary School | Revelstoke Secondary West Point Grey Academy |
| SNOWBOARDING BOYS TERRAIN GS | Lake District Secondary School | Vancouver College | Smithers Secondary School |
| SNOWBOARDING BOYS OVERALL | Lake District Secondary School | Smithers Secondary School | Revelstoke Secondary |
| SNOWBOARDING GIRLS GIANT SLALOM | Lake District Secondary School Golden Secondary School | | Smithers Secondary School |
| SNOWBOARDING GIRLS TERRAIN GS | Nakusp Secondary School | Lake District Secondary School Smithers Secondary School | |
| SNOWBOARDING GIRLS OVERALL | Lake District Secondary School | Smithers Secondary School | Golden Secondary School |
| | | | |
| SKIING BOYS GIANT SLALOM | St George's School | Oak Bay Secondary School Correlieu Secondary | |
| SKIING BOYS TERRAIN GS | St George's School | Oak Bay Secondary School | Correlieu Secondary |
| SKIING BOYS OVERALL | St George's School | Oak Bay Secondary School | Correlieu Secondary |
| SKIING GIRLS GIANT SLALOM | York House School | Correlieu Secondary | Collingwood Secondary |
| SKIING GIRLS TERRAIN GS | York House School | Correlieu Secondary | Windsor Secondary |
| SKIING GIRLS OVERALL | York House School | Correlieu Secondary | Collingwood Secondary Windsor Secondary |
| | | | |
| COMBINED SNOWBOARDING | Lake District Secondary School | Smithers Secondary School | Oak Bay Secondary School |
| COMBINED SKIING | Correlieu Secondary | Windsor Secondary | Oak Bay Secondary School |
Correlieu Secondary School – Combined Skiing Champions
BCSS 2023 SNOWBOARDING AND SKIING INDIVIDUAL CHAMPIONSHIP
| | | | |
| --- | --- | --- | --- |
| | GOLD | SILVER | BROZE |
| SNOWBOARDING BOYS GIANT SLALOM | Nicolas Kautzky, NSS | Nicolas Way, WVSS | Terry Zhao, WPGA |
| SNOWBOARDING GIRLS GIANT SLALOM | Megan Fraser, SMSS | Laurie Wilson, LDSS | Devon Murphy, GSS |
| SNOWBOARDING BOYS TERRAIN GS | Jeffrey Reynolds, LDSS | Thomas Britton, SEY | Kieran Bestbier, VC |
| SNOWBOARDING GIRLS TERRAIN GS | Megan Fraser, SMSS | Laurie Wilson, LDSS | Devon Murphy, GSS |
| | | | |
| SKIING BOYS GIANT SLALOM | Andrew Forsgen, STG | Elliot Jarrett, CORR | Reed Kelly, RSS |
| SKIING GIRLS GIANT SLALOM | Nicole Webb, YHS | Thea Lutz, COLL | Maddie Wardle, YHS |
| SKIING BOYS TERRAIN GS | Andrew Forsgren, STG | Mark Shapovalov, MOSC | Elliot Jarret, CORR |
| SKIING GIRLS TERRAIN GS | Maddie Wardle, YHS | Boroka Peter, CORR | Tessa Wang, WIND |
School Codes:  COLL = Collingwood School; LDSS = Lake District Secondary School; MOSC = Moscrop Secondary School; NSS = Nakusp Secondary; OBSS = Oak Bay Secondary School; RSS = Revelstoke Secondary; SEY = Seycove Secondary Community; SMSS = Smithers Secondary School; STG = St George's School; VC = Vancouver College; WIND = Windsor Secondary School; WVSS = West Vancouver Secondary School; YHS = York House School
BREAKING NEWS!
YHS TIGERS 2023 ALPINE SKI PROVINCIAL CHAMPIONS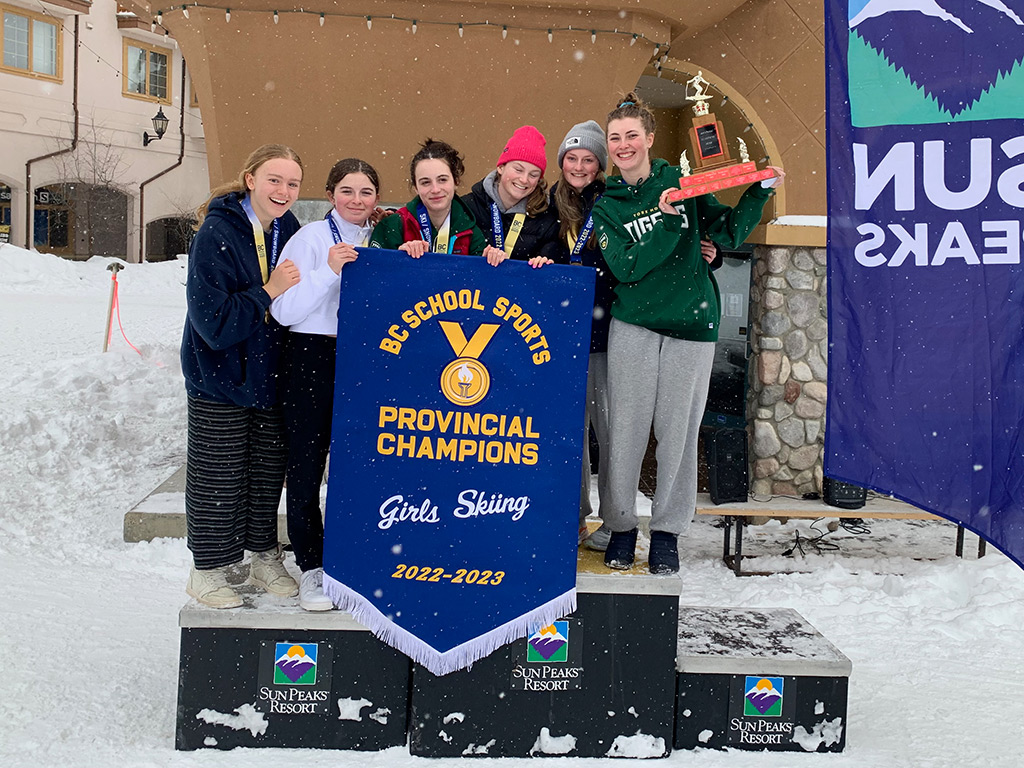 The defending provincial champions have repeated winning the 2023 Alpine Skiing BC Championship this week at Sun Peaks Resort. The Tigers young BC Championship Ski Team includes Grade 8 Sarah K.; two Grade 9s, Alexa F. and Isabelle Q.; two Grade 10s Nicole W. and Ruby F., and one Grade 11, Maddie W. Not a single skier graduates so pencil in the Tigers as favourites again in 2024! Our Snowboard Team is small and includes two Grade 12s Dylan P. and Ruby W., and Grade 9 Macy W.
On Monday, in the Ski GS race, Nicole W. won gold while Maddie W. took the bronze. All six YHS skiers placed in the top 23 in BC. On Tuesday, our Snowboarders raced the GS course. Dylan P., Ruby W., and Macy all raced well out of the total field of over 60 snowboarders. Lyra X. qualified for Canada Games and was unable to join the Tigers at Sun Peaks. We hope to continue to grow the snowboard team next season.
On Wednesday, the Terrain GS race took place and again, YHS owned the top of the podium with Maddie W. winning gold, Nicole W. placing 4th, Sarah K. placing 7th, and Alexa F, placing 8th. All six Tigers placed in the top 20. The top four finishers in each race score points for YHS while the others play a big role in placing ahead of other schools' top four skiers; thus helping the Tigers take home another title. It is a full team contribution.
Most schools have two or three top skiers but YHS has incredible depth. The depth extends to several very talented skiers who are not participating at BCs. The Tigers Ski Team includes approximately 30 students; only the top six form the team to compete at BCs. YHS has a smaller Snowboarding Team which we are hoping continues to grow next season.
This year, I attended the BCs and had the chance to see our skiers race. This is an impressive group who train hard, are courageous competitors, and have fun and support one another. I am very proud of these student-athletes.
A huge thank you to the team's committed coaches Ms. Matthews and Mr. Lum. They bring their knowledge and experience along with their fun and professionalism. The work done behind the scenes is intense and of course, race days are cold and long. The entire team supports one another and it was a joy to watch.
Thank you as well to the many parents who go above and beyond in supporting this team. The YHS Ski and Snowboard program was founded in 2006-07 behind the incredible support of a group of "ski parents". Over the years, new generations of ski parents have stepped in to help and this tradition continues. Thank you!
David Prissinotti, Senior Athletics Director