MHSAA 2018 Rural Soccer Championships
2018 MHSAA RURAL SOCCER CHAMPIONSHIP

GIRLS
BOYS
GOLD
Northlands Parkway Collegiate
Steinbach Regional Secondary School
SILVER
Stonewall
Garden Valley
BRONZE
Minnedosa Chancellor
Morden
Northlands Parkway Collegiate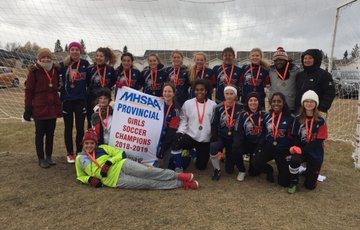 Steinbeck Regional SS
                                                                        All Stars

Male
Female
Vitali Penner
Garden Valley
Cassie Merault
Lorette
AaronDoerkson
Garden Valley
Callie Maquire
Minnedosa Chancellors
Nathaniel Penner
Garden Valley
Caitlyn Stevenson
Minnedosa Chancellors
Janik Giesbrecht
Garden Valley
Dina Leal Tirado
Northlands Parkway
Lane Donald
MacGregor
Katelyn Cowie
Northlands Parkway
Nathan Payne
Morden
Vanessa Rogalski
Northlands Parkway
Colin Koehler
Niverville
Paulina Tuikata
Northlands Parkway
Kyle Fehr
Steinbach
Dana Beck
Stonewall
Trey Friessen
Steinbach
Cindy Wills
Stonewall
Daniel Galassiere
Steinbach
Skylar Kopec
Stonewall
Jordan Wiebe
Steinbach
Autumn Sinclair
Stonewall
| | | | | |
| --- | --- | --- | --- | --- |
| MVP | Sam Fuss | Steinbach | Amy Lloyd | Northlands Parkway |
MHSAA 2018 RURAL SOCCER PLAYERS OF THE GAMES

MALE
FEMALE
Player of the Game 1
Yassin Mohammed
W C Miller
Chloe Formo
Swan Valley
Kyle Tomchuk
R D Parker
Maya Ahberg
Morden
Player of the Game 2
Hannah Aitkin
Niverville
Ashley Williams
R D Parker
Player of the Game 3
Morgan Terry
Swan Valley
Raygan Kirk
Lorette
Danielle Galesire
Steinbach
Lara Denebow
Neepawa
Player of the Game 4
Sulleman Zafor
MacGregor
Abby Olson
Minnedosa Chancellors
Cress Schmidt
Niverville
Abbigale Wilson
Garden Valley
Player of the Game 5
Vitall Penner
Garden Valley
Taylor Sveinson
Stonewall
Ziad Haman
W C Miller
Kayla Powell
Morden
Player of the Game 6
Dante Lorenco
Stonewall
Amy Lloyd
Northlands Parkway
Humayua Umar
Morden
Tressa MacDonald
R D Parker
Player of the Game 7
Geoff Ault
R D Parker
Josie Black
Swan Valley
Jackson Kurtz
Swan Valley
Siri Freeman
Neepawa
Player of the Game 8
Kezin Hoeppner
Niverville
Tatiana Dyck
Garden Valley
Player of the Game 9
Ryan Bardwell
Swan Valley
Bryniee Spencer
Swan Valley
Noah Bracken
Stonewall
Kaeshae Masters
R D Parker
Player of the Game 10
Ziad Haman
W C Miller
Jennah Derksen
Morden
Lane Donald
MacGregor
Shaynoor Pastoor
Niverville
Player of the Game 11
Aaron Doerkson
Garden Valley
Cindy Wills
Stonewall
Joshua Limpright
Niverville
Callie Maguire
Minnedosa Chancellors
Player of the Game 12
Sam Fuss
Steinbach
Marie Maple Stevens
Lorette
Nathan Payne
Morden
Dina Legal Tirado
Northlands Parkway
Player of the Game 13
Aiden Erickson
Stonewall
Erica Anderson
R D Parker
Blake Friessen
MacGregor
Sonya Prokopetz
Morden
Player of the Game 14
Tristen Bezte
Morden
Caitlyn Stevenson
Minnedosa Chancellors
Colin Koehler
Niverville
Cassie Merault
Lorette
Player of the Game 15
Joshuia Enns
Garden Valley
Dana Beck
Stonewall
Noah Froese
Steinbach
Pauline Tuikuka
Northlands Parkway
---
 Category: Local Sports
 
 Written by Clayton Dreger (https://www.steinbachonline.com/local-sports/best-on-the-soccer-pitch)
The Steinbach Regional Secondary School captured the Provincial Rural High School Soccer Championship Saturday in Swan River.The Sabres defeated the Garden Valley Zodiacs of Winkler 2-1 in the boys final.
"It feels great to capture number nine," texted SRSS coach Steve Rebizant.
The Zodiacs took an early 1-0 lead when the Sabres scored an own goal.
Sam Fuss notched the equalizer in the 25th minute and Noah Froese scored the go-ahead goal in the 75th minute.
Fuss was named the MVP of the Provincials.
The SRSS, who lost the Zone 13 final to the Niverville Panthers, blanked Morden 1-0 in extra time in the semifinals.
The Thunder beat Steinbach Regional 1-0 in last years championship game in Niverville.
This was the Sabres third title in four years and it will be the schools last.
Steinbach Regional will play in the South Central Athletic Conference next school year and attempt to qualify for the Provincial Urban High School Soccer Championship which is played in June.
Niverville lost 1-0 to Garden Valley in extra time in the semifinals and then fell 2-0 to Morden in the Third Place Game.
Kyle Fehr, Trey Friesen, Daniel Galassiere and Jordan Wiebe of the Sabres were named All-Stars as was Colin Koehler of the Panthers.
---
 Category: Local Sports
 
 Written by Clayton Dreger, (https://www.pembinavalleyonline.com/local-sports/the-zone-4-high-school-sports-report-64)
Northlands Parkway won the Provincial Rural High School Girls Soccer Championship in Swan River. Nighthawks midfield centre Amy Lloyd will join Clayton Dreger on the Zone 4 High School Sports Report which airs Wednesdays at 11:35 a.m. & 5:20 p.m. on CFAM Radio 950.