MHSAA 2018 Volleyball Championships
2018 MHSAA  VARSITY VOLLEYBALL CHAMPIONSHIPS

GOLD

SILVER

BRONZE

A Girls'
Gilbert Plains Collegiate
Elton Collegiate
Erickson Collegiate Institute
A Boys'
Hamiota Collegiate
St Paul's Collegiate
Rosenort Collegiate
AA Girls'
Warren Collegiate
Major Pratt School
Collège Regionale Gabrielle Roy
AA Boys'
Green Valley School
Collège Regionale Gabrielle Roy
Steinbach Christian School
AAA Girls'
Écoles econdaire Neelin High School
Virden Collegiate Institute
Linden Christian  School
AAA Boys'
Linden Christian School
Niverville Collegiate
Neelin High School
AAAA Girls'
Collège Jeanne-Sauve
Lord Selkirk Regional Comprehensive Secondary School
AAAA Boys'
Dakota Collegiate
Lord Selkirk Regional Comprehensive Secondary School
A Girls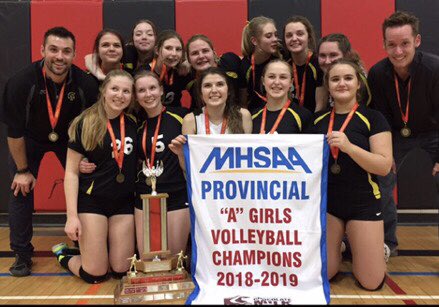 A Boys
AA Girls
AA Boys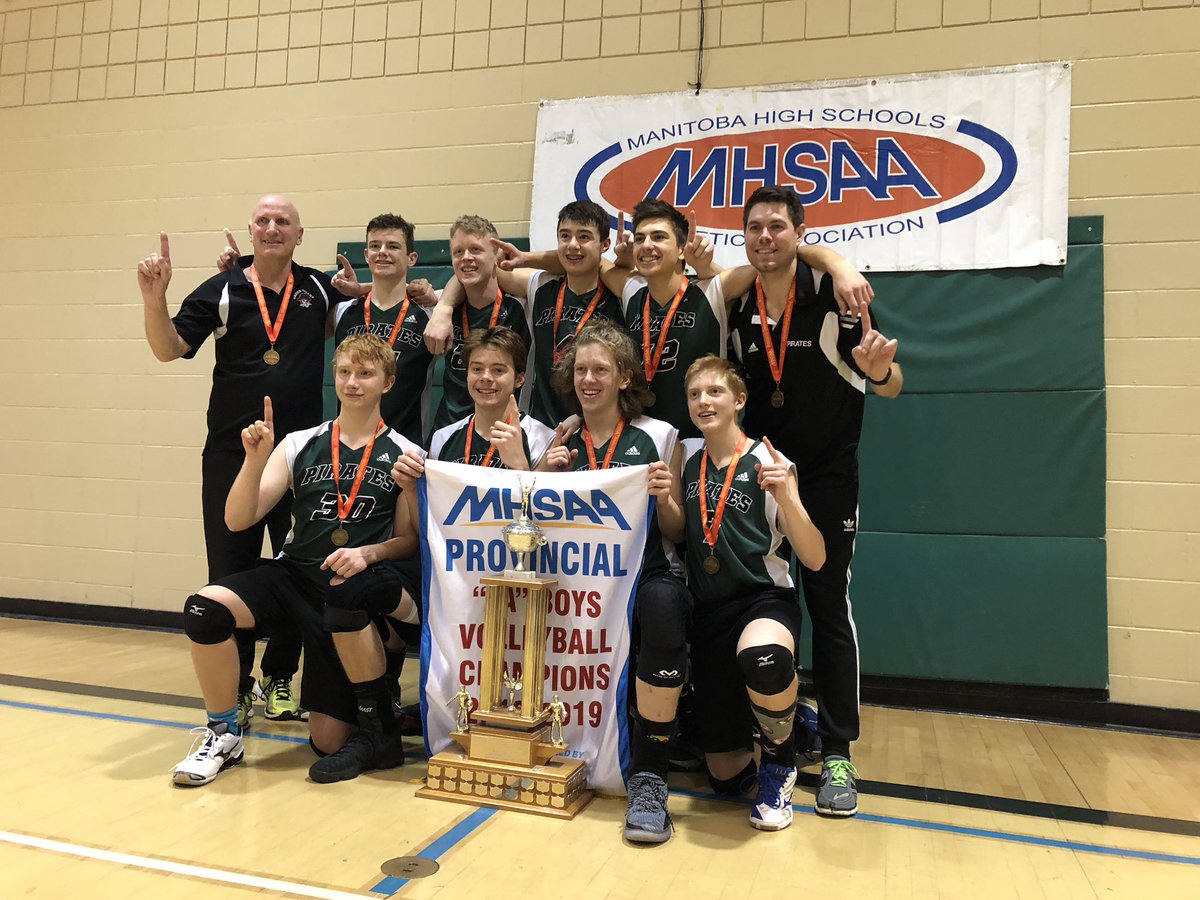 AAA Girls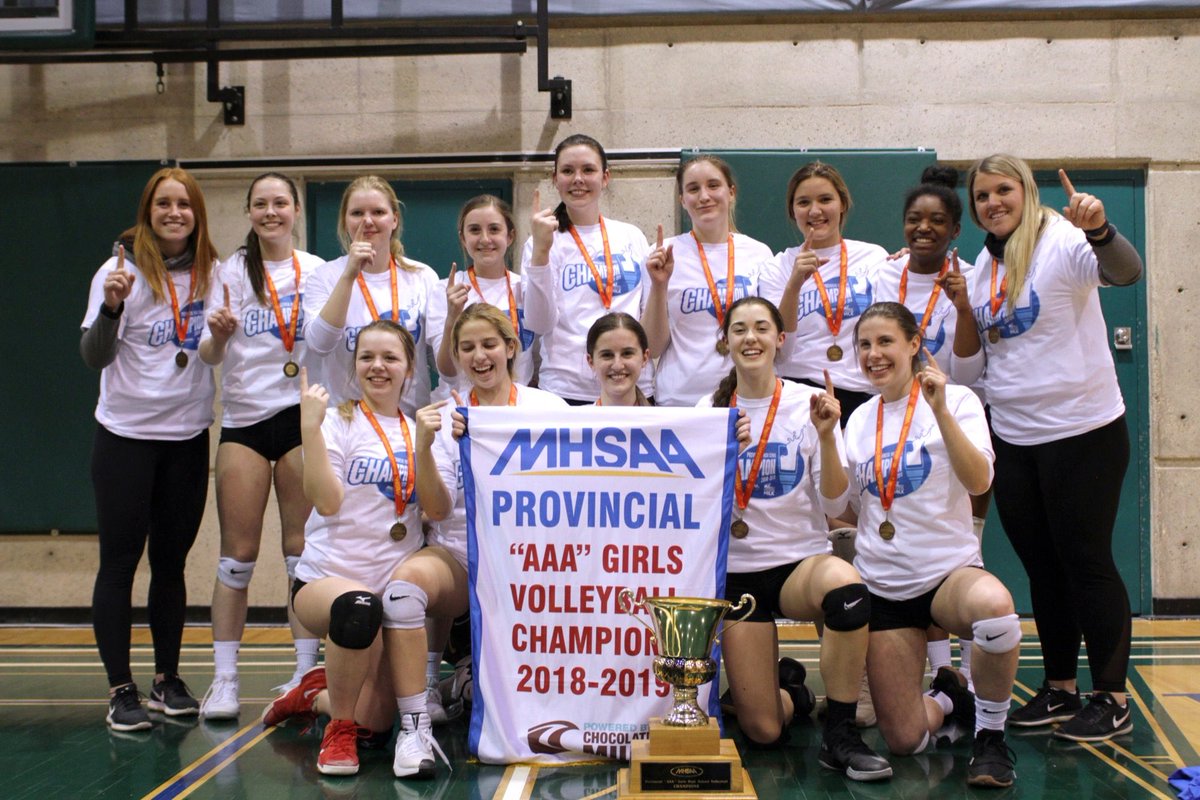 AAA Boys
AAAA Girls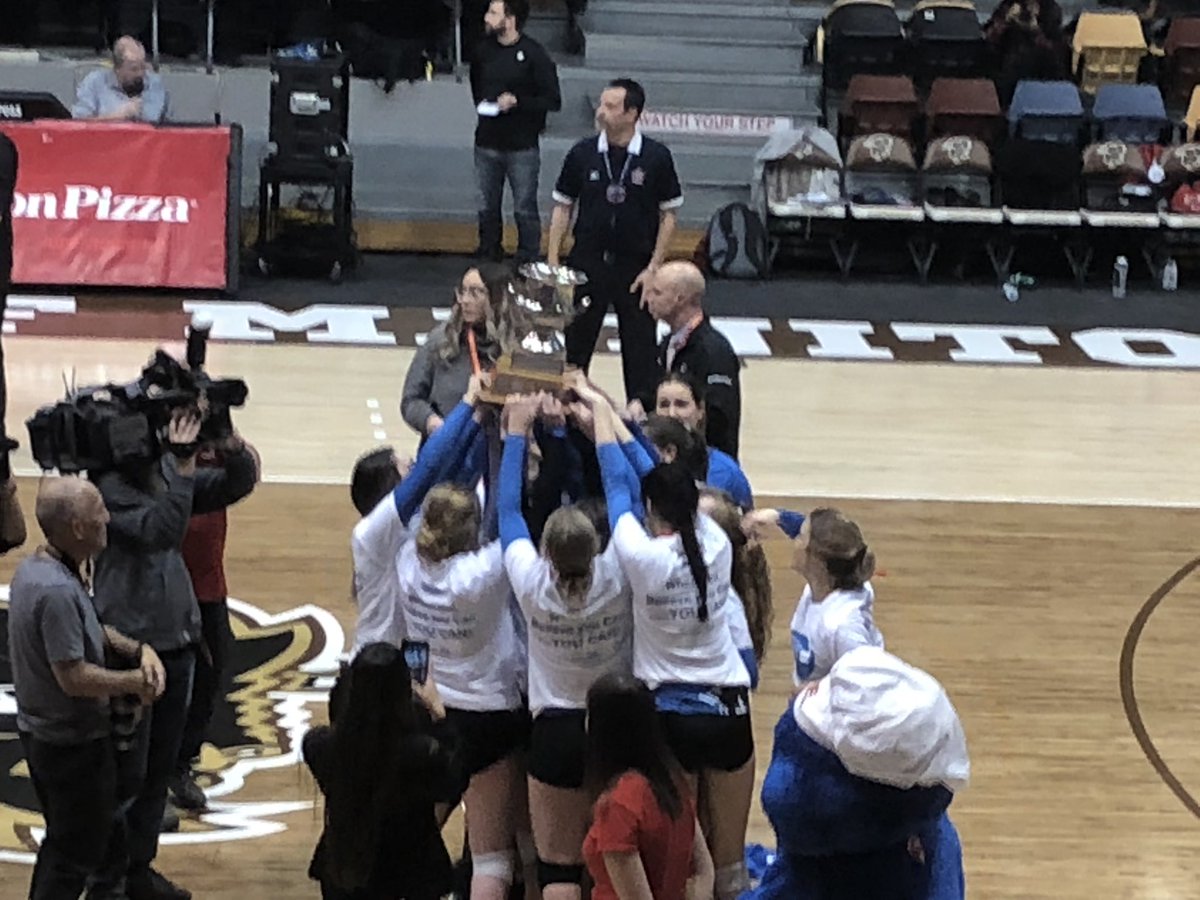 AAAA Boys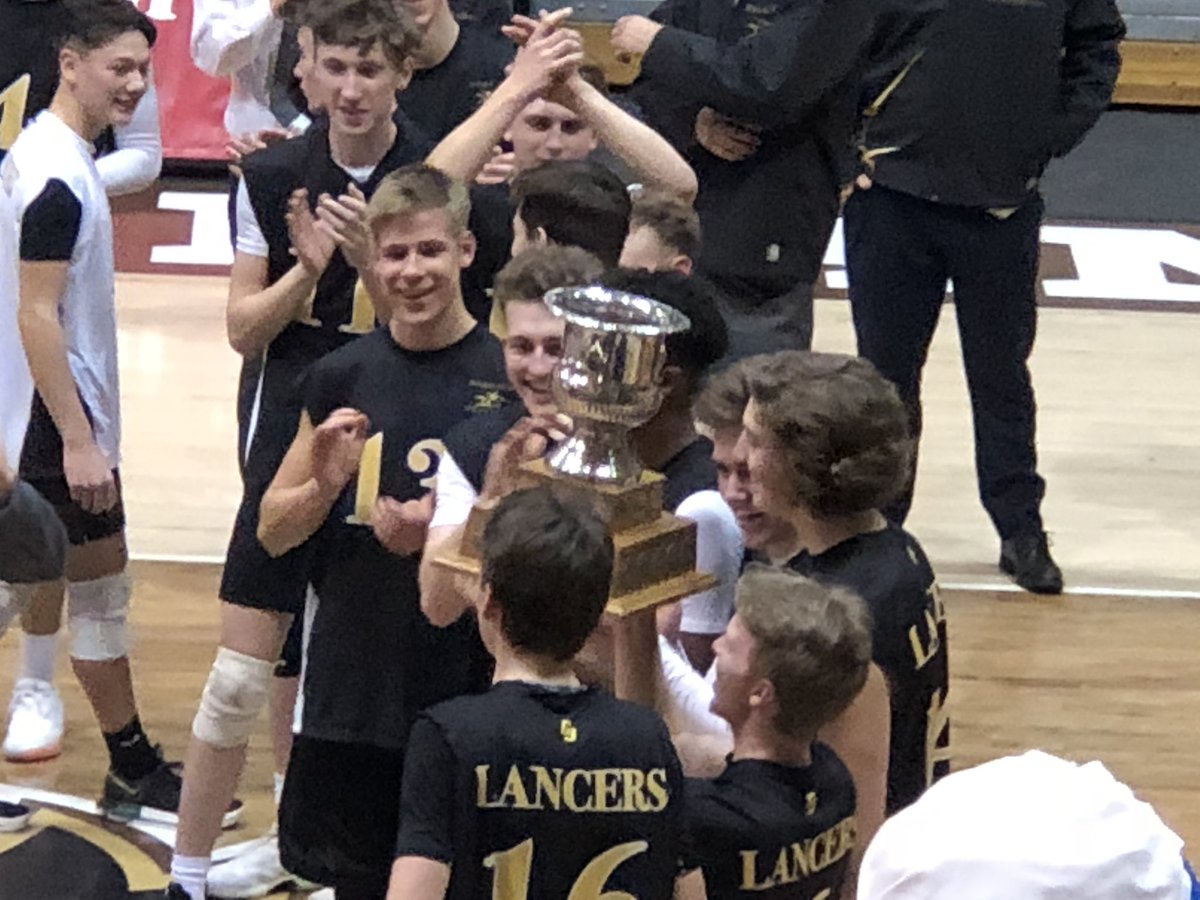 MHSAA 2018 A GIRLS VOLLEYBALL AWARDS

Champions
Gilbert Plains Collegiate
Tournament MVP
Mackenzie Zatylny, Gilbert Plains
Players Choice
Rachel Waldner, Rosenort
Tournament All Stars
Faye Murray Rosenort Redhawks; Kendra Erickson Erickson Eagles; Billie Bootsman Elton Sabres; Alexandria King Elton Sabres; Grace Bonham Gilbert Plains Trojans; Jaelyn Frykas Gilbert Plains Trojans
MHSAA 2018 A BOYS VOLLEYBALL AWARDS

Champions
Hamiota Collegiate
Tournament MVP
Brody, Robinson, Hamiota
Players Choice
Mathias nault, Duke of Malborough
Tournament

All Stars

Jordan Banman, Rosenort; Jaden VanDenBussche, Treherne; Randy Senecal, St Paul's; Hayden Crampain, Hamiota; Michael Bachmier, St Paul's; Cole Allan, Hamiota
MHSAA 2018 AA GIRLS VOLLEYBALL AWARDS

Champions
Warren Collegiate
Tournament MVP
Jancee Turner, Warren
Players Choice
Rainey Fingas, Major Pratt
Tournament All Stars
Angeline Ritchot, Collège Regionale Gabrielle Roy, Shae-Lynn McKinstry, MacGregor, Anna Garnett, Major Pratt,  Rainey Fingas, Major Pratt, Hannah France, Warren, Payton Janke, Warren
MHSAA 2018 AA BOYS VOLLEYBALL AWARDS

Champions
Green Valley School
Tournament MVP
Liam Boshmann, Green Valley
Players Choice
Asa France, Warren
Tournament

All Stars

Asa France, Warren; Zane Brandt, Steinbach Christian; Liam Poirier, Collège Regionale Gabrielle Roy, Dany Dupuis, Collège Regionale Gabrielle Roy; SamWiebe, Green Valley; Noah Boshmann, Green Valley
MHSAA 2018 AAA GIRLS VOLLEYBALL AWARDS

Champions
Neelin High School
Tournament MVP
Marley Pellerin, Neelin
Players Choice
Kezia Hoeppner, Niverville Collegiate
Tournament

All Stars

Malea Penner, Linden Christian; Brielle Webb, Sanford Collegiate; MacKenzie Chapman, Virden; Megan Nahachewsky, Virden; Shea Taylor, Neelin, Jamaykah Miller, Neelin
MHSAA 2018 AAA BOYS VOLLEYBALL AWARDS

Champions
Linden Christian
Tournament MVP
Nathan Rempel, Niverville
Tournament All Stars
Carter Loewen, Neelin; Jensen Beens, Calvin Christian; Micah Bartel, Linden Christian; Bready DeDominics, Linden Christian; Justin Amell, Linden Christian; Joshua Limpright, Niverville
| | |
| --- | --- |
| Players Choice | Nathan Rempel, Niverville |
MHSAA  2018 AAAA VARSITY VOLLEYBALL AWARDS

AAAA GIRLS

AAAA BOYS

Champions
Collège Jeanne-Sauve
Dakota Collegiate
Tournament MVP
Katreena Bentley, Collège Jeanne-Sauve
Isaiah Olfert, Dakota Collegiate
Player's Choice
Anna Maidment, St May's Academy
Darian Koskie, St. Paul's High School
Tournament

All Stars

Alli Pauls, Mennonite Brethren; Carleigh Smith-Banfield, Portage Collegiate; Isabella Benson, Lord Selkirk; Olivia Weremy, Lord Selkirk; Erika Vermette, College Jeanne-Sauve; Julia Arnold, College Jeanne-Sauve
Dean Fehr, Steinbach Regional; Darian Koskie, St. Paul's High School; Nick Brzoza, Lord Selkirk ; Chris Faial, Lord Selkirk; Justin Stecher, Dakota Collegiate; Colby Stocker, Dakota Collegiate
---
Dakota Lancers, Jeanne Sauve capture provincial high school volleyball titles
---
 Category: Local Sports  
 Written by Clayton Dreger
Provincial Varsity Volleyball Championships
A Boys @ Notre Dame
Final
Hamiota over St. Paul's (Elie) 25-18, 25-17
Third Place Game
Rosenort over Treherne 25-23, 25-9
Semifinals
St. Paul's over Treherne 25-18, 25-20
Hamiota over Rosenort 25-18, 25-14
Quarterfinals
Treherne over Rivers 25-19, 25-14
St. Paul's over Elton 25-21, 25-17
Hamiota over Duke of Marlborough (Churchill) 25-13, 25-15
Rosenort over Notre Dame 25-19, 25-19
A Girls @ Somerset
Final
Gilbert Plains over Elton 25-23, 23-25, 15-5
Third Place Game
Erickson over Rosenort 25-22, 23-25, 15-9
Semifinals
Elton over Erickson 26-24, 21-25, 15-13
Gilbert Plains over Rosenort 16-25, 25-22, 15-13
Quarterfinals
Elton over Miami 25-16, 25-17
Erickson over Strathclair 25-12, 19-25, 15-13
Gilbert Plains over Boissevain 25-18, 25-18
Rosenort over Prairie Mountain 25-22, 22-25, 16-14
AA Boys @ Carberry
Final
Green Valley (Grunthal) over Gabrielle Roy (Ile des Chenes) 25-23, 25-17
Third Place Game
Steinbach Christian over Warren 25-11, 25-15
Semifinals
Gabrielle Roy over Steinbach Christian 27-25, 25-16
Green Valley over Warren 25-6, 25-11
Quarterfinals
Steinbach Christian over Immanuel Christian 25-12, 25-15
Gabrielle Roy  over Carman 25-22, 25-11
Green Valley over Goose Lake (Roblin) 25-21, 25-17
Warren over Major Pratt (Russell) 22-25, 25-21, 15-12
Round Robin
Steinbach Christian over Frontier Collegiate (Cranberry Portage) 25-10, 25-13
Steinbach Christian over Carman 25-17, 25-21
Steinbach Christian over Major Pratt 22-25, 25-16, 15-11
Green Valley over Major Pratt 26-24, 25-21
Green Valley over Frontier 25-15, 25-9
Gabrielle Roy over Immanuel Christian 25-17, 25-12
Gabrielle Roy over Warren 25-17, 26-24
Gabrielle Roy over Carberry 25-8, 25-19
Gabrielle Roy over Goose Lake 25-9, 25-14
Green Valley over Carman 25-18, 25-16
Green Valley over Steinbach Christian 25-19, 25-18
AA Girls @ MacGregor
Final
Warren over Major Pratt 23-25, 25-21, 15-12
Third Place Game
Gabrielle Roy over MacGregor 6-25, 25-20, 15-8
Semifinals
Warren over Gabrielle Roy 25-22, 25-21
Major Pratt over MacGregor 25-21, 25-20
Quarterfinals
Major Pratt over Hapnot Collegiate (Flin Flon) 25-18, 25-11
MacGregor over Goose Lake 22-25, 25-6, 15-10
Warren over Springs Christian 25-18, 25-11
Gabrielle Roy over Minnedosa 25-16, 25-19
Round Robin
Goose Lake over Steinbach Christian 25-16, 25-14
Minnedosa over Steinbach Christian 25-22, 25-20
MacGregor over Gabrielle Roy 25-23, 17-25, 15-11
Green Valley over Hapnot Collegiate 22-25, 25-12, 15-13
Gabrielle Roy over Green Valley 25-23, 26-24
Springs Christian over Green Valley 25-16, 25-22
MacGregor over Green Valley 25-20, 25-21
Gabrielle Roy over Hapnot Collegiate 25-13, 25-15
Gabrielle Roy over Springs Christian 25-23, 25-21
Warren over Steinbach Christian 25-13, 25-15
Major Pratt over Steinbach Christian 25-13, 25-19
AAA Boys @ Wpg
Final
Linden Christian over Niverville 25-16, 26-24
Third Place Game
Neelin over Calvin Christian 26-24, 25-21
Semifinals
Niverville over Neelin 25-20, 25-16
Linden Christian over Calvin Christian 25-13, 25-16
Quarterfinals
Calvin Christian over John Taylor 25-17, 25-19
Linden Christian over Dauphin 25-16, 25-23
Neelin over Westgate 26-24, 25-22
Niverville over Miller Collegiate (Altona) 17-25, 25-17, 15-12
Round Robin
Niverville over Neelin 25-13, 25-17
Linden Christian over Nivervillle 25-19, 25-21
Calvin Christian over Landmark 25-16, 27-25
Miller Collegiate over Landmark 25-13, 25-23
Westgate over Landmark 27-25, 25-14
Dauphin over Landmark 25-13, 25-22
Niverville over Margaret Barbour (The Pas) 25-14, 25-12
Niverville over John Taylor 25-11, 25-14
AAA Girls @ Wpg
Final
Neelin over Virden 25-17, 25-16
Third Place Game
Linden Christian over Sanford 25-21, 18-25, 15-8
Semifinals
Virden over Linden Christian 15-25, 25-21, 15-12
Neelin over Sanford 25-12, 25-20
Quarterfinals
Neelin over Niverville 25-27, 25-19, 15-13
Sanford over Westgate 25-22, 25-21
Linden Christian over R.D. Parker (Thompson) 25-20, 25-18
Virden over Dauphin 25-19, 18-25, 15-13
Round Robin
Virden over Niverville 25-23, 25-20
Niverville over St. James 25-14, 25-19
Niverville over Westgate 17-25, 25-17, 15-10
Niverville over R.D. Parker 25-20, 25-19
photo courtesy Richard Oswald
---
Lancers deliver knockout blow to Sabres
Volleyball semifinal more like a prize fight
 It was a volleyball game that had equal parts boxing match.
The No. 2 Dakota Lancers and third-ranked Steinbach Regional Sabres traded shot for shot for much of Thursday's varsity boys semifinal match in the Boston Pizza AAAA Provincial High School Volleyball Championships. Both teams spent a fair amount of time pinned against the ropes, but it was the Lancers that delivered the knockout blow in a marathon third set that left the Sabres dazed for the rest of the round.
 Dakota went on to win 3-1 (25-22, 22-25, 31-29, 25-14) and punch its ticket to Monday's final against the Selkirk Royals at Investors Group Athletic Centre.
"It was going to be an emotional letdown if you lose a game like that, especially one that goes to extra time, and you saw that in the fourth set. It would have turned the same way against us if we had lost that one," Lancers coach Phil Hudson said after the game.
"You put so much effort and emotion into that third set and it's very hard to come back and play well in the fourth. With Steinbach, we knew they were going to play well. It was a great match and I'm very proud with the way our guys handled it."
After splitting the first two sets, the Lancers looked prime to take the third. Twice in extra time they had the chance to serve for the win, only for the Sabres to claw their way back. Steinbach was able to turn the tables for a spell, including a pair of chances to serve for the set, but just as the Lancers saw their lead quickly disappear so, too, did the Sabres.
"That's usually the big set, is that one. You kind of get your momentum back and it certainly felt good to win that one," said Lancers left-side Isaiah Olfert, the province's top-ranked player. "It was good that we were able to bounce back after that set because we definitely could have broke down. It was a good lesson to learn now."
Dakota eventually got the job done, earning a 31-29 decision, and would roll that momentum into the fourth and final set. The Lancers went ahead early, going on a 10-2 run to take a 16-4 lead. Steinbach made a small push but the Lancers rolled to a convincing 25-14 to wrap up the series.
"We knew it would be a battle. When we were done, coach Hudson came up to us and said, 'Wow, were your boys ready to play,'" Sabres coach Greg Loeppky said. "We win that third one and it's anybody's game."
SELKIRK UPSETS NO. 1 ST. PAUL'S
They had yet to beat the province's top-ranked team all season, but the Selkirk Royals finally did it when it mattered most, defeating the top-seeded St. Paul's Crusaders 3-1 (18-25, 25-21, 28-26, 25-22) to clinch a berth into the provincial final.
The No. 4 Royals, whose varsity girls team is also in Monday's final against the College Jeanne-Sauve Olympiens (6 p.m.), are now just one win away from claiming a third straight provincial championship — a feat that hasn't been achieved since Miles Macdonell won four straight (1975-1978).
"We've been together now I'd say five years — as a club team and as a school team. We won last year with the older group and we won the year before in our junior varsity year," said Grade 12 Royals middle Liam Allen. "Over the years we've amounted such a chemistry that we never give up a match. We always try to come back, even if we're down 24-0."
The Royals certainly didn't make it easy on themselves. They trailed in all four sets, including down 8-2 in the third set, which they rallied back to win in extra time, 28-26. In the fourth set, they fell behind immediately, trailing 6-1, but again clawed back to tie it 18-18 and eventually sealed the win with a 25-22 triumph.
"We never played to our potential throughout the season but we knew we had it in us. We knew if we could get a game going we'd be able to do it. It was pretty rough going early on but the guys stuck to it and I'm really proud of the guys," Royals coach Jeff Scarcello said. "Dakota is very similar to St. Paul's in that they're not just one guy. I'm expecting the same kind of battle, where it's going to be a hard-fought game and whoever wins that match is really going to earn it."
jeff.hamilton@freepress.mb.caTwitter: @jeffkhamilton