MHSAA 2019 Football Championships
MHSAA 2019 FOOTBALL CHAMPIONSHIPS
| | |
| --- | --- |
| VARISTY ANAVETS BOWL – D1 | St Paul's High School Crusaders vs Vince Massey Collegiate (Wpg) Trojans, 22-0 |
| VARSITY CANADINNS BOWL – D3 | Fort Francis  High School Muskie vs Churchill High School Bulldogs, 65-49 |
| VARSITY CTV BOWL – D2 | Protage Trojans vs Miles Mac Buckeys, 6-28 |
| JUNIOR VARSITY HOME RUN/KAHUNAVERSE BOWL | Dakota Collegiate Lancers vs Grant Park HIgh School Pirates, 9-28 |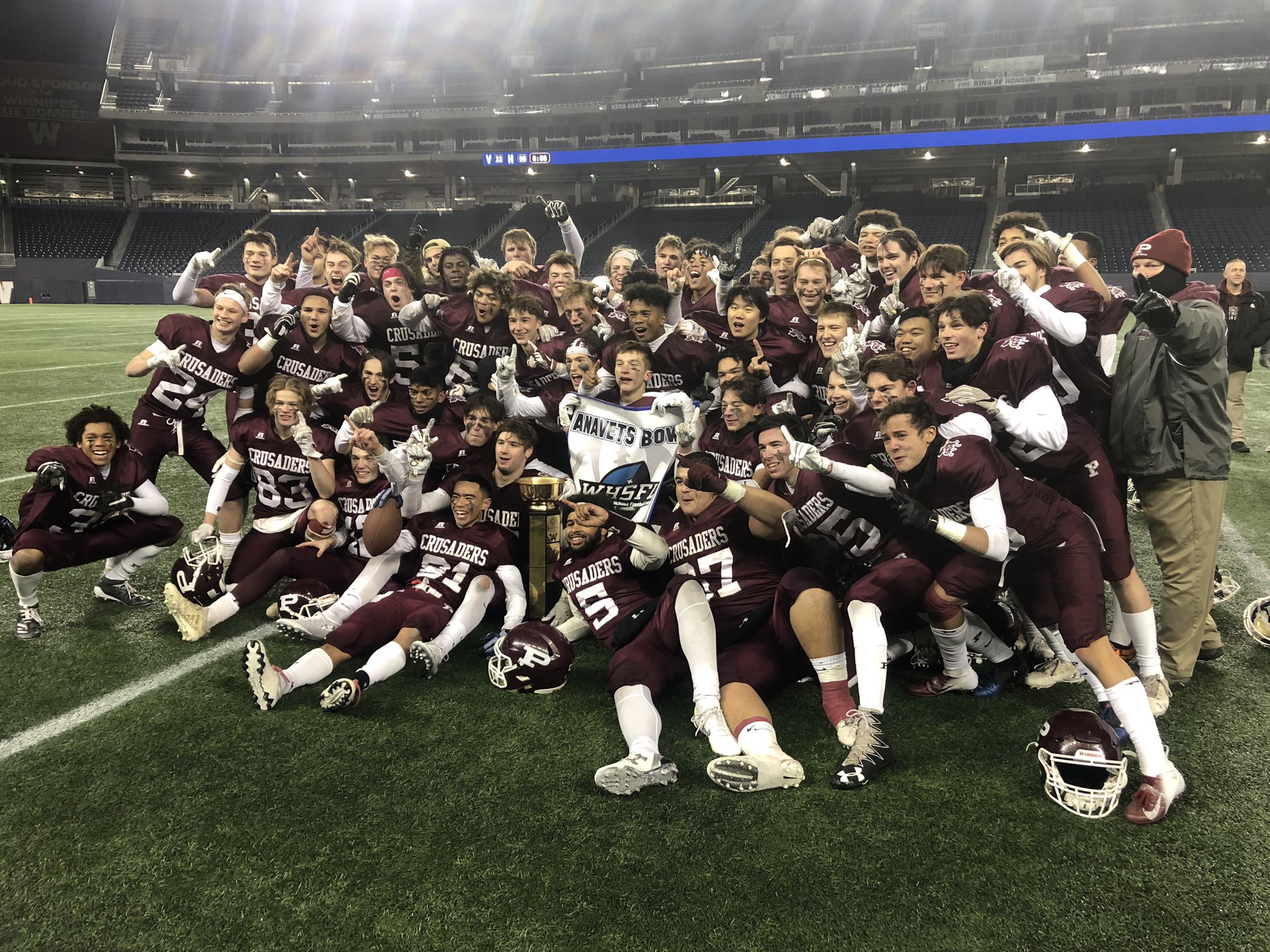 ————————————————————————————The St. Paul's Crusaders are back on top of the division 1 mountain, while the Miles Mac Buckeyes brought home their first title since 2005 and the Fort Frances Muskies reached championship glory for the first time in their WHSFL tenure. More below.
Buckeyes, stout defence win CTV Bowl, hand Trojans first defeat
The Miles Mac Buckeyes earned some redemption on Saturday afternoon and in the process brought home their first WHSFL title since 2005 with a 28-6 victory over the previously undefeated Portage Trojans.
Miles' only loss of the year occurred in week three when they fell 23-21 to Portage in a contest where the Buckeyes went down early in the first before mounting a comeback that fell short on the final play.
The rematch — labeled as the division's best offence (Portage outscored their opponents 448-68) against the division's best defence (Miles Mac gave up just 40 points with four shutouts) — went to the D.
The Buckeyes allowed a first quarter passing touchdown, as Trojans senior pivot Ian McCutchin found James McBurney with six mins to play, but didn't give up a single point afterwards.
Defensive linemen Seth McDonald and Ulrich Mbakop both recorded sacks, along with critical third down stuffs, while hard-hitting and athletic linebackers Evan Rollwagen and Zachary Chiarotto were also all over the ball.
McDonald earned the commissioner's award postgame while Mbakop was the game's defensive MVP.
"Seth, we kind of knew when he came into the program that first year that he was a next-level talent as long as he wanted to be," Buckeyes head coach Dan Washnuk said postgame.
"The first year went by and he wasn't necessarily feeling it. He took a year off and came back rejuvenated [this season]. He's just grown and grown and grown and embraced his role. The game he had today was a great microcosm of the season he's had. He's just been a go to work player for us all year."
Miles Mac also got a stellar game from pivot Matthew Graham, who was named the contest's offensive MVP. He had three touchdown passes in the second half, helping his team rally from 6-0 down at the half.
Graham joined the program two seasons ago and, along with a number of other athletes on the roster, went through a difficult two-year span where the squad won just two games combined. But those experiences helped build character and it showed all year.
"Coming throughout my first two seasons [our record] was kind of unfortunate, but then I realized we were building up to eventually become this. It was such a great group and I really enjoy everybody. We have a great time. I have to give a big shoutout to my o-line. I couldn't do this without them."
The other major for the Buckeyes came courtesy of running back Favour Analike, while Portage got a stout performance from Brock Miller, who earned the commissioner's award for his team.
​​​​​​​Muskies claim first-ever WHSFL title in record-setting contest
The Fort Frances Muskies — members of the WHSFL since 2001 — earned their first-ever league title in memorable fashion, setting a new record for most points scored in a championship game with a thrilling 65-49 win over Churchill Bulldogs in the Division 3 championship.
The storyline for the Bulldogs entering the contest was whether or not they could keep up with a high-powered Muskies offence led by Player of the Year candidate Brady Meeks at quarterback.
Churchill had upset the previously undefeated Springfield Sabres the week before and showed they had what it took to find the endzone, but were unable to match the electric quick-strike offence of the Muskies.
Meeks, one of a number of impact seniors for Fort Frances, threw for a major while also running for one, while receiver Carson Noga had a massive pick six to go with a receiving touchdown and rushing touchdown and offensive MVP Sean Huziak hit pay dirt four different times.
"It feels so great," Meeks said postgame.
"Just coming from 0-7 in our grade nine year and our seniors working our way all the way to the top and having a great season this year. I love my brothers. I couldn't ask for a better team. At practice this week we went through all of our plays. We made sure we were doing everything proper. We almost made it last year and we wanted to make sure we secured the win this year."
Churchill, despite playing with a smaller roster, showed immense heart with a number of players going both ways. Yves Amane was excellent, scoring three touchdowns along with over 200 yards rushing, while also earning the game's defensive MVP award.
Wyatt Richards — the commissioner's award winner for his side — and the Muskies defence stepped up when they needed to however, recording a few key stops on third down.
Shutdown defence helps bring the ANAVETS Bowl back to St. Paul's
A year after the Vincent Massey Trojans laid claim to the ANAVETS Bowl, the St. Paul's Crusaders took it right back, winning 22-0 in a battle of the 'power two' teams in the WHSFL's top division.
The game followed a similar roadmap to the regular season contest the two squads had in week four.
The Crusaders came out on top in that tilt 22-2, with linebackers Nathan Carabatsakis, Nic Pereira and Kundanji Sinkala all playing a massive role, with the first two recording interceptions, one of which was taken back to the house late in the game.
The trio — widely regarded as one of the best linebacking groups in the nation — were at it again on Saturday night, holding a potent Massey offence off the board.
Carabatsakis — one of Canada's top linebackers in this year's graduating class who has received NCAA Division 1 interest — had a sack and was named the contest's defensive MVP while Sinkala also got to the quarterback.
"We're all super close from [training program] Recruit Ready," Carabatsakis said of the relationship he has with his fellow 'backers.
"That made us incredibly close and we're all best friends on and off the field for sure."
Offensively, Crusaders senior pivot Te Jessie was named MVP, utilizing his legs and arm to find the endzone while also navigating through a stout Massey defence that got big plays from Shad Nkiasi, Maxim Bosc and Jason Bodunrin.
"It feels great to win it this year," Jessie said postgame.
"The way we practiced all week we had a good tempo. We came into this game thinking we were going to win and we came out with the W."
Tag(s): In the News Neelin Fort Frances