MHSAA 2019 McDonald's Varsity Volleyball Championship
2019 MHSAA VARSITY VOLLEYBALL CHAMPIONSHIPS
GOLD
SILVER
BRONZE
A Girls'
Gilbert Plains Collegiate
Strathclair School
Erickson Collegiate Institute
A Boys'
Rosenort Collegiate
Treherne Collegiate
Hamiota Collegiate
AA Girls'
Boissevain School
Collège Régional Gabrielle-Roy
Warren Collegiate
AA Boys'
Landmark Collegiate
Collège Régional Gabrielle-Roy
Elton Collegiate
AAA Girls'
École secondaire Neelin High School
Linden Christian School
Calvin Christian Collegiate
AAA Boys'
Westgate Mennonite Collegiate
Calvin Christian Collegiate
Northlands Parkway Collegiate
AAAA Girls'
Dakota Collegiate
Vincent Massey High School, Brandon
AAAA Boys'
Dakota Collegiate
Westwood Collegiate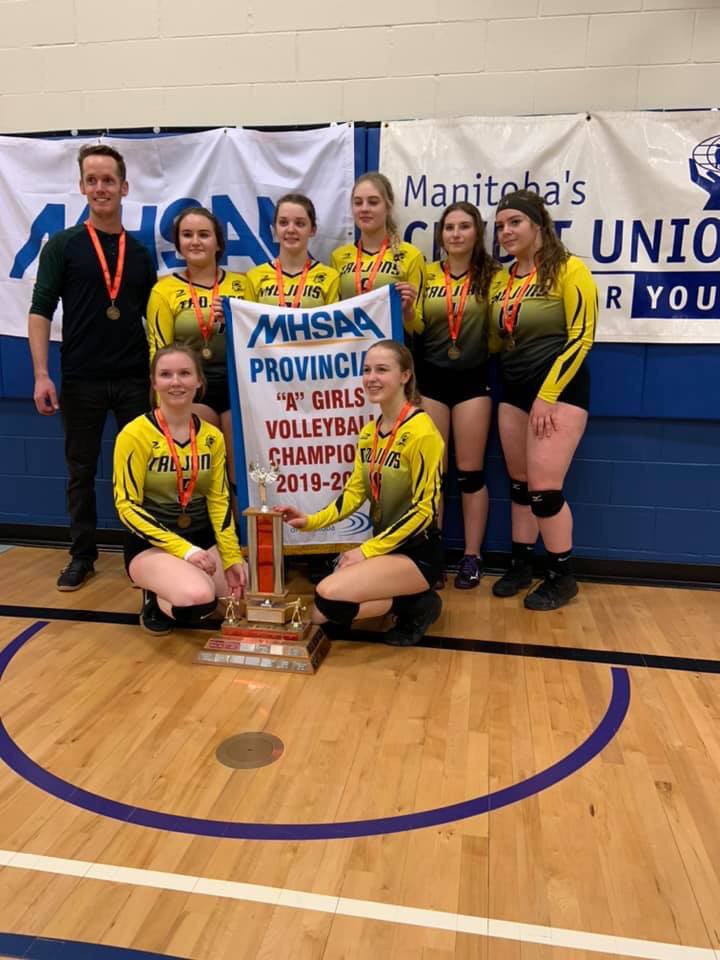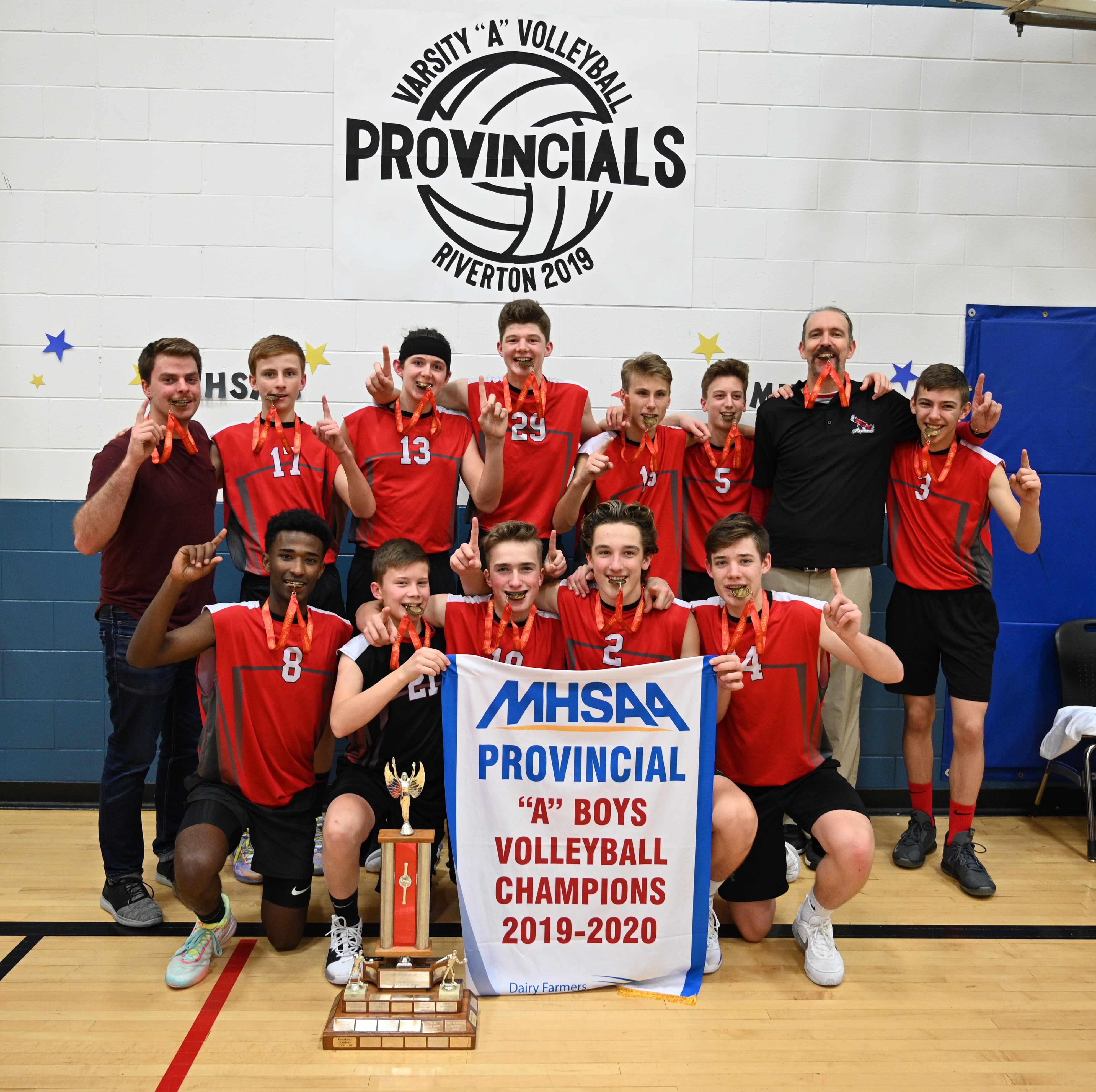 MHSAA 2019 A GIRLS VOLLEYBALL AWARDS
| | |
| --- | --- |
| Champions | Gilbert Plains Collegiate |
| Tournament MVP | Mackenzie Zatylny, Gilbert Plains |
| Players Choice | |
| Tournament All Stars | Jaelyn Frykas, Gilbert Plains; Grace Gonham, Gilbert Plains; Jenna Swain, Miami; Hanny Popp, Erickson, Alysee McCutcheon, Strathclair; Catherine Geekie, Strathclair |
MHSAA 2019 A BOYS VOLLEYBALL AWARDS
| | |
| --- | --- |
| Champions | Rosenort Collegiate |
| Tournament MVP | Jonah Dueck, Rosenort |
| Players Choice | Christian Turenne, St Joachim |
| Tournament All Stars | Jordan Banman, Rosemort; Eyob Siemens, Rosenort; brady vanDen bussch, Treherne; Russel Early, Treherne; Nash Gurr, Hamiota; Christian Turene, St Joachim |
MHSAA 2019 AA GIRLS VOLLEYBALL AWARDS
| | |
| --- | --- |
| Champions | Boissevain School |
| Tournament MVP | Faith Billaney, Boissevain |
| Players Choice | Paige Wright, Warren |
| Tournament All Stars | Paige Wright, Warren; Cassie Peake, Major Pratt; Sophie Morrice, Gabrielle-Roy; Lynne Wallack, Gabrielle-Roy; Kenzie Roberston, Boissevain; Sarah Hallett, Boissevain |
MHSAA 2019 AA BOYS VOLLEYBALL AWARDS
| | |
| --- | --- |
| Champions | Landmark Collegiate |
| Tournament MVP | Allan Hiebert, Landmark |
| Players Choice | Kai Wiebe, Green Valley |
| Tournament All Stars | Noah Boschman, Green Valley; Bo Bootsman, Elton; Alexander Doan, Gabrielle-Roy; Reece Clarke, Gabirelle-Roy; Callum Plett, Landmark; Seth Peters, Landmark |
MHSAA 2019 AAA GIRLS  VOLLEYBALL AWARDS
| | |
| --- | --- |
| Champions | École secondaire Neelin High School |
| Tournament MVP | Marley Pellerin, École secondaire Neelin High School |
| Players Choice | Malea Penner, Linden Christian School |
| Tournament All Stars | Brenna Bedoskly, Collège Jeanne Sauvé; Serena Algera, Calvin Christian; Malea Penner, Linden Christian; Kylie Geortzen, Linden Christian; Booklyn Sawchuck, École secondaire Neelin High School; Brooklyn Taron, École secondaire Neelin High School |
MHSAA 2019 AAA BOYS VOLLEYBALL AWARDS
| | |
| --- | --- |
| Champions | Westgate Mennonite Collegiate |
| Tournament MVP | Rowan Penner, Linden Christian |
| Players Choice | Ethan Peters, Northlands Parkway |
| Tournament All Stars | Jay Klassen, Linden Christian; Nathan Penner, Northways Parkway; Colby Dick, Calvin Christian; Brendan Doornboss, Calvin Christian; Owen Dyck, Westage; David Nelson, Westgate |
MHSAA  2019 AAAA VARSITY VOLLEYBALL AWARDS
| | | |
| --- | --- | --- |
| | AAAA GIRLS | AAAA BOYS |
| Champions | Dakota Collegiate | Dakota Collegiate |
| Tournament MVP | Brooklyn Olfert, Dakota | Alex Krykewich, Dakota |
| Player's Choice | Callie Kjarsgaard, Mennonite Brethern | Paxon Koop, Steinbach Regional |
| Tournament All Stars | Andi Almonte, Oak Park; Carleigth Smith-Banfield, Portage; Alexis Cancade, Vincent Massey (Brandon); Arlynne Hyra, Vincent Massey (Brandon); Emily Scott, Dakota; Taylor McGillivary, Dakota | Tyson Koop, Steinbach Regional; Justin Cross, St Paul's; Bryce Cancilla, Westwood; Bryce Magalas, Westwood; Marcus Redmann, Dakota; Jaxon Rose, Dakota |
——————————————————————————————————————–
Brandon Sun
1 minute read
Faith Billaney led the Boissevain Broncos to a varsity girls' AA provincial volleyball title on home court Saturday.
The Grade 11 left side was named most valuable player after Boissevain swept Gabrielle-Roy 2-0 (25-15, 25-22).
Broncos Sarah Hallett and Kenzie Robertson were named all-stars, along with Cassie Peake of Russell's Major Pratt Trojans, who lost the third-place match to Warren in straight sets.
Meanwhile at AA boys' provincials in Killarney, Bo Bootsman earned all-star honours as his Elton Sabres beat Grunthal's Green Valley Pirates 2-0 (25-17, 25-20) to claim bronze.

Category: Local Sports Published: Thursday, 29 November 2018 17:47 Written by Clayton Dreger
MacGregor is hosting the AA girls championship

Provincial Varsity Volleyball Championships
A Girls @ Somerset
Final
Gilbert Plains over Elton 25-23, 23-25, 15-5
Third Place Game
Erickson over Rosenort 25-22, 23-25, 15-9
Semifinals
Elton over Erickson 26-24, 21-25, 15-13
Gilbert Plains over Rosenort 16-25, 25-22, 15-13
Quarterfinals
Elton over Miami 25-16, 25-17
Erickson over Strathclair 25-12, 19-25, 15-13
Hamiota over Duke of Marlborough (Churchill) 25-13, 25-15
Rosenort over Notre Dame 25-19, 25-19
Round Robin
Miami over Boissevain 20-25, 27-15, 18-16
Boissevain over Cartwright 25-21, 25-17
Strathclair over Boissevain 25-23, 25-20
Rosenort over Boissevain 18-25, 25-19, 15-10



A Boys @ Notre Dame
Final
Hamiota over St. Paul's (Elie) 25-18, 25-17
Third Place Game
Rosenort over Treherne 25-23, 25-9
Semifinals
St. Paul's over Treherne 25-18, 25-20
Hamiota over Rosenort 25-18, 25-14
Quarterfinals
Treherne over Rivers 25-19, 25-14
St. Paul's (Elie) over Elton 25-21, 25-17
Hamiota over Duke of Marlborough (Churchill) 25-13, 25-15
Rosenort over Notre Dame 25-19, 25-19


AA Girls @ MacGregor
Final
Warren over Major Pratt (Russell) 23-25, 25-21, 15-12
Third Place Game
Gabrielle Roy (Ile des Chenes) over MacGregor 6-25, 25-20, 15-8
Semifinals
Warren over Gabrielle Roy 25-22, 25-21
Major Pratt over MacGregor 25-21, 25-20
Quarterfinals
Major Pratt over Hapnot Collegiate (Flin Flon) 25-18, 25-11
MacGregor over Goose Lake (Roblin) 22-25, 25-6, 15-10
Warren over Springs Christian 25-18, 25-11
Gabrielle Roy over Minnedosa 25-16, 25-19
AA Boys @ Carberry
Final
Green Valley (Grunthal) over Gabrielle Roy 25-23, 25-17
Third Place Game
Steinbach Christian over Warren 25-11, 25-15
Semifinals
Gabrielle Roy over Steinbach Christian 27-25, 25-16
Green Valley over Warren 25-6, 25-11
Quarterfinals
Steinbach Christian over Immanuel Christian 25-12, 25-15
Gabrielle Roy over Carman 25-22, 25-11
Green Valley over Goose Lake 25-21, 25-17
Warren over Major Pratt 22-25, 25-21, 15-12
AAA Girls @ Wpg
Final
Neelin over Virden 25-17, 25-16
Third Place Game
Linden Christian over Sanford 25-21, 18-25, 15-8
Semifinals
Virden over Linden Christian 15-25, 25-21, 15-12
Neelin over Sanford 25-12, 25-20
Quarterfinals
Neelin over Niverville 25-27, 25-19, 15-13
Sanford over Westgate 25-22, 25-21
Linden Christian over R.D. Parker (Thompson) 25-20, 25-18
Virden over Dauphin 25-19, 18-25, 15-13
Round Robin
Neelin over Calvin Christian 25-17, 25-17
Linden Christian over Neelin 25-17, 25-17
Virden over Niverville 25-23, 25-20
Westgate over Virden 25-22, 25-22
Virden over R.D. Parker 20-25, 25-13, 15-5
Virden over St. James 25-13, 25-6
Neelin over Dauphin 25-18, 25-16
Neelin over Sanford 25-19, 25-18
AAA Boys @ Wpg
Final
Linden Christian over Niverville 25-16, 26-24
Third Place Game
Neelin over Calvin Christian 26-24, 25-21
Semifinals
Niverville over Neelin 25-20, 25-16
Linden Christian over Calvin Christian 25-13, 25-16
Quarterfinals
Calvin Christian over John Taylor 25-17, 25-19
Linden Christian over Dauphin 25-16, 25-23
Neelin over Westgate 26-24, 25-22
Niverville over Miller Collegiate (Altona) 17-25, 25-17, 15-12
Round Robin
Niverville over Neelin 25-13, 25-17
Neelin over Margaret Barbour (Flin Flon) 25-22, 25-20
Linden Christian over Neelin 25-12, 25-20
John Taylor over Neelin 25-21, 25-23