MHSAA McDonalds Junior Varsity Volleyball Championship 2019
MCDONALD'S 2019 MHSAA JUNIOR VARSITY VOLLEYBALL CHAMPIONSHIPS
GOLD
SILVER
BRONZE
JV A/AA Girls
St Paul's Collegiate
Warren Collegiate
Major Pratt School
JV A/AA Boys
Rosenort Collegiate
Collège Régional Gabrielle-Roy
St Paul's Collegiate
JV AAA Girls
Stonewall Collegiate
Collège Jeanne-Sauvé
Neelin High School
JV AAA Boys
École secondaire Neelin High School
École Edward Schreyer School
Calvin Christian Collegiate
JV AAAA Girls
Collège Sturgeon Heights Collegiate
Westwood Collegiate
JV AAAA Boys'
Steinbach Regional SS
Westgate Mennonite Collegiate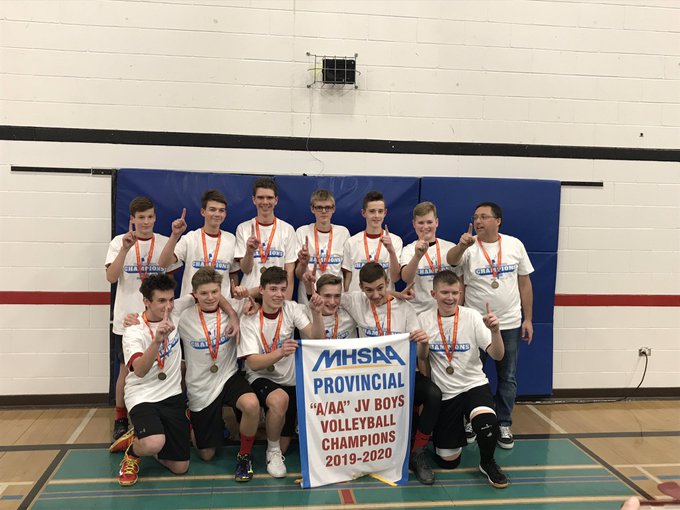 MHSAA JV 2019 A/AA VOLLEYBALL AWARDS
| | | |
| --- | --- | --- |
| | Girls | Boys |
| Champions | Rosenort Redhawks | St Paul's Barons |
| Tournament MVP | Brian Banman, Rosenort | Kaiya Krahn, St Paul |
| Tournament All Stars | Christopher Peters, Rosenort; Noah Waldner, Rosenort; Ben Bruaer, Carberry; Nolan Houde, St Paul's; Kalen Nordick, Gabrielle-Roy; Cabrel Sorin, Gabrielle-Roy | Hailey Turner, St Paul's; Haydne Freschuk, Glenboro; Kylie Pratt, Major Pratt, Allyssa-Lynn Proctor, Warren, Abby Cassidy, Warren; Charley Montgomery |
MHSAA JV 2019 AAA VOLLEYBALL AWARDS
| | | |
| --- | --- | --- |
| | Girls | Boys |
| Champions | Stonewall Collegiate | École secondaire Neelin High School |
| Tournament MVP | Charlie Reimer, Stonewall | Adean Dyck, École secondaire Neelin High School |
| Tournament All Stars | Sydney Thomas, Linden Christian; Brie Mulligan, Neelin; Tehni Blais, Jeanne Sauvé; Sadie Braun, , Jeanne Sauvé; Grace Fines, Stonewall; Alex Clark, Stonewall | Ian Clark, Linden Christian; Ryan Nachtigall, Calvin Christian; Evan Dyck, Calvin Christian; Mika Fielberg, Edward Schreyer; Carter Ramsden, Edward Schreyer; Wyatt Black, Neelin |
MHSAA  JV 2019 AAAA VARSITY VOLLEYBALL AWARDS
| | | |
| --- | --- | --- |
| | Girls | Boys |
| Champions | Strugeon Heights | Steinbach Regional |
| Tournament MVP | Brook Duncraft, Sturgeon Heights | Jordan Heppner, Steinbach |
| Tournament All Stars | Kiana Cadiz, Garden City; Abbigail Sasley, Westwood; Hillary Clark, Sturgeon Heights; Lily St James, Westwood; Emily Barnett, Sturgeon Heights; Liv Dao, Sturgeon Heights | Dylan Martens, Westgate, Thomas Kiesman, Dakota; Sam Ludwig, Westgate; Lachlan MacLean, Sturgeon Heights, Jyro Friesen Steinbach |
——————————————————————————————————————–
Huskies tame Warriors
By: Taylor Allen
Posted: 11/25/2019 11:53 PM | Comments: 0
The last time the Sturgeon Heights Huskies and Westwood Warriors met in junior varsity girls volleyball action, neither team was happy to be there.
It was the third-place game in the West Winnipeg Athletic Conference playoffs, with Sturgeon Heights prevailing.
The teams met again Monday night at Investors Group Athletic Centre. This time, they were playing for a provincial title.
It ended up being the same result as their conference matchup just more than a week ago, as the No.1-ranked Huskies took down the seventh-seeded Warriors in straight sets (25-19, 25-18, 25-22) to be crowned the JV high school girls volleyball top team in the province. It's the first provincial volleyball banner for the program since the amalgamation of Sturgeon Creek Collegiate and Collège Silver Heights Collegiate in 2007. Sturgeon was a perfect 6-0 at this year's provincials.
"You know what, this group here had a fantastic year and it all started with training," Huskies coach Ryan Vermette said. "These girls train like animals. They do the little things that they need to in their training to be effective on the court."
Westwood fell short on Monday, but what they overcame to even reach the final was an impressive feat in itself. In provincial group play, the Warriors went 1-2 and looked like they were destined to make a first-round or possibly second-round exit. But when it came time for the single-elimination playoff tournament, they looked like a whole new team. The Warriors outlasted the Grant Park Pirates, Oak Park Raiders and Garden City Fighting Gophers to be one of the final two teams standing. But unfortunately for Westwood, it doesn't feel like much of a consolation prize as they did the exact same thing last year. In 2018, Westwood was also the No. 7-seeded team and made it all the way to the finals before losing to Oak Park.
"That first day of the single knockout, we seemed to build momentum," Westwood coach Peter Sdrolias said. "Same as last year, we just fought and scrapped until the end. We just fell short to a strong Sturgeon Heights team."
Despite facing a 2-0 deficit on Monday, Westwood didn't go down easy. They came out firing in the third set, claiming a 15-9 lead. But Sturgeon Heights, led by some strong serving from left-side attacker Brook Duncalfe and middle Ria Sagert, rallied back with a 10-1 run en route to taking the set 25-22 to clinch the match.
"Today was just ball control, I think, at the end of the day. Our serve receive beat their serve," Vermette said. "They're an aggressive serving team and a good opponent, but we knew if we could pass (well), we'd be OK."
For Huskies setter Emily Barnett, a Grade 10 student, a provincial banner is the perfect way to cap off her junior varsity career.
"Before we played, we had a plan and we stuck to it," said Barnett, a tournament all-star.
"We were able to execute what we planned."
taylor.allen@freepress.mb.ca
Twitter: @TaylorAllen31