NSSAF 2018 Football Championships
NSSAF 2018 FOOTBALL CHAMPIONS

Division 2

Northeast Kings Education Centre

vs Sackville High,

38-0

Division 1 Tier 2

Dartmouth High

vs Sydney Academy,

41-12

 
Division 1 Tier 1

Citadel High

vs Charles P Allen,

43-12
Division 2
Division 1 Tier 2
Division 1 Tier 1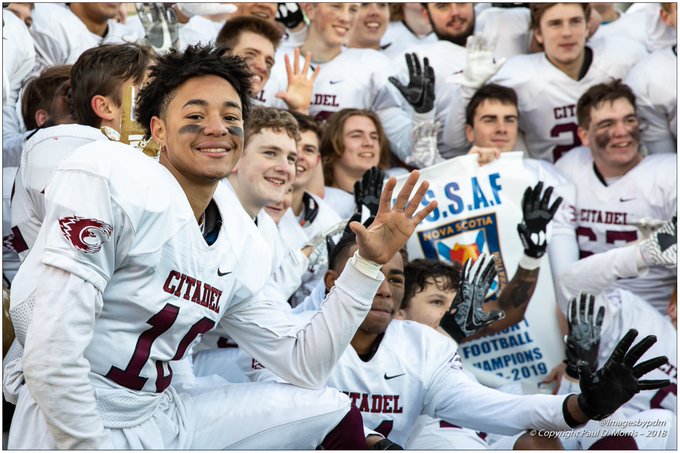 ---
Northeast Kings Titans blank Sackville to win provincial football championship
Ashley Thompson (ashley.thompson@kingscountynews.ca) 
WOLFVILLE, N.S. – They started the game as defending champions and left the stadium with gold medals around their necks.
The Northeast Kings Education Centre (NKEC) Titans stepped foot the crunchy snow covering parts of Acadia's Raymond Field Nov. 17 with a goal of winning back-to-back D2 provincial championship titles.
And they did just that.
Head coach Reg Ogilvie threw his arms in the air, holding two fingers up on hand, as the fourth quarter concluded with the scoreboard showing that NKEC not only won, but shutout the Sackville High Kingfishers 38-0.
"They're an unbelievable team," said Ogilvie, who added that he's extremely proud.
The Titans advanced to provincials after being undefeated in regular season play. They breezed through semifinals to host Sackville in the championship match at Acadia.
"We won the championship last year and we came in here with the same demeanor, and we got the win," said influential Grade 12 player Logan Scott.
"It feels great. We've been producing all year and luckily we got to do it again today."
Logan Potter had three touchdowns in the final.
"I couldn't do that without blocks from Logan and all the others. It was just a good team experience that we had," the graduating defensive line and running back said.
The team fought through cold snaps of wind and slippery field conditions in their battle for the banner."I think it's awesome. This is our third championship, me and Logan, in four years," said Potter.
"The team played great all year, and especially had great blocks."
Defensive co-ordinator Andrew Hartnett concurs.
"We had 10 points against all year, so that's a point a game and we had seven shutouts," he said.
"They just came together. They bought into the scheme that we put in and they just played their game. They were in position every time the offence lined up."
Hartnett said football IQ had a lot to do with NKEC's success this season.
"I've got some exceptionally smart football players on this team that can read offences and they know what these guys are going to throw at them," he said.
"It's fantastic. To go back-to-back is one thing but to do it in the fashion that we did it was something else. This is probably the best football team that I've ever coached."
---
Northeast Kings Education Centre: Football Team Strikes Gold Again!
Our Titan football team are repeat Provincial Champions again after a convincing 38-0 win over Sackville High School on Saturday afternoon on a snowy Acadia University turf field.  Owen MacRae, Logan Potter and Riley Comeau were strong in the offensive end and Logan Scott, Malcolm Sweet, Fred Freeman and Rhaden Pineo were tough on the defensive end. Congratulations to the entire team for your second provincial championship in as many years.
---
Citadel captures fifth straight NSSAF championship