NSSAF 2018 Snowboarding Championship
2018 NSSAF SNOWBOARDING INDIVIDUAL CHAMPIONSHIPS

GOLD
SILVER
BRONZE
Junior Girls'
Erika Swinamer,WHMS
Grace Spence, WHMS
Christina Ruldolph, WHMS
Intermediate Girls'
Marnie O'Brien, Sommet
Pheebie Dwyer, Sir John A
Kyra Jarvis, KES
Senior Girls'
Cameron MacDuff, CP Allen
Clare Bennett-Gibbs, KES
Issabell Allen, Halifax West
Junior Boys'
Issac McLeod, WHMS
Tristan Weigelin, Carrefour
Victor Fudge, WHMS
Intermediate Boys'
Ewan MacLean, AVHS
Grayson Langil, Pugwash
Marcus Vance, Dartmouth
Senior Boys'
Steven Pemberton, AVHS
Liam Gamble, Dartmouth
Alex Ryan, CP Allen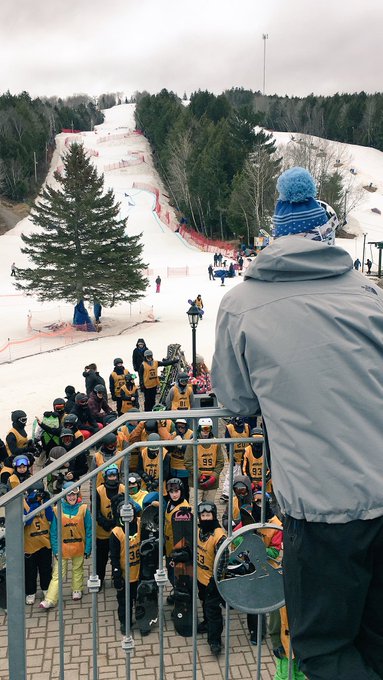 2018 NSSAF SNOWBOARDING TEAM CHAMPIONSHIPS

GOLD
SILVER
BRONZE
Junior Girls'
West Hants Middle Sschool
Intermediate Girls'
Avon High School
Auburn Drive High School
Senior Girls'
Avon High School
CP Allen High School
Junior Boys'
École du Carrefour
West Hants Middle School
King's Edgehill School
Intermediate Boys'
Avon High School
Auburn Drive High School
Senior Boys'
Avon High School
CP Allen High School
North Nova Education Centre
---
Hants County athletes shine during NSSAF snowboard cross provincials
MARTOCK, N.S. — Snowboarders from across Nova Scotia came to Ski Martock to participate in snowboard cross provincials on March 5, 2018. But it was students from the Windsor and West Hants area that consistently pushed to the top of the standings.
Brendan Skanes, a student from Avon View High School who is also part of the provincial team heading to nationals, said he was happy with his results. He placed fourth overall in senior boys.
"Riding in the course as much as we can gives us as much experience for bigger competitions, like nationals, and if we can, world cups," Skanes said. "AV is doing really good overall; we have a lot of really good riders."
Skanes highlighted one of his fellow teammates, Steven Pemberton, who is also heading to the nationals with him on March 18 in British Columbia. Pemberton placed first in the provincials with a best time of 30.29, the fastest time of the day.
"I'm very excited for nationals," he said, adding that it'll be his first time experiencing it.
"I've never been past Quebec for any competition, so it's going to be pretty cool to ride on that size hill."
Jeff Starratt, Avon View's snowboarding coach, said he was extremely proud of the school's performance.
"Their commitment to snowboarding is reflected in capturing four provincial banners at the NSSAF Provincial Snowboarding Championships," Starratt said. "AVHS continues to have a long line of top notch snowboarders in the province and this wouldn't be possible without the assistance of Martock and everyone out there that provides a top notch facility."
Erika Swinamer, 11, who placed first in junior girls with a best time of 39.86, said she was excited to have her two siblings also racing at different levels in the tournament.
"We're all trying to compete against each other and beat each other's times," Swinamer said. "Things are going pretty good; I think I'm leading at my school, so that feels really good."
Swimaner said she has been snowboarding since she was very young, adding that the whole family is involved with winter sports.
Steve Miller, vice principal at West Hants Middle School, was handling the announcements during the races. He said the organizers and volunteer coaches do this so the athletes can have a good time and try their best.
"We try to make this a big event for the kids. In the Nova Scotia School Athletic Federation, the highest level you can get to is the provincials," Miller said. "We want the kids to be able to make some memories."
Miller said the recently wrapped up Pyeongchang Winter Olympics has put snow sports like snowboard cross at top of mind for some athletes.
"A lot of kids, as they're watching the Olympics, have aspirations to make it to that top level, and if the school athletic federation can be a part of that, we certainly will do our part," he said.
"We're all about having friendly competition across the province where kids can display their athletic ability," he continued.
"We're very fortunate to have Ski Martock right here in our backyard," he added.
Boardercross Provincial Team Finals
Junior Girls
West Hants Middle School — 162.4
Intermediate Girls
Avon View High School – 169.23
Auburn High School — 191.33
Senior Girls
Avon View High School — 159.08
CP Allen High School — 168.11
Junior Boys
École du Carrefour — 157.43
West Hants Middle School — 159.83
King's-Edgehill School — 164.35
Intermediate Boys
Avon View High School — 142.5
Auburn High School — 170.79
Senior Boys
Avon View High School — 133.15
CP Allen High School — 139.41
North Nova Education Centre — 146.55
Horton High School — 153.44
Northumberland Regional High School — 159.17