NSSAF 2020 Varsity Basketball Championships
2020 NSSAF BASKETBALL CHAMPIONSHIPS
GOLD
SILVER
BRONZE
Division 3 Girls
Oxford Regional High School
Hants North Rurla High School
Cape Breton Highlands
Division 3 Boys
Hants North Regional High School 
PugwashDistrict High School  
Lockeport
Regional High School 
Division 2 Girls
Hants East Rural High School
Northeast Kings Edcuation Centre
Halifax Grammar School
Division 2 Boys
Middleton Regional High School
Northeast Kings Edcuation Centre
Millwood High Sool
Division 1 Girls
Dartmouth High School
Citadel High School
Horton High School
Division 1 Boys
Dartmouth High School
Halifax Grammar School
Citadel High School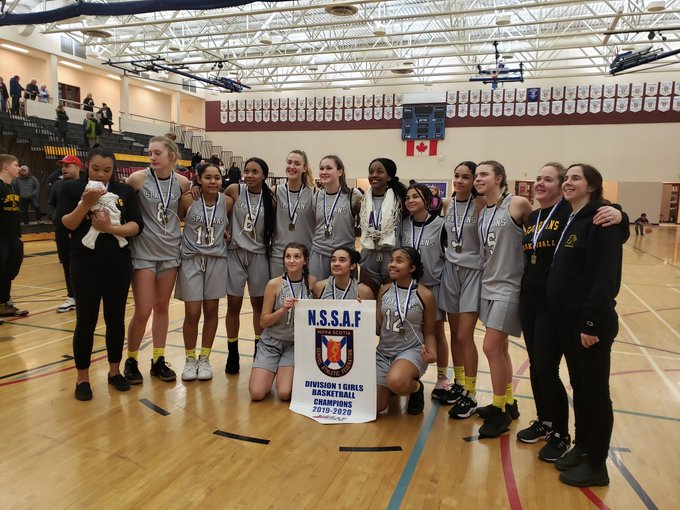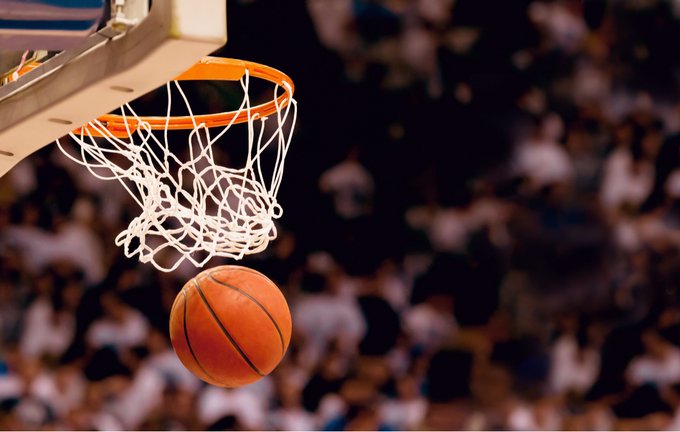 ————————————————————————————————————–
NSSAF: Dartmouth double double as Spartans clinch basketball titles
Premium contentWilly Palov(wpalov@herald.ca)
Published: a day agoUpdated: 16 hours agoFacebookTwitterMore
A A
The Dartmouth Spartans girls joined their male counterparts as defending NSSAF Division 1 basketball champions on Sunday.
Sami Russell scored 33 points, Aaliyah Johnson 17 and Denezz Beals 13 for the Spartans in their 70-63 victory over a game Citadel Phoenix team at Horton High School in Wolfville.
The Spartans boys' team defeated Halifax Grammar School 96-82 on Saturday.
The win completed a second-straight undefeated season for the Spartans, but they had to earn it said Johnson.
"It was getting very close all throughout the game," said Johnson, the only Grade 12 player on the team. "They were scoring, we were scoring, but we kept our composure and I'm really proud of all the girls.
"It was very emotional going through that game and it was a such a great feeling winning with them.
"I'm very proud of all the girls, it's such a great thing to go 60-0, very impressive."
Brinly Holt led the Phoenix with 24 points.
The Spartans advanced to the final with an 83-61 win over Cobequid. Beals led Dartmouth with 20 points while Johnson had 19, Russell 15 and Jana Peachy 10. Chloe Hart had 17 and Jasenda Horsman 13 for Cobequid.
Brinly Holt scored 19 points in Citadel's 68-59 semifinal win over Horton. Vanessa Vaughan drained 20 points for the Griffins.
Division 2
Hants East downed Northeast Kings 76-59 to capture the provincial banner.
Halifax Grammar School defeated Breton Educational Centre 70-61 to win the bronze medal.
New Germany edged Millwood 72-67 to finish fifth.
Division 3
Katy Baker scored 29 points as Oxford downed Hants North 79-69 to claim the provincial title on Sunday in Lockeport.
Brianna Warwick and Maddison Baker each added 13 for Oxford while Taylor MacPhee scored 20 and Mica Aparicio 19 for Hants North.
In the bronze medal game, Sarah Ross had 16 points and Leah Burns 11 as Cape Breton Highlands downed Lockeport 51-39. Esther Garren had 11 for the hosts.
Division 1 Boys
This season's final round of the running battle between Dartmouth and the Halifax Grammar School went to the Spartans.
They downed the Gryphons 96-82 in the title game of the NSSAF provincial boys' basketball championship in front of a full house at the Homburg Centre on Saturday to claim their second straight banner. The win avenged a loss to the Gryphons in the Capital Region final leading up to the tournament.
"It feels great," said star Dartmouth guard Romie Smith. "I knew when they got us in the Cities my team was going to be down on ourselves in the locker room. But we knew we had another chance and I told them to keep their heads up. We knew there was a bigger prize and this one would feel a lot better when we got that ring on our fingers.
"As a captain in the locker room, I can't get down on my teammates so I just told them to stay up and stay positive the whole way through. I love all my guys. What we went through this year, all the ups and downs, everything – this feels great."
Smith and backcourt partner Kyree Thompson again played a huge role in the Dartmouth win. Smith had 18 points and did a phenomenal job distributing the ball, while Thompson scored 33, including 20 in the first half.
"They're definitely hard to stop," Grammar's Ethan Marshall-Harris said of the two Dartmouth guards. "They were hitting some big shots so we couldn't do much at times.
"Their whole team plays well. It's been back and forth these last three years, battling hard, but congrats to them today. We just couldn't get it done in this one but it was a hard-fought game and I'm proud of my teammates. We worked right until the end and it was a great three years."
Marshall-Harris was the biggest factor for the Gryphons, scoring a game-high 34 and using his massive frame to pound on the Dartmouth defence in the paint. The Spartans had to roll through one inside player after another just to try to contain the Grammar big man, while also making sure he couldn't kick the ball back out to his shooters on the perimeter.
"My teammates do a really good job of getting me the ball and cutting to get open as well," Marshall-Harris said. "Different looks make it hard and we have a great coaching staff. They made it easy for me to get the ball."
That inside defence by committee by the Spartans, combined with their constant ball pressure everywhere else was enough to tip the game. They also got some clutch secondary scoring from players like Naijuan David, who spread the floor with his five three-pointers and 19 points.
"They went on runs and then we went on runs of our own," Smith said. "We weathered their storms and we stayed together until the end. That was the best part; we stayed together as a unit. Much love to all my guys. I'm speechless."
Nacari Smith chipped in 11 for Dartmouth and Jonah Crowther (14 points) and Lydell Husbands (12) also hit double digits for the Grammar School.
The Citadel Phoenix defeated the Horton Griffins 84-80 for the bronze medal.
Division 2
No. 1 seeded Middleton downed No. 4 Northeast Kings 76-64 to capture the championship banner in Amherst on Sunday.
Cole Harbour won the bronze medal with an 82-73 win over host Amherst Regional.
In the fifth–place game, Cole Harbour defeated Breton 66-57.