OFSAA 2018 Fottball Bowl Champions
Monday – November 26  
INDEPENDENT BOWL   
 Chaminade Collegiate Gryphons   (TDCAA)
21-24 OT
 

Ashbury College Colts (NCSSAA #2

)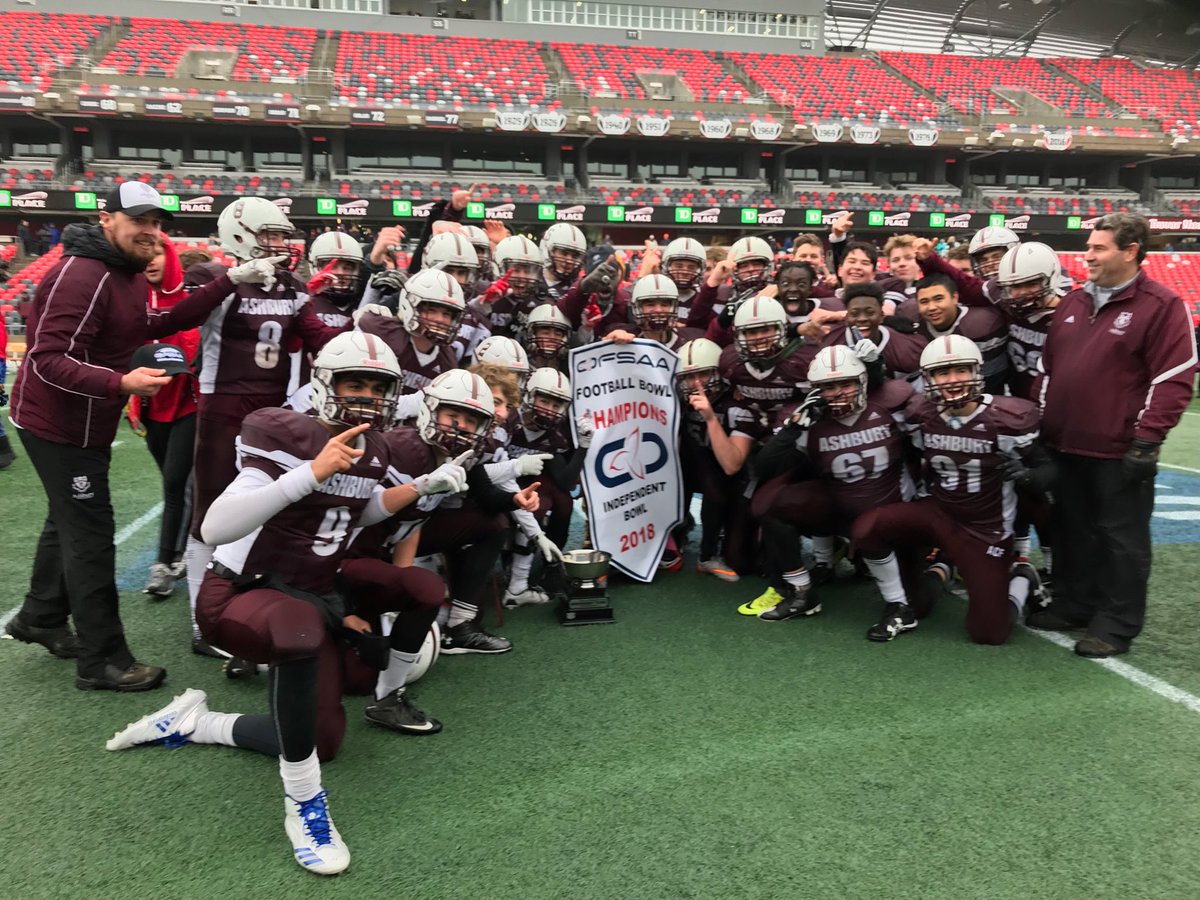 EASTERN BOWL 
| | | |
| --- | --- | --- |
| Thomas A. Stewart SS Griffins  (COSSA) | 8-25 | Holy Cross CSS Crusaders (EOSSAA) |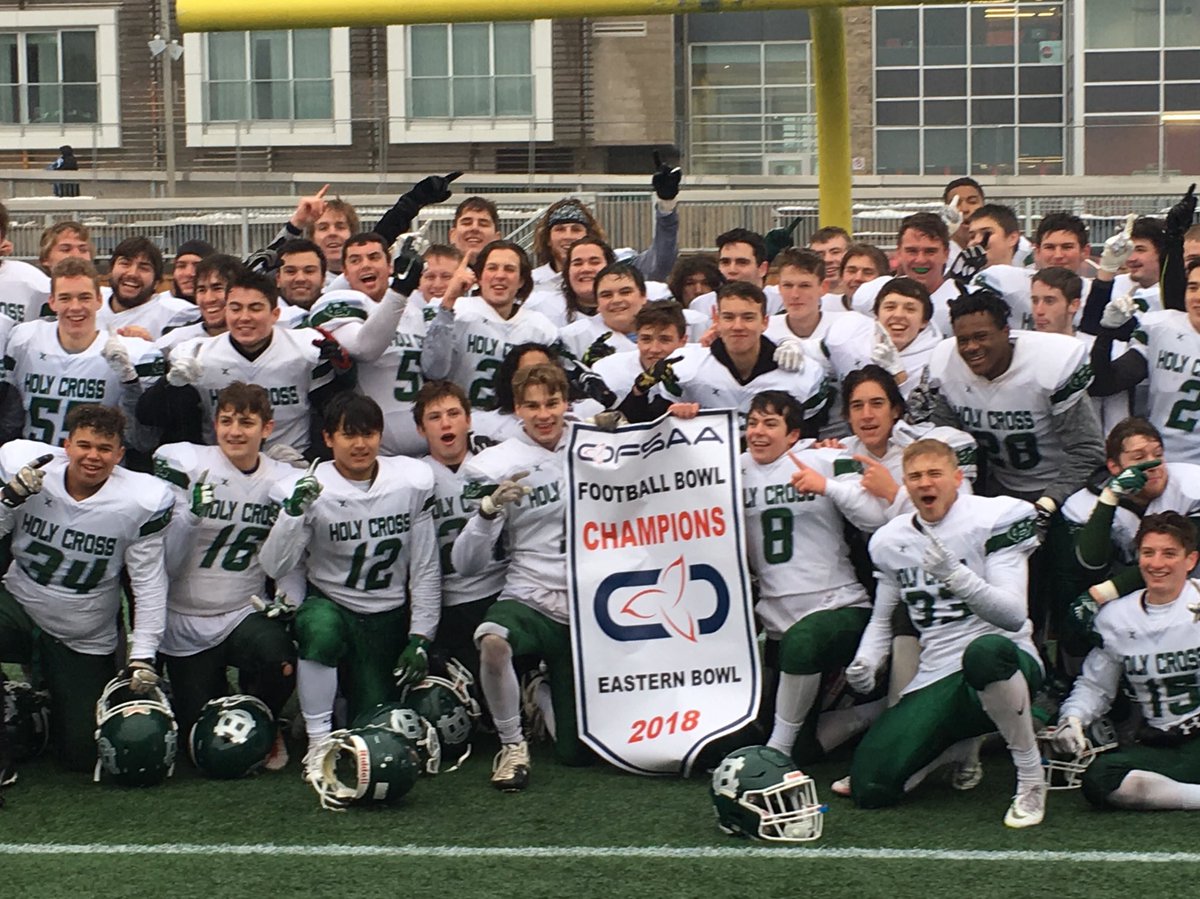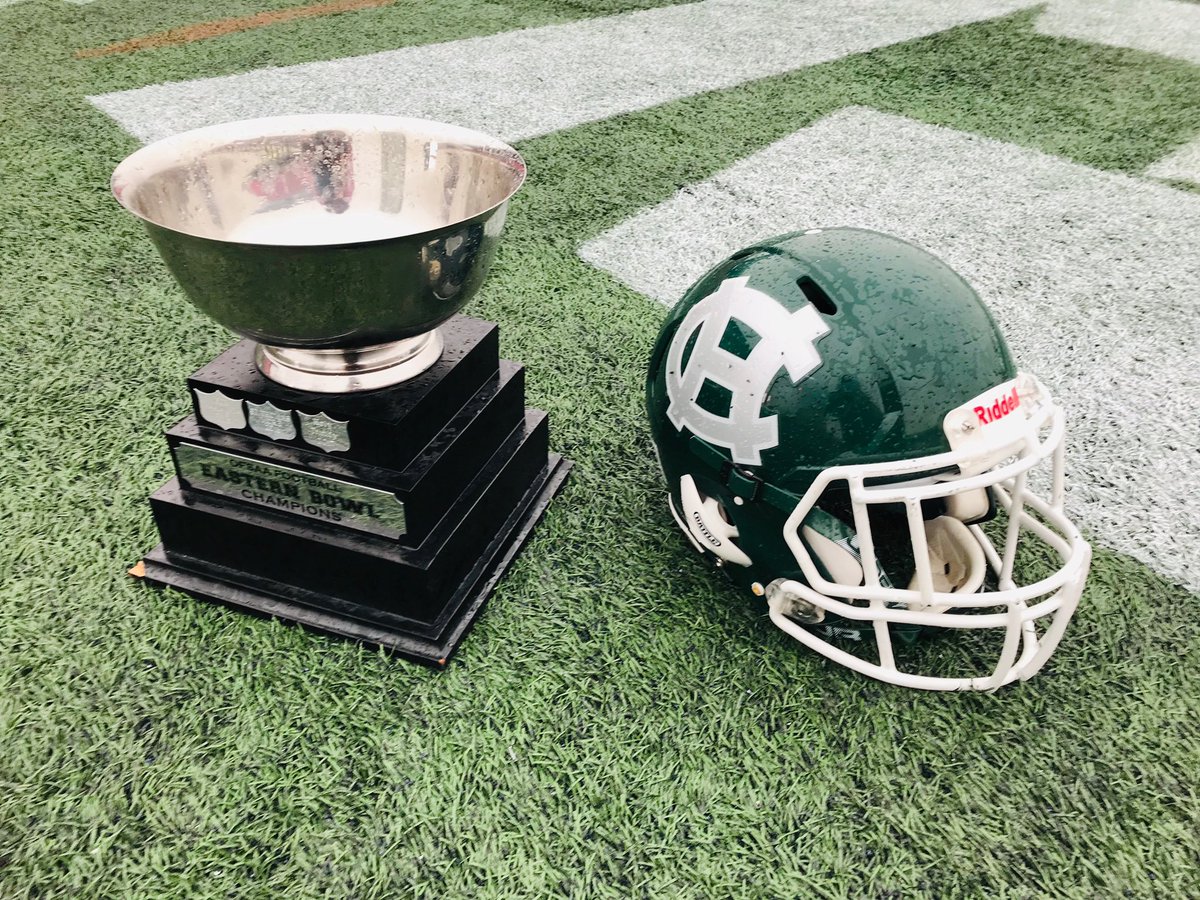 WESTERN BOWL 
| | | |
| --- | --- | --- |
| St Thomas More CSS Knights (GHAC) | 26-6 | Catholic Central HS Crusaders (WOSSAA) |
Tuesday – November 27
Games Delayed Due to Weather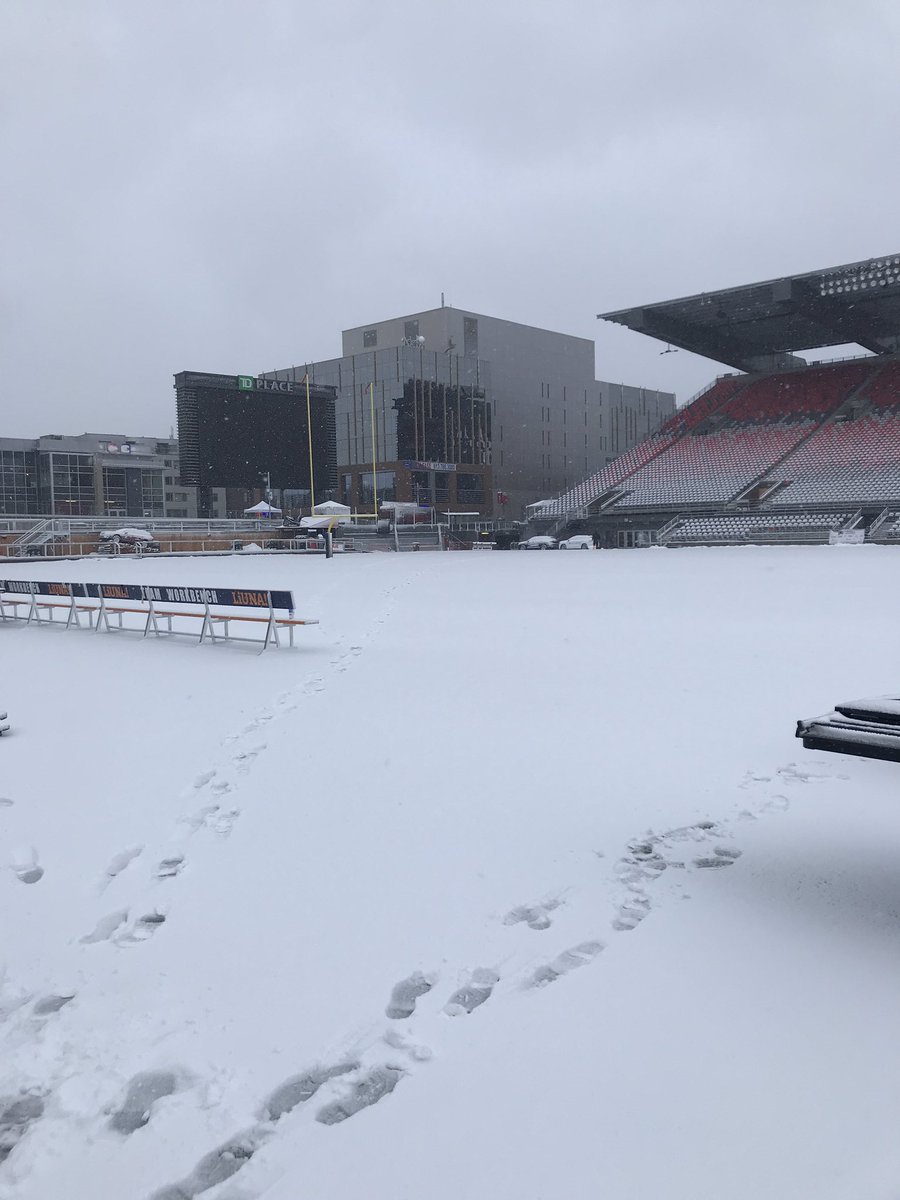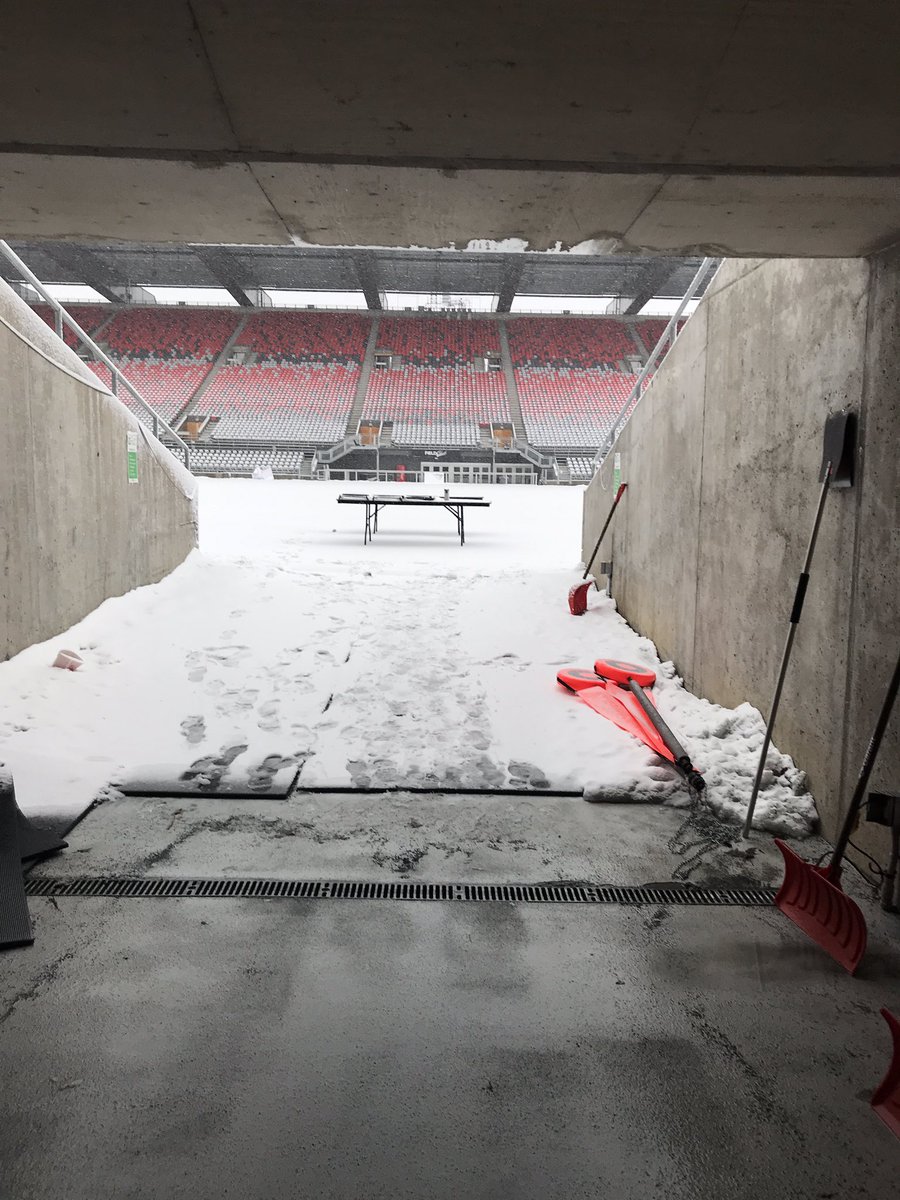 GOLDEN HORSESHOE BOWL 
Saint Paul CHS Patriots (SOSSA)
3-21

Lorne Park ss Spartans (ROPSSAA

)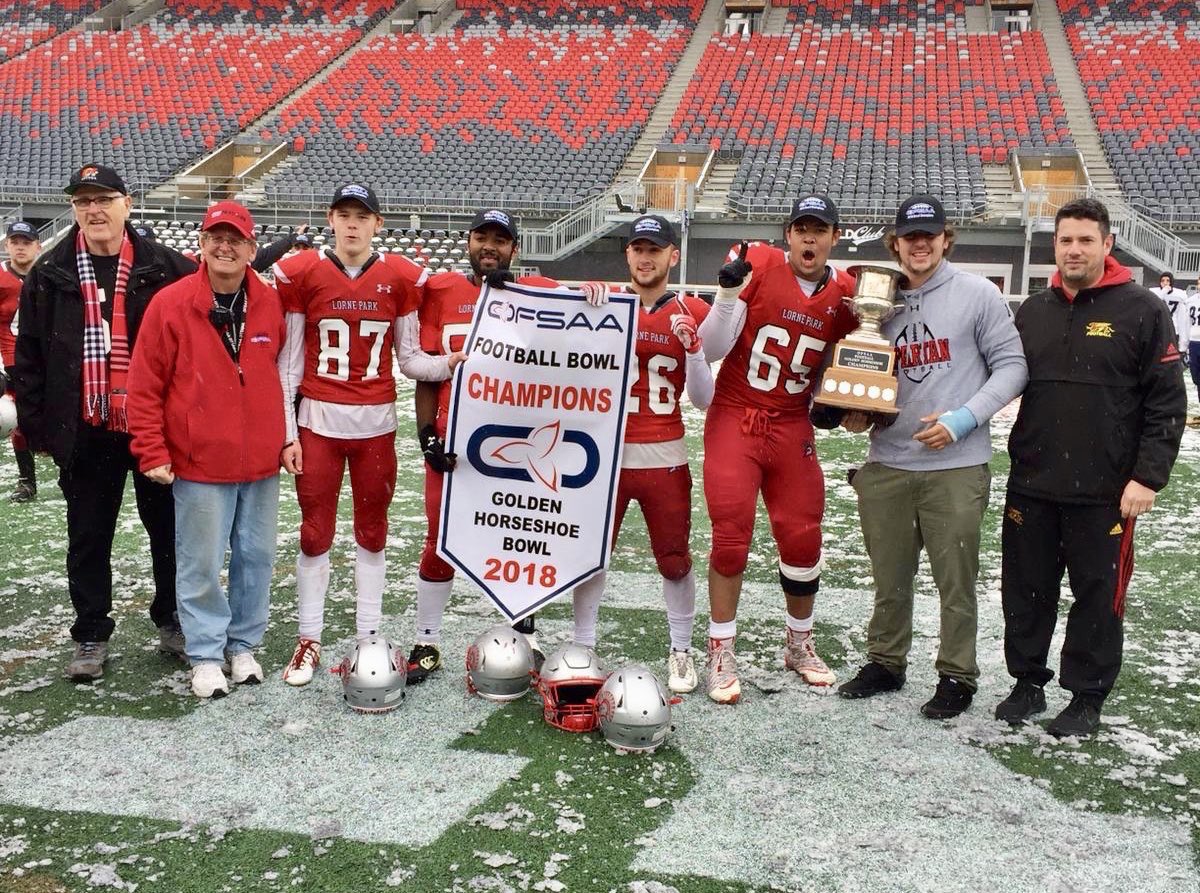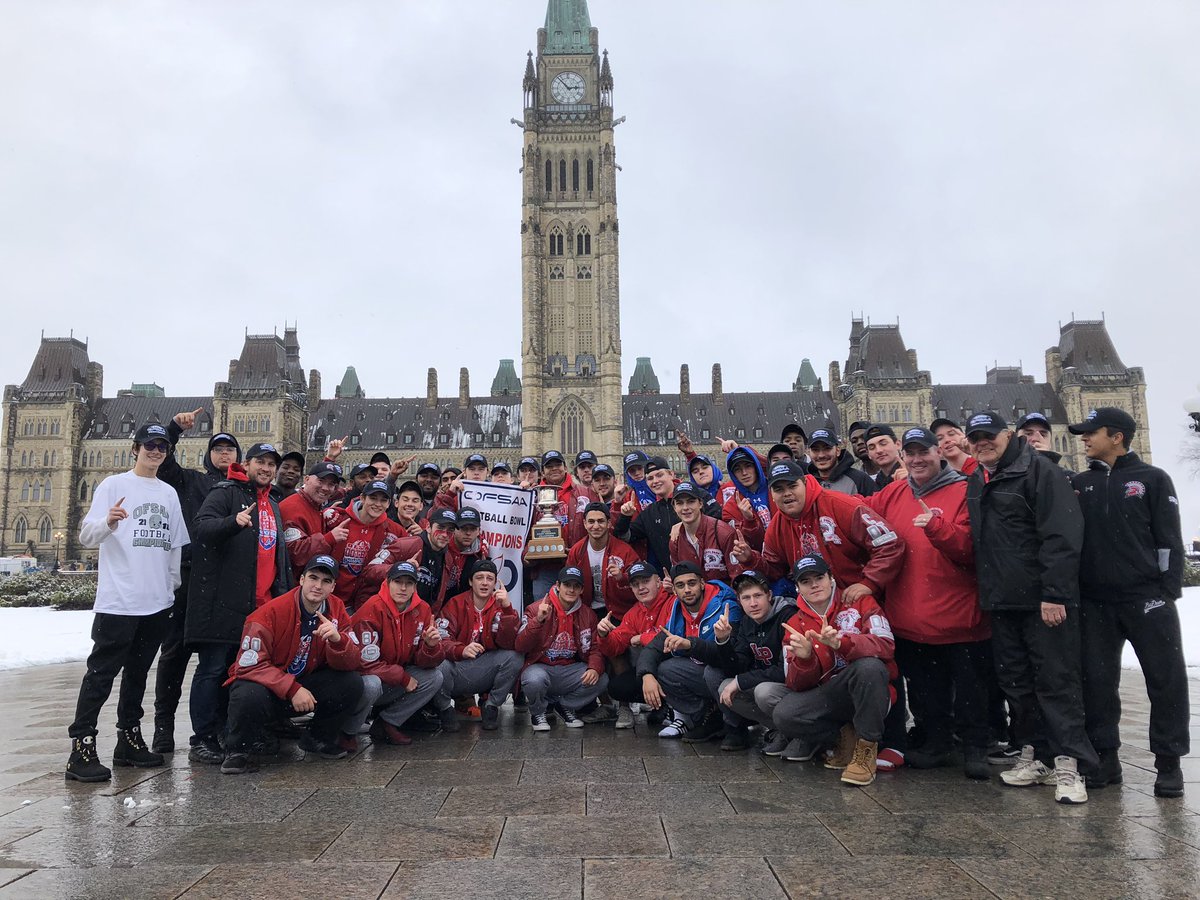 METRO BOWL
| | | |
| --- | --- | --- |
| St. Ignatius Falcons  (NWOSAA) | 17-10 | Northern SS Red Knights  (TDSSAA) |
NORTHERN BOWL
| | | |
| --- | --- | --- |
| Holy Names Knights CHS (SWOSSAA) | 24-12 | Huron Heights SS Warriors (YRAA) |
 NATIONAL CAPITAL BOWL
| | | |
| --- | --- | --- |
| Korah Collegiate Colts (NOSSA) | 45-12 | St. Peter CHS Knights (NCSSAA #1) |
---
---
Wednesday – November 28 
CENTRAL BOWL
| | | |
| --- | --- | --- |
| Jacob Hespeler SS Hawks (CWOSSA) | 48-0 | Gananoque SS Trojans (EOSSAA) |
 SIMCOE BOWL
| | | |
| --- | --- | --- |
| Holy Trinity CSS Titans  (LOSSA) | 38-21 | St. Joan of Arc HS Knights (GBSSA) |

TD Place Stadium, Ottawa

---
Peterborough's Thomas A. Stewart Griffins gear up for OFSAA Bowl in Ottawa Monday
FOOTBALL: Game against Kingston's Holy Cross Crusaders to be streamed live
SPORTS Nov 24, 2018 by Mike Davies  Examiner Sports Director
Thomas A. Stewart Griffins' Braden Bruce (51) and teammate Riley Armstrong pounce on an Eastside Ravens fumble during first half COSSA AAA senior football final action between St. Theresa and on Wednesday November 14, 2018 in Peterborough, Ont. The Griffins play Kingston's Holy Cross Crusaders Monday in the OFSAA Bowl. – Clifford Skarstedt , Examiner
The Thomas A. Stewart Griffins' trip to Monday's OFSAA Bowl will be a new experience for all involved.
The Griffins will line up against Kingston's Holy Cross Crusaders at 1 p.m. at Ottawa's TD Place, home of the CFL's Redblacks. The game will be streamed live online. It can be found at www.ofsaa.on.ca by finding Football Bowls under the "championships and festivals" link.
It is the school's first trip to an OFSAA Bowl which didn't exist the last time they won a COSSA championship in 1995. Jeff Challice and Vik Kulla have coached high school football champions before in their nearly three decades as teachers, but this is their first OFSAA Bowl. Their relationship goes back to when they were teammates on Adam Scott Lions championship teams in the 1980s.
"I don't think it matters which sport you are in when you get an opportunity to go to OFSAA it's a special situation," said Challice. "We're really looking forward to it, players and coaches, to just participate in an OFSAA. Some of these kids got to participate in OFSAA rugby and it's an exciting experience."
Kulla coached Adam Scott senior teams to five consecutive National Capital Bowl AA finals winning three from 2008-12. They were never eligible for the OFSAA Bowl which usually comprises AAA schools. For Kulla, there are bigger things about this experience than adding the OFSSA brand to the trophy.
"It's special because I'm coaching with Jeff Challice who is a very good friend of mine. I'm coaching a great group of guys. I've worked with Mike Goble the last couple of years who is new to our school from Lakefield. I'm really, really enjoying myself with the group of guys I'm coaching with and the team we have. It's been a lot of fun. I really hope we go up there Monday and have a good showing.
"There are a lot of guys Jeff and started working with in the junior program, along with Mike, and now this group has moved into senior. For some of those guys this will be their last game of football and, for us, our last game coaching them. It's exciting but it's also kind of sad in a way because we've had so much fun working with that group."
The game will pit two undefeated teams with the Griffins riding a 9-0 wave. Kulla has gathered some intel on the opposition.
"They've got a number of guys who are being looked at by universities so that bodes well for them," he said. "They're a large school that plays in a strong league in Kingston. Their quarterback is a tremendous football player and tremendous athlete. They have a ton of athletic players at key positions and they're deep. They don't use many players two ways. One coach in the Kingston area described them as a big, physical team that has a number of guys offensively you have to account for."
Challice says they've prepared all season to have a variety of approaches offensive and defensively.
"We've done what we've done all season which is prepare our plays and prepare our defence to be able to adapt to whatever they are doing," he said. "You have to go into a game with a variety of plays offensively and defensively and do what the other team gives you."
A good number of players were part of back-to-back COSSA junior championship teams which participated in Metro Bowl playoffs and reached the semifinals both years.
"It's really important that they've had some experience in the past playing teams outside of our area. Playing teams outside of Kawartha and COSSA gives you a variety of different looks," said Challice.
---
GHAC victory puts Knights in contention for OFSAA gold
By Larry MokoLinebacker Kobi Ofuokwu won't soon forget the 2018 Golden Horseshoe Athletic Conference championship football game.
It was a memorable performance because he intercepted two passes, stripped the ball for a fumble and made numerous tackles to help the St. Thomas More Knights defeat the Cardinal Newman Cardinals, 20-9, Tuesday.
With the victory the Knights advance to Ottawa's TD Place Stadium for next week's OFSAA Bowl Festival series. More will face the London Catholic Central Crusaders Monday in the Western Bowl.
"This game actually meant a lot to me," Ofuokwu said. "Last time against Newman I didn't have my best game.
"I was coming in full-swing mentally today. It was probably the best game I've ever played on this field."
The first of Ofuokwu's interceptions occurred early in the second quarter when Newman, on a pair of field goals of 23 and 28 yards by Vince Triumbari, held a 6-0 lead. Ofuokwa picked off the Daniel Eldridge pass at the Newman 45-yard line and returned it to the 30. From there, More quarterback Evan Hillock tossed a 30-yard touchdown pass to Isaiah Parkinson.
"That interception was a big turning point in the game," said Ofuokwa, a Grade 12 student. "It gave life to everyone. I was glad to be the guy to do it."
More took a 13-9 lead into the intermission as Dante Medeiros kicked field goals of 31 and 12 yards for the Knights while Triumbari replied with his third three-pointer (from 29 yards).
What turned out to be Newman's final score of the day resulted from a blocked punt by Drake Bodi and a recovery by teammate Luca Bertolo at the More 30-yard with 20 seconds left in the first half.
Josh Munoz accounted for More's final touchdown on a five-yard third-quarter run. That was set up when defensive end Kristian Stewart blocked a punt to give More possession on the Newman 37-yard line. Stewart, incidentally, also blocked a punt during More's 17-7 victory over Newman in the recent HWCAA final.
"We all just feed off each other," Stewart said of the strong More defence. "Everyone works. It's always 12 to the ball.
"Everyone was ready. We want to go to OFSAA. That drove us. And this is a rivalry game, too."
It was the third time in three tries this season More has defeated Newman.
"It was a tough week playing these guys for a third time," said Joe Burke, who has served as More's defensive co-ordinator for 12 years. "I thought we did a really good job playing as a group."
The Knights made four interceptions – two by Ofuokwu and one each by Janiel Gordon and Ethan Monoghan.
"Our defence is fast and it's physical," said Ofuokwa.
Offensively, More features four elusive and hard-to-bring down ball carriers – Munoz, Parkinson, Juwaun Smith and Josiah Clarke.
More – ranked No. 1 in Canada and winners of three consecutive OFSAA bowl games – faces the No. 3-ranked Catholic Central squad in the season finale.
"Catholic Central is an established program," Burke said. "They're very good. We have a lot of respect for them. We're in for a tough battle."