OFSAA 2019 Track and Field Championship
2019 OFSAA TRACK AND FIELD TEAM AWARDS
| | | | |
| --- | --- | --- | --- |
| | GOLD | SILVER | BRONZE |
| Midget Girls | Sacred Heart, Walkerton | Sir John A MacDonald, Agincourt | Brooklin High School. Brooklin |
| Junior Girls | Notre Dame, Brampton | Lo-Ellen Park, Sudbury | Leaside, Toronto |
| Senior Girls | Dunbarton, Pickering | Leaside, Toronto | Chatham-Kent, Chatham |
| Midget Boys | École secondaire Paul Desmarais, Stittsville | St Elizabeth, Thornhill | St Thomas Aquinas, Brampton |
| Junior Boys | Our Lady of Mount Carmel, Mississauga | Essex HS, Essex | Cardinal Newman, Stoney Creek |
| Senior Boys | Thousand Island, Brookville | St Edmun Campion, Brampton | Westdale, Hamilton |
| Open Girls | Adam Scott, Peterborough | E L Crossley, Font Hill | Innisdale, Barrie |
| Open Boys | Bell HS, Ottawa | Bayside SS, Belleville | Colonel By, Glucester |
| Overall Girls | Leaside, Toronto | Father Henry Carr, Rexdale | Sandwich, Windsor |
| Overall Boys | Thousand Island, Brockville | Bill Crothers, Unionville | St Edmund Campion, Bramtpon |
OFSAA 2019 WOMEN'S TRACK AND FIELD RESULTS
NR = new record *= Canadian Record
MIDGET
JUNIOR
SENIOR
100 m
Gabrielle Cole, J Clarke Richardson
Trinity Miller, R S McLaughlin CVI
Mackenzy Pierre-Webster, All Saints CSS
200 m
Gabrielle Cole, J Clarke Richardson
Jill Catton, Notre Dame CSS (Brampton)
Mackenzy Pierre-Webster, All Saints CSS
400 m
McKayla Francis, Sir John A MacDonald
Nicole McKenzie, St Marcellinus CSS
Keystalann Bechard, Vista Academy
800 m
Madison Fearon, Bramalea SS
Emma Pegg, Chatham-Kent
Tiana LoStracco, St James CHS
1500 m
Ella Jackson, Brooklin HS
Emma Pegg, Chatham-Kent
Anna Workman, Kingston
3000 m
Aysia Maurice, Humberview
Emily Bryce, Saugeen DHS
Sam Ford, University of Toronto School
Steeplechase
Molly Strain, Adam Scott CVI- Peterborough (NR*)
Sprint Hurdles
Hailey Reid, St Mary's (Hamilton)
Tayah De Sousa, Central Elgin
Shaleah Colaire, St Mary CSS (Pickering)
300/400 m Hurdles
Jade Celestine, Pickering
Jenna James, Craig Kielburger
Helena Jovic, John McCrae
4 x 100 Relay
Father Henry Carr (NR)
Father Henry Carr
Father Henry Carr
4 x 400 Relay
Chatham-Kent Secodnary School
High Jump
Kate Plumb, Lincoln South
Annika Jozin, Michipicoten HS
Emma Dale, St Clement's School
Long Jump
Peace Omonzane, St Edmund Campion
Vienna Courteau, St Peter HS
Hayley Manners, Richview CI
Triple Jump
Tolu Akinduro, North Albion Collegiate Institute
Jillian Catton, Notre Dame (Brampton)
Mahalia Mitchell, St Marguerite D'Youville CSS (NR)
Pole Vault
Anna Kistulinec, Blenheim
Pheobe Skipp, Northern CI
Alexzandra Throndson, Silverthorn CI
Shot Put
Rose Forshaw, ÉS L'Essor
Bailey Oakes, Bill Crothers SS
Audrey O'Connor, ÉS E J Lajeunesse
Discus
Harley Martin, Sacred Heart
Lauaren Fearn, Lo-Ellen Park
Alison Stephens, Cjatham-Kent
Javelin
Harley Martin, Sacred Heart
Alexandria Webb, St Benedict
Para Intellectual Shot Put
Rebecca Dobbs, Cornwall (NR)
100 m Ambulatory
Brittney Yurek , Twin Lakes Secondary School
100 m Intellectually
Kyla Rodrigue, Woodstock
100 m Visually Impaired
Scarlet Lowrie, Father J Brennan
200 m Wheelchair
Paige Nevestuk, Blessed Trinity High School
800 m Ambulatory
Sara Gillies, Orangeville District Secondary School
800 m Intellectual
Cassie Kemp, St Catherines CVI NR)
Team Championship
Sacred Heart – Walkerton
Notre Dame CHS – Brampton
Dunbarton SS – Pickering
Overall Team Championship
Leaside High School – Toronto
OFSAA 2019 MEN'S TRACK AND FIELD RESULTS
NR = new record *= Canadian Record
MIDGET
JUNIOR
SENIOR
100 m
Weagbe Mombo, Leaside CI
Jadon Rose, Our Lady of Mount Carmel
Myles Misener Daley, Westdale SS
200 m
Christopher Morales-Will, St Elizabeth CHS
Domenic Barresi, McKinnon Park
Myles Misener Daley, Westdale SS
400 m
Christopher Morales-Will, St Elizabeth CHS (NR)
Daniel Reader, Westmount SS
Myles Misener Daley, Westdale SS (NR *)
800 m
Riley Flemington, Appleby College
Eric Campbell, Sir Winston Churchill (St Catherines)
Abdullahi Hassan, Birchmount Park CI
1500 m
Riley Flemington, Appleby College
Eric Campbell, Sir Winston Churchill (St Catherines)
Foster Malleck, St Mary's (Kitchener)
3000 m
Tanner Hueglin, Holy Trinity
Tennessee Tremain, Guelph CVI
Foster Malleck, St Mary's (Kitchener)
Steeplechase
Kevin Robertson, Bell High School
Sprint Hurdles
Luca Nicoletti, ÉSC Paul-Desmarais
Mark Skerl, Cardinal Newman (NR)
Adam Exley, Resurrection CSS
300/400 m Hurdles
Ryder King, Ursula Franklin (NR)
Mark Skerl, Cardinal Newman
Leewinchell Jean, ÉS Publique Gisèle-Lalonde
4 x 100 Relay
St Roch Catholic Secondary School
Our Lady of Mount Carmel Secondary School (NR)
Pickering High School
4 x 400 Relay
St Edmund Campion Catholic Secondary School – Brampton
High Jump
Micha Mullings, Barrie North CI
Corbin Deblois, Timmins HVA
Sam Hall, East Northumberland
Long Jump
Desmond Fraser, St Thomas Aquinas (Brampton)
Mark Skerl, Cardinal Newman
Arase Soloman, Bishop Allen Academy
Triple Jump
Justin Chase, St John Paul II
Milan Lobana, Essex
Olak Benayo, Twin Lakes SS
Pole Vault
Mauro Comin,  John F Ross
(NR)
Bennett Woods, Penetang
Wyatt Knapp, Thousand Isalnd SS
Shot Put
Ben Brewer, Kincardine DHS
Spencer Lewis, Carleton Place
Anthony Argyropoulos, Richmond Hill
Discus
Ben Brewer, Kincardine DHS
Arthur J Stanat, Parkside CI
Anthony Argyropoulos, Richmond Hill
Javelin
Matthew Ing, Father J Redman
Will Torrance, Neil McNeil
Wariso Dullo, Glouchester HS
Para Ambulatory Shot Put
Gabriel Ferron-Bouius, Neapean High School (NR)
Para Intellectual Shot Put
Nathan Parcels, Norwood (NR)
100 m Ambulatory
Zachary Gingras, Bill Crothers Secondary School (NR)
100 m Vision
Austin Ingram, Valour JK-12 School (NR)
100 m Intellectually
Andre Ferguson, Westview Freedom
200 m Wheelchair
Mason Sajder, St. Jean de Brébeuf Catholic Secondary School
800 m Ambulatory
Zachary Gingras, Bill Crothers Secondary School
800 m Intellectually
Antonio Fricano, Bishop Tonnos Catholic Seceondary School
800 m Visually Impaired
Josh Roberto, Monsignor Paul Dwyer Catholich High School
Team Championship
ÉSC Paul Desmarais, Stittsville
Our Lady of Mount Carmel CSS – Mississauga
Dunbarton HS – Pickering
Overall Team Championhip
Thousand Island Secondary School – Brockville
——————————————————————————————————————
The sprinter actually broke two records on Friday: his own OFSAA record of 45.99 which he set in 2018, and also the Canadian national U20 record which was previously held by Shane Niemi at 45.83.View image on Twitter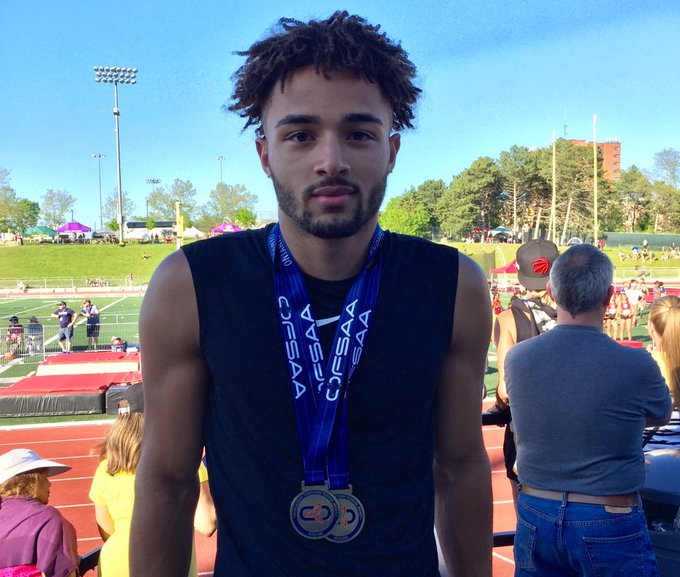 Athletics Canada✔@AthleticsCanada
Myles Misener-Daley on his new U20 and @OFSAATrack record in the 400m: "It's an amazing feeling! After last year's record, I had a lot of pressure this year, everybody was really expecting me to go for it so to pull it off was a good feeling."736:40 PM – Jun 7, 2019

Pirates capture Ontario track and field crown
Tim Ruhnke
More from Tim RuhnkePublished on: June 11, 2019 | Last Updated: June 11, 2019 9:17 AM EDT
It was another banner performance by Thousand Islands Secondary School (TISS).
The Ontario Federation of School Athletic Associations (OFSAA) 2019 Track and Field Championships were held in Guelph from Thursday to Saturday. TISS athletes won two gold and two silver medals, and the Pirates racked up 51 points to capture the boys overall title for the third year in a row.
"We are very happy to have achieved such great results," TISS Coach Randy Givogue stated on Monday.
"To have 30 athletes qualify for provincials might be the biggest highlight of all," he stated.
The program's success "…is a testament to the hard work put in by all of our coaches, our intermediate team in previous years, and our local Legion Track and Field Club who trains some of these athletes in the summer and winter months," Givogue said. "It is a community effort by all."
Benayo Olak medalled in two different events at the Ontario championships on Friday. Olak won a silver medal in the senior boys high jump in the morning and proceeded to win gold in the senior boys triple jump later in the afternoon. He was in fourth place after the fourth of six rounds in the triple jump; his fifth jump measured 14.38 metres, giving him a 2-cm victory over two other competitors.
"I know I jumped a good jump," said Olak, who noted that his runway for the previous jump of 14.26 felt good and the one for the winning effort felt even better. "I just made sure I got my heels up," he added.
TISS was tied for fourth in the boys division after day two on Friday.
Wyatt Knapp won TISS' second gold medal at OFSAA 2019 in the senior boys pole vault on Saturday. In what the coach referred to as the surprise of the day, Knapp won the event with a personal best of 4.20 metres.
"I couldn't believe it," the Grade 11 student said on Monday.
Knapp, who indicated his goal going into OFSAA was top eight, cleared 4.20 on his third attempt when there were only three others left in the competition. Knapp "knew" then that he would win. "It was good; felt great," he commented.
When asked about goals following his gold-medal performance at OFSAA, Knapp said he wants to jump 4.40 this summer and then, hopefully, clear 4.60 at the end of next season.
In addition to placing first overall on the boys side, TISS won the senior boys crown for the third consecutive year.
In the last track event at OFSAA, the TISS team of Mason Jones, Raef Wykes, Jordan Blanchard and Dillon Landon won a silver medal in the open boys 4×400-m final in a time of 3:19.86. It was the third year in a row the TISS boys relay team had won a provincial medal.
The TISS boys picked up 36 points from their four medal wins. They added 15 points from several other top-eight finishes in other events on Friday and Saturday.
Olak noted that this year's OFSAA boys title was probably the hardest of the three. "We've been through a lot this season," he said, noting the Pirates managed to overcome injuries and were able to push themselves. "I'm really proud of this team."
As for Olak, his 2019 OFSAA appearance had added meaning. He will be continuing his studies at the University of Guelph beginning later this summer. It was his first time competing at the facility, and Olak said it was 'secial' to see the coaches with whom he will be working next year. "That was big for me," he commented.
Olak and Knapp weren't the only local athletes to strike gold at OFSAA. Kaylee Clark of Gananoque placed first in the junior girls javelin throw on Saturday afternoon. The Grade 10 student's winning effort of 41.73 metres was more than three-and-a-half metres longer than the second-place throw.
The other local medal winner was Haydn Leaf of Brockville Collegiate Institute (BCI), who placed third in the visually impaired boys 100-m dash. His time was 14.61 seconds.
BCI, TISS and St. Mary will hand out their 2018-2019 athletic awards on Tuesday.