OFSAA 2023 Cross Country Championship
OFSAA 2023 Cross Country Overall Team Champions
| | | | |
| --- | --- | --- | --- |
| | GOLD | SILVER | BRONZE |
| Girls Overall | École secondaire catholique Thériault, NEOAA | Northern Secondary School, TDSSAA | Collingwood Collegiate Institute, GSSAA |
| Boys Overall | Neil McNeil High School, TDSSAA | Collingwood Collegiate Institute, GSSAA | Dundas Valley Secondary School, SOSSA |
| | | | |
OFSAA 2023 Cross Country Individual and Team Champions
OFSAA 2022 Cross Country Championships
GOLD
SILVER
BRONZE
NOVICE GIRLS' INDIVIDUAL
Rebecca Pribaz, Northern Secondary School
Kate Nagy, Newmarket High School
Micah Carswell, École secondaire catholique Père René-de-Galinée
NOVICE GIRLS TEAM
École secondaire catholique Thériault, NEOAA
St Maxmilliam Kolbe Catholic High School, YRAA
Northern Secondary School, TDSSAA
JUNIOR GIRLS' INDIVIDUAL
Eleanor Voykin, Birchmount Park Collegiate Institute
Riley Innes, Sir William Mulock Secondary School
Keiva Birmingham, Northern Secondary School
JUNIOR GIRLS TEAM
Holy Names Catholic High School, SWOSSAA
Collingwood Collegiate Institute, GBSSA
I E Weldon Secondary School, COSSA
SENIOR GIRLS' INDIVIDUAL
Emily Cescon, De La Salle College
Stephanie Bertram, Lawrence Park Collegiate Institute
Hanna Hollins, Dunbarton High School
SENIOR GIRLS TEAM
Vincent Massey Secondary School, SWOSSAA
Malvern Collegiate Institute, TDSSAA
Northern Secondary School. TDSSAA
GOLD
SILVER
NOVICE BOYS' INDIVIDUAL
William Thomas, Riverdale Collegiate Institute
Timothy Woods, Denis Morris Catholic High School
Emmett Leary, Georgian Bay Community School
NOVICE BOYS TEAM
Dundas Valley Secondary School, SOSSA
Neil McNeil High School, TDCAA
St Marys District Collegiate and Vocational Institute, WOSSAA
JUNIOR BOYS' INDIVIDUAL
Brody Clark, Milton District High School
William Scharf, Riverdale Collegiate Institute
Jack Gregory, Napanee District Secondary School
JUNIOR BOYS TEAM
Neil McNeil High School, TDSSAA
Colonel By Secondary School, NCSSAA
Sir Winston Churchill, SOSSA
SENIOR BOYS' INDIVIDUAL
Ian McAllister, London Central Secondary School
Travis Gaffney, St Mary Catholic High School (EOSSAA)
David Jiang, Upper Canada College
SENIOR BOYS TEAM
Glebe Collegiate Institute, NCSSAA
London Central Secondary School, WOSSAA
Neil McNeil High School, TDSSAA
PARA ATHLETEC MALE
Anthony Cigan, St Joseph's Catholic High School (SWOSSAA)
Ali Mussa Ali, Bluevale Collegiate Institute
Mohanad Kuhail, St Joseph's Catholic High School (WOSSAA)
PARA ATHLETE FEMAL
Ella Heeler, Regiopolis-Notre Dame Catholic High School
Faith Magyar, M M Robinson High School
Ziva Calder, Georgetown District High School
Click here for the list of participants by age group
What a day! At the OFSAA XC provincial championships the Neil McNeil xc team won its THIRD CONSECUTIVE OVERALL BOYS CHAMPIONSHIP! All 18 athletes left Centennial Park with a medal. The senior boys placed 3rd, the novice boys placed 2nd, and the junior boys won! This is quite an amazing accomplishment and the coaches are extremely proud of this entire team! Congratulations on a great season! #brotherhood #OFSAA #OFSAAXC #OFSAAXC2023 #makinghistory
——————————-
Mustangs repeat senior girls' title at OFSAA cross country while Knights claim junior girls crown
Author of the article: Jim Parker • Windsor Star Published Nov 05, 2023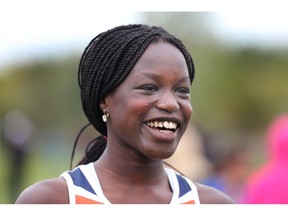 Article content
It was a title defence for the Massey Mustangs and a first for the Holy Names Knights on Saturday.
The Mustangs repeated as team champions in the senior girls' division while the Knights claimed the school's first-ever division title taking the junior girls' title at the OFSAA cross-country championships at Centennial Park in Etobicoke. St. Joseph's Anthony Cigan earned the area's third gold medal by taking the mixed para 4km race.
"To do it again is amazing," 17-year-old Layla Masse, who was the first Massey runner across the finish line, said of the repeat. "Everyone was so dedicated to pushing and meeting expectations of last year."
Three Massey runners returned from last year's championship team in Masse, who placed 23rd over the 6km course in 23 minutes and 14.11 seconds, Ella Heredi, who was 30th in 23:24.94, and Julia Scarrow, who was 55th in 24:08.54. Massey's other scoring runner was Grade 9 student Anieu Chan, who was right behind Masse in 24th place in 23:14.67. Vivian Hu, who was 207th, rounded out the team.
"The biggest challenge at being at OFSAA was the competition and the course and I couldn't have done this without my amazing teammates," the 14-year-old Chan said. "I just feel like we're a team and we just wanted to keep pushing. I've never experienced an event like this."
In a race that started with 275 runners, Masse said it was a matter of team members picking each other up along the way.
"Anieu and I helped each other," Masse said. "There was a point where I caught up to her and she was hurting and I said, 'Do it for the team' and then, when I started hurting, Anieu pushed me on. It was great that we pushed each other to the end of the line and Ella came up and pushed us, too."
Massey's team score of 132 was 72 points ahead of its closest rival and the Knights were just as dominant in winning the junior girls' title with 115 points, which was 79 points ahead of the second-place team.
"I was hoping for this to happen," said the Knights' Sophia Prantera, who led the team with a sixth-place finish overall over the 5km course in 17:26.43. "We were fifth last year (in the novice division) and we were hoping for it."
The 15-year-old Prantera called it a challenging course.
"The course was so hard," Prantera said. "There was so much gravel, my feet were killing me.
"You never know how a race is going to go and I'm super excited. Usually at the start, you can tell how it goes. At the start, I got out in third place and I knew it was going to be a good race."
Kacie Gelinas was 23rd in 18:24.51, Makenna St. Louis was 39th in 18:50.81 and Emily Owen completed the team's four scoring runners with a 47th-place finish in 19:10.74. Lyla Mascaro, who was 191st, rounded out the team.
"It means so much because I've been training," Prantera said. "I could never imagine this happening. My team, they worked so hard to get us first place, which is amazing.
"Honestly, I was so tired (at the end) I just laid on the floor and, as teammates came through, someone said, 'We won' and we all started jumping around."
Cigan was able to defend his title over the 4km race in a time of 14:39.96, which bettered his winning time of 17:53.53 from a year ago.
Meanwhile, the Villanova Wildcats finished seventh in novice boys' team competition led by Colin Antonucci, who was 48th over the 4km course in 14:02.08.
jpparker@postmedia.com