OFSAA Nordic Skiing Championship
2019 OFSAA NORDIC SKIING
| | | | |
| --- | --- | --- | --- |
| | GOLD | SILVER | BRONZE |
| Para Stand Boys 2.6km | Mark Cheek, Huntsville HS | David Barber, Sudbury SS | |
| Special Olympic 0.05 Classic | James Laframboise, St Joseph's CHS | | |
| Para Stand Girls 2.6km | Audréanne Soenens, Macdonald Cartier | | |
| Junior Girls 3.5km | Sophia Marshall, Huntsville HS | Katya Semeniuk, St Pius X | Katier MacIntosh, Glebe CI |
| Junior Boys 6km | Luke Allan, Ashbury College | Zak Varieur, Huntsville HS | Ethan Aarts, St marys DCVI |
| Senior Girls 6km | Sophie Levasseur, L'Équinoxe | Kristen Kornell, ÉSC Thériault | Collen Beck, Owen Sound DSS |
| Senior Boys 7.8km | Guillaume Pelchat, L'Équinoxe | Reid Kidner, Eastview | Riley deGans, Huntsville HS |
| Junior Girls' Team | Nepean High School "A", NCSSAA | Collingwood Collegiate Institute "B", GBSSA | Lo-Ellen Park "A", NOSSA |
| Junior Boys' Team | Glebe Collegiate Institute "A", NCSSAA | Collingwood Collegiate Institute "B", GBSSA | Glebe Collegeiate Institute "B", NCSSAA |
| Senior Girls' Team | Lo-Ellen Park, NOSSA | Collingwood Collegiate Institute "A" | Nepean High School, NCSSAA, |
| Senior Boys' Team | Parry Sound High School, GBSSAA | Lo-Ellen Park, NOSSA | Huntsville High School "A", GBSSA |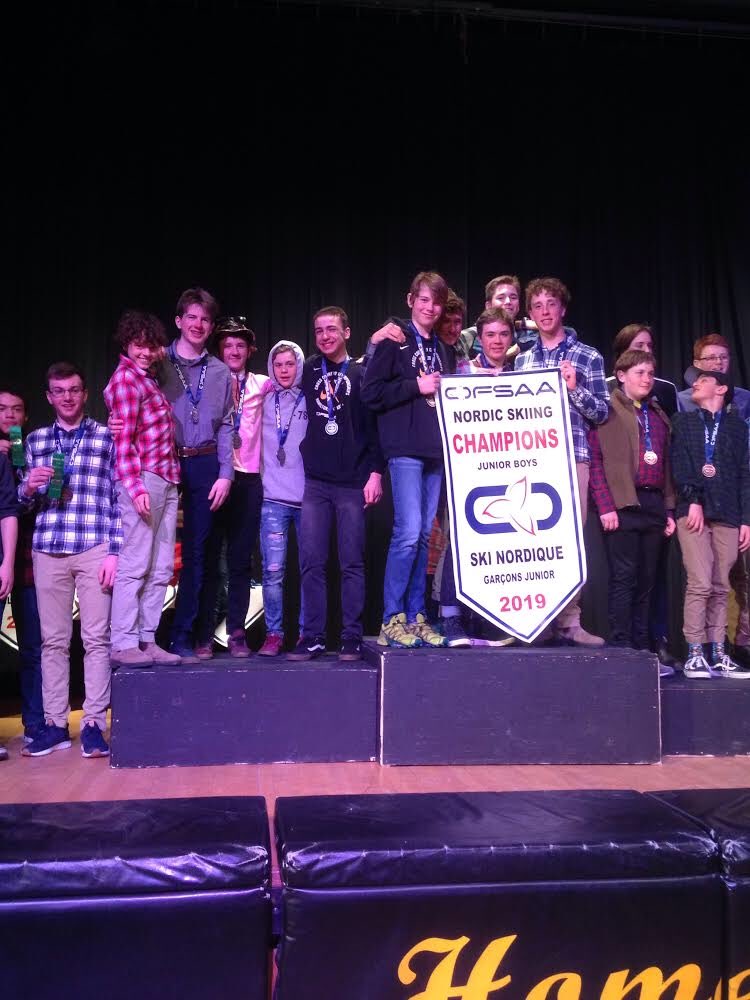 Jeff Ellis
OFSAA 2019 Keynote Speaker
Jeff is a graduate of Orangeville District Secondary School in 1997. He was a member of the Nordic Ski team for his entire high school career from 1992 to 1997. During his career, he was the winningest OFSAA athlete of all time. His Gold medals include;
4-time OFSAA Cross-Country Champion
4-time OFSAA 400m Champion
17 OFSAA gold medals (19 total medals)
After graduating from high school, Jeff represented Canada at the 1999 World Track and Field Championships in Sevilla, Spain – 400m hurdles. He attended the University of North Carolina at Chapel Hill and graduated in 2001 with a BA in International Studies. He is ranked 9th all-time in Canada with a time of 49.96 sec in the 400m Hurdles. He represented Canada in Jan 2010 FIS World Cup competition in Canmore, AB – 15 km Skate.
Professionally he was the special events coordinator for Brooks Running shoe company from 2004-2010. He was a ski technician for the Australian National team from 2009-2011. Including 2 World Championships and the 2010 Vancouver Olympic Games. From 2012 to March of 2018 Jeff worked in Media and Communications for the International Ski Federation (FIS) for Cross-Country Skiing. During this time, he started the FIS CrossCountry Inside the Fence behind the scenes video series. Jeff currently has his own small business and manages his wife's post-athletic career partnerships. 
Personally, he is the proud husband to American 2018 Olympic Nordic Ski Champion Kikkan Randall and proud father to their 2-year-old son Breck.