PEISAA 2019 Senior Basketball Championships
RURAL AAA MEN COMPLETE SENIOR GOLD DOUBLE!
Rural defeats TOSH 81-72 to win Gold. Colonel Gray downs Westisle for Bronze.
TOSH vs RURAL: A fast 1st quarter saw Rural ahead 25-20. Logan MacCallum and Thomas Hogan each had 8 for Rural while Sahib Singh and Ben MacDougall also had 8 each for Axemen. Rural led 43-32 at half and 70-55 after three. Final 81-72 Tops for Rural: Logan MacCallum 23, Parker Roche 14, Thomas Hogan 13, Jose Chrisostomo 12, Will Vidito 11Tops for TOSH: Ben MacDougall 27, Sahib Singh 25, Spenser Rossiter 9, Vlersim Musliu 8 plus 6 boards and 7 steals.
WESTISLE VS COL GRAY: 19-16 Colonels after first quarter. Ian Kerr had 7 for Gray and Chris Ramsey 12 for the Wolverines.Westisle had a strong second quarter with better rebounding at both ends and some easy fast break hoops to take a 39-31 lead. Ramsey now had 18 and Jonathan Smith 10 for Westisle while 3 treys kept the Colonels within range.Col Gray recaptured the lead 46-45 with 3:21 left in third quarter led by Ian Kerr, Yahya Sefau and Jeremy Norman each with big baskets. The third quarter ended 50-45 Col Gray. Final was 72-65 Colonels Col Gray captures the Bronze Medal
Tops for Colonels: Kerr28, Norman 14,Sefau12 and Keegan Carty 8
Tops for Wolverines: Ramsey 24, Jonathan Smith 12, Matthew Smith 11 and Logan Dawson 8
Tournament All-stars:1. #11 Westisle, Chris Ramsey2. #6 Col Gray, Ian Kerr3. #21 Rural, PArker Roche4. #10 TOSH, Musliu5. #15 TOSH, MacDougall
MVP: #10 Rural, Logan MacCallum

RAIDERS CAPTURE SENIOR AAA WOMEN GOLD MEDAL!
Raiders defeated TOSH 61-39 for Gold, Colonel Gray got by Bluefield for Bronze in Senior AAA Women's Basketball Provincials. For more info click on Read More.
TOSH vs RURAL:Rural's defense had the Axewomen rushing open shots and 4/14 shooting from foul line turned that into a tough fought 15-5 first quarter Raider lead. Amy Plaggenhoef led all scorers with 12 points with 2 treys at the half with Rural ahead 28-14. After three quarters 53-26 for Raiders. Final score Ch'town Rural 61 Three Oaks .39 Ch'town Rural wins the gold medal and Three Oaks wins silver.
Tops for Rural: Plaggenhoef 18, Lawlor 16, Jaelyn Power 10
Tops for TOSH:Jordan Power 10, Lauren Lilly 7 and Julie Campbell had 14 rebounds.

COL GRAY vs BLUEFIELD: A low scoring affair had the Bobcats ahead 14-12 at half.Treys by Sydney Strain and Helena Vos boosted the Colonels to a 33-28 edge after three. A three pointer and layup by Hope Muttart brought Bluefield with 40-34 with 4:27 to play with Strain and Ruby Sharp on bench with 4 fouls. MacKayla Vos made it 40-36 with 3:07 butHelena Vos stopped the Bobcat run with a trey at 1:54 and the Colonels won 45-36.
Col Gray Colonels win the PEISAA AAA Women Dominos
Bronze medal Tops for CG: Strain 21, Vos 18, Ruby Sharp 4
Tops for BF: Mackayla Vos 14, Muttart 9 and Elesea Glenn 7 plus14 rebounds
Tournament all-stars:
Bluefield, #8, Makayla VosCol Gray #6, Sydney StrainRURAL #4 Devon LawlorTOSH, #4 Lauren LillyRURAL, #12 Amy Plaggenhoef
MVP: Rural #4 Devon Lawlor
MONTAGUE WOMEN WINS SENIOR AA GOLD!
Montague Vikings Women got by Grace Christian 57-45 to win Gold in Senior AA Basketball.
The Montague Vikings won a hard fought battle with Grace Christian to win Gold at the PEISAA Senior AA Womens Provincial Basketball Championships, sponsored by Domino's. Montague only held a 2 point advantage with three minutes left but were able to pull away in the end for the 57-45 victory.
Allison Vandaele with 20 pts and Morgan Jardine 18 pts, led the way for Montague. Alexa Rancourt 19 pts and Ezzy Able 8 pts led Grace Christian.
Montague led 28-22 at the half.
BLUEFIELD CAPTURE "AA" MEN GOLD MEDAL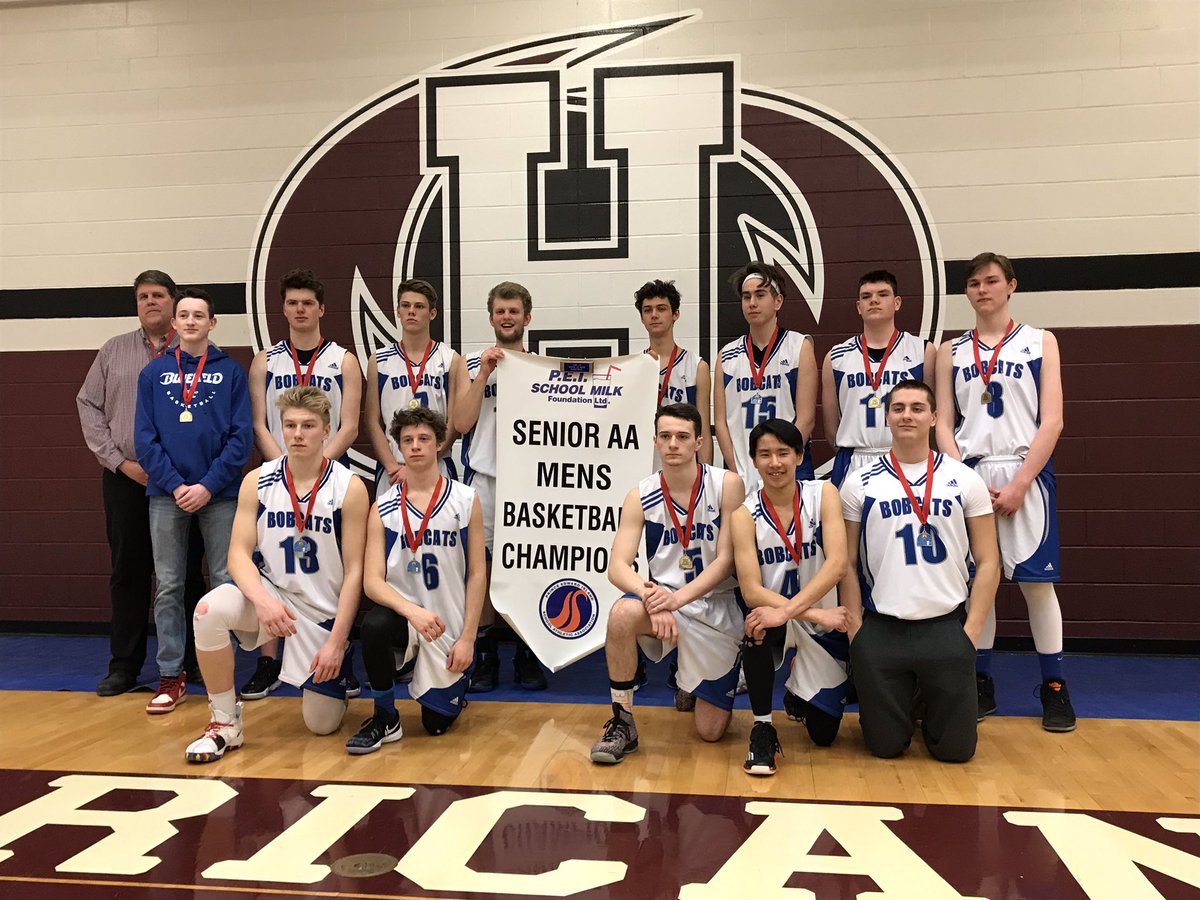 Bluefield Bobcats Men made a late run to get by a stubborn Morell team and win Gold at the PEISAA Domino's Senior AA Provincial Basketball Championships in front of a large crowd at Holland College.
Bluefield Wins Gold
The Bluefield Bobcats trailed for much of the game but were finally able to get the lead early in the 4th quarter and were able to hold off Morell to win 67-58 and claim Gold in the Senior AA Men Basketball final in front of a large crowd at Holland College. 
Leading the way for Bluefield was Provincials MVP Aike Wiliting with 17 pts.  Other top point getters were Daniel Wills 12 pts, and Brady Rodd 10 pts.

For Morell it was Thomas Craig 19 pts, Isaac Compton 14 pts and Diego McGarry with 12 pts.
Montague Takes Bronze
In the Bronze Medal game, Montague took an early lead that they would never relinquish. Rural fought back several times but could never close the gap closer than five. Montague won 53-46 to take the Bronze. Leading the way for Montague was MVP Hunter Wight with 17 pts, and Logan Fitzpatrick 10 pts. For Rural it was Justin Yang and Tyson Monaghan each with 13 pts.
All Stars
Justin Yang – Rural
Hunter Wight – Montague
Isaac Compton – Morell
Thomas Craig – Morell
Nathan Wills – Bluefield
MVP
Aike Wilting – Bluefield
MONTGUE CAPTURE "AA" MEN BRONZE
Montague Vikings Men defeated Charlottetown Rural (#2) 53-46 to take the Bronze medal at the PEISAA Domino's Senior AA Provincial Basketball Championships played at Holland College.
WOLVERINES CAPTURE "A" WOMEN GOLD
WESTISLE WINS LATE OVER BOBCATS FOR "A" WOMEN GOLD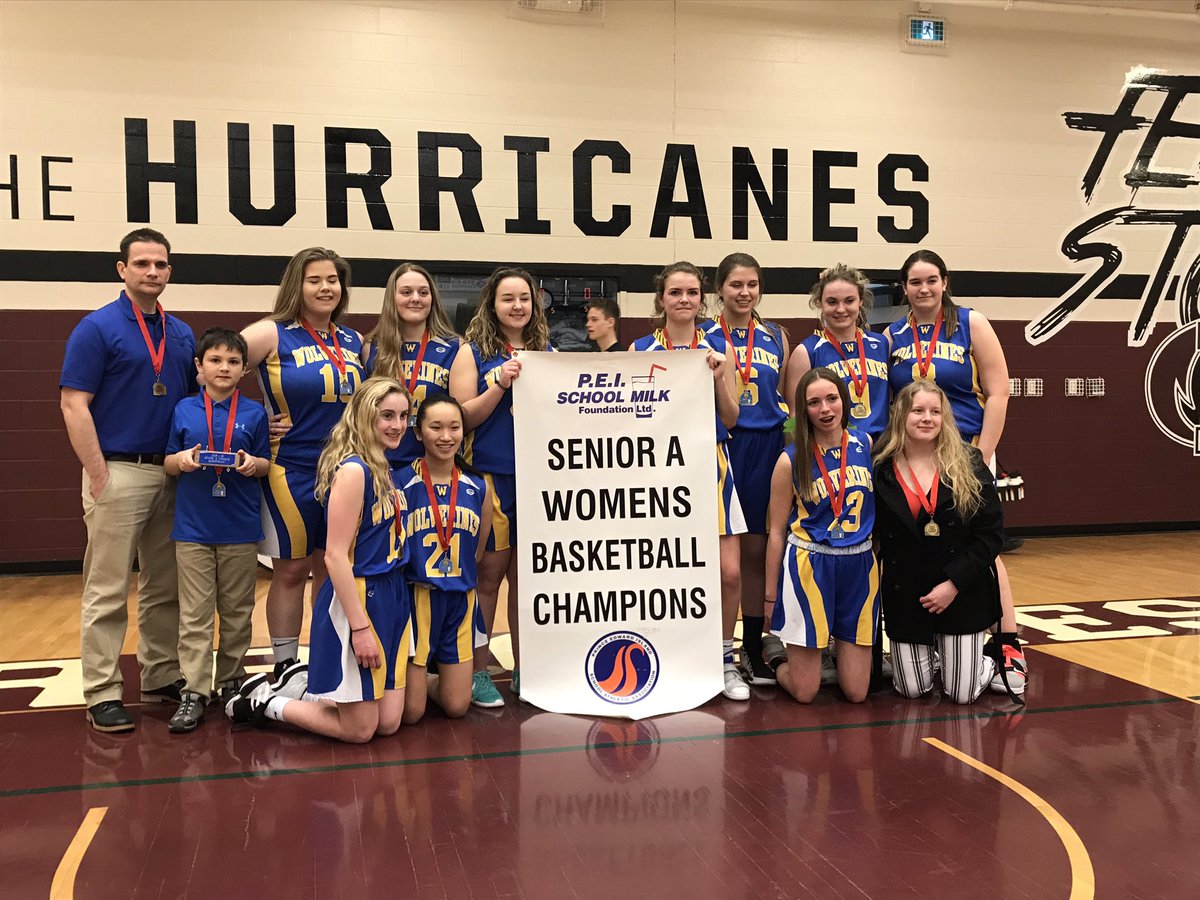 WESTISLE vs BLUEFIELD #2Westisle took a 20-17 lead into the halftime break. Heidi Thibodeau led Westisle with 8 and Janaya MacNeill. After three, Bluefield was ahead 29-26. With 2:23 remaining the score was tied at 32. Emma Leard hit a long shot from the sideline with 1:20 to play and Heidi Thibodeau had a steal and finished it with a driving layup to give the Wolverines a 38-34 victory. Westisle wins the "A" Women gold medal while the Bluefield Bobcats take home the silver.
TOPS FOR WI: Thibodeau 12, Hannah Gallant 6 and 8 rebounds
TOPS FOR BF#2:Eve Murphy 10, Cassie MacGillivary 8, Emma Langley 6 with 13 rebounds including 5 blocks
TOURNEY ALL-STARS:#11 Morell, Kaylee Stewart#4 BF, Eve Murphy#14 BF, Emma Langley#8 WI Hannah GAllant#9 BF Cassie MacGillivary
MVP: #11 WI, Heidi Thibodeau
MARLINS CAPTURE "A" WOMEN BRONZE
LADY MARLINS WIN OVER TOSH #2 FOR BRONZE
MORELL vs TOSH: #2The Marlins led at half 21-12 behind 9 pts and 7 rebounds by Kaylee Stewart. A flurry of four hoops in last three minutes gave Morell the bronze medal victory TOSH 36-24.Morell wins the "A" women PEISAA Dominos bronze medal.
Tops for Morell:Syewart 11, Amanda Taylor 10 pts plus 14 rebounds and Bailey MacLean 9 pts
Tops for TOSH: Desiree LaPierre 6 pts and 15 rebounds, Amadia Wedge 6 pts and Megan Moase 5 pts.
TOSH #2 WINS "A" MEN GOLD MEDAL
TOSH#2 edges SOURIS 66-63 to win gold
TOSH #2 vs SOURIS:The teams were hitting shots, with 7 treys total, 3 by Cameron Wall, as the teams tied at 21 after 1st quarter. Half time saw the Axemen ahead 35-32 and the score was tied at 52 apiece with 8 minutes to play. A flurry of baskets at the end saw TOSH hang on to capture the "A" Men gold medal, 66-63. Souris wins the silver medal.
Tops for TOSH #2:Cameron Wall 27pts and 15 boards, Tyler MacDonald 19pts, Kyle Cameron 8pts
Tops for Souris: Chaisson 18, Jacob Outhouse 12, Matt Antle 11, Steve Acorn 7 points,5 steals and 5 blocks plus 7 rebounds.
All-stars:#23 Col GRAY Christian Morrison#11 BF Hunter Prus#8 Souris Steve Acorn#6 TOSH#2 Tyler MacDonald#10 SOURIS Issac Chaisson
MVP; #8 TOSH, CAMERON WALL
BOBCATS CAPTURE "A" MEN BRONZE
BOBCATS DEFEAT CGRAY FOR "A" MEN BRONZE
BLUEFIELD #2 vs COL GRAY #2The Bobcats held a 38-27 halftime lead. Christian Morrison had 10 for the Colonels and David Elsinga 8 while Hunter Prus led the Bobcats with 12.Bluefield continued to the final 65-53 and take home the "A" Men bronze medal.
Tops for BF: Prus 20, Luke McCarville and Carson Doirion 11 each and Nick Mills 10
Tops for CG:Morrison 15,Elsinga 12, Seth Doyle 11 and Caleb Briggs 7