PEISAA – Domino's Basketball Championship
2021 PEISAA DOMINOS PIZZA INTERMEDIATE BASKETBALL CHAMPIONS
| | | | |
| --- | --- | --- | --- |
| | Gold | Silver | Bronze |
| A Girls | Vernon River Consolidated | Birchwood Intermediate | École Pierre-Chaisson |
| A Boys | Englewood Consolidated | Grace Christian | École François-Buote |
| AA Girls | Birchwood Intermediate | Stonepark Intermediate | Queen Charlotte Intermediate |
| AA Boys | Birchwood Intermediate | East Wiltshire Intermediate | Hernewood Intermediate |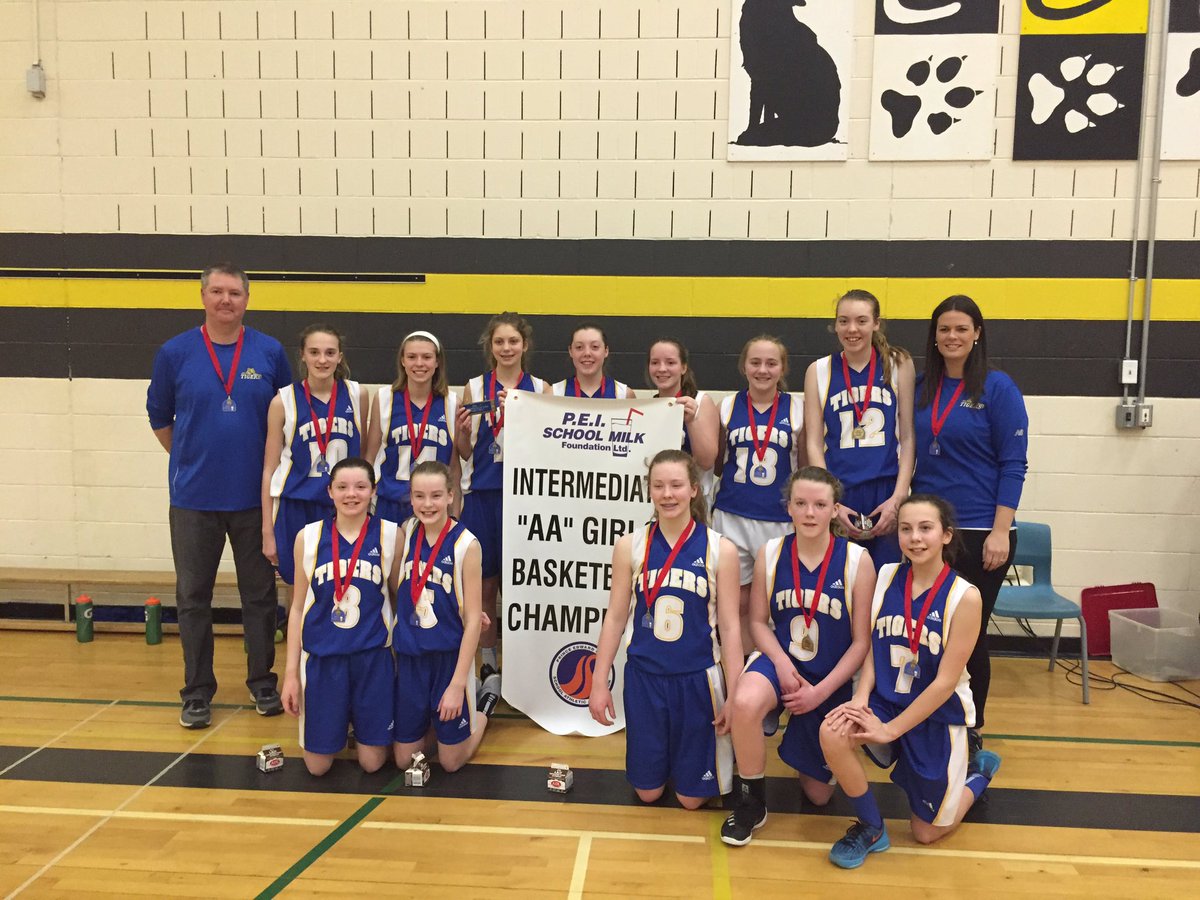 2021 PEISAA DOMINOS PIZZA SENIOR BASKETBALL CHAMPIONS
| | | | |
| --- | --- | --- | --- |
| | Gold | Silver | Bronze |
| A Girls | Grace Christian School | Morell Consolidated | Kensington Intermediate/Senior High |
| A Boys | Three Oaks Senior High | École François-Buote | Charlottetown Rural #3 |
| AA Girls | Monatage Regional High | Charlottetown Rural High #2 | Westisle Composite High #1 |
| AA Boys | Charlottetown Rural High #2 | Colonel Gray Senior High #2 | Westisle Composite High |
| AAA Girls | Charlottetown Rural High | Three Oaks Senior High | Bluefield HIgh |
| AAA Boys | Three Oaks Senior High | Charlottetown Rural High | Colonel Gray Senior High |
——————————————————————————————————————–
Strong defensive play sparks Summerside high school
Jason Simmonds (jason.simmonds@journalpioneer.com)
It was the perfect end to an undefeated season for the Three Oaks Axemen on Tuesday night.
The Axemen defeated the Charlottetown Rural Raiders 87-66 on their home court to win the Domino's Prince Edward Island School Athletic Association senior AAA boys' basketball championship.
The Summerside high school, which has won back-to-back and three of the last four provincial titles, completed the 2020-21 campaign undefeated at 12-0 (won-lost).
"We started strong offensively and were averaging almost 100 (points) a game, but sometimes that shooting is unsustainable, and you are always trying to convince your kids that defence is what wins out in the end," said Axemen head coach Faro Halupa.
"In the last couple of games for sure, we started to show that belief that if we dug in harder and really defended, people wouldn't be able to play with us. … The lead grows when you get stops, and that's what happened (Tuesday)."
The Axemen took control of the game early in the first quarter and never looked back en route to building quarter leads of 24-11, 45-26 and 69-53.
Raiders assistant coach Brett Poirier said Rural was unable to dig itself out of the early hole.
"They are really, really composed," said Poirier, a former player at Three Oaks. "They find a way consistently to defend the basketball from 90 feet up and down the court; they are so talented at doing that.
"Our guys did everything they could, but ultimately they just outplayed us a little bit, they hit more shots and they were in more places with the basketball."
Top performer
Spencer Rossiter, the most valuable player of the playoffs, scored a game-high 29 points to lead the Axemen.
"I have been waiting for this moment," said Rossiter, whose status for the playoffs was up in the air after he suffered a sprained ankle last week.
Halupa said Rossiter, who started the year playing point guard before moving to the wing, saw limited playing time in the Axemen's 76-54 semifinal win over the Colonel Gray Colonels on Friday night and received physio treatments to be ready for the final.
"It's always good to win, but you feel good for your Grade 12s, especially Spencer," said Halupa. "He's been so good for three years that if this didn't happen, you would be so heart-broken for him that he didn't have the chance to get recognized like he did (Tuesday). He was one of the best five players in our league last year."
The season was not without some challenges for the Axemen. Rossiter said a focus on team play helped the Axemen overcome some adversity.
"At the beginning of the year, we were blowing out teams, and then we started having close games and getting on each other," said Rossiter. "We had to start playing as a team and being accountable."
Armaan Singh contributed 23 points to the Axemen's offence, while Sean Matheson poured in 10. Ryan MacKinnon added nine, and Zach Blood had eight.
Kalon MacDonald-Wood led Charlottetown Rural's offence with a 23-point effort. Isaac Hughes (16) and Willis Bulger (11) also scored in double digits.
Halupa said the Axemen capitalized on converting easy baskets.
"You are always going to miss some, but we didn't miss enough of those that it was hurting us," said Halupa. "Both teams are going to miss easy shots, but it's how many and how do you recover when you miss?
"Those easy ones (you miss), you are giving points away. We didn't give away a load of them, and we work hard on that. It's crazy, but those are the ones that are most valuable as the game goes on."
Deep bench
Halupa said he was pleased the Axemen received contributions from throughout their roster. He noted Three Oaks had four bench players and one starter on the floor at one point in the first half.
"I think we trusted nine guys in the game throughout," said Halupa. "They did what they were supposed to do. All you are hoping for when you get into games like this is that you can trust more guys."
Along with Rossiter, the Axemen will graduate Jason Stefanuca, Clark Farrell and Landon Gallant. Halupa is excited about the team's future, noting nine players are eligible to return.
"Those nine will have this experience to bank off," said Halupa. "Even your (Grade) 10s have that feeling of that's what it feels like to win, and you don't want to give that up."
Bronze medal
In the bronze-medal game, the Colonel Gray Colonels outscored the Bluefield Bobcats 23-8 in the fourth quarter to post a 61-55 come-from-behind win.
Nathan Swansburg led the Colonels with 14 points. Thomas Yeo had 13 points to pace the Bobcats, who held quarter leads of 17-9, 31-21 and 47-38.
Charlottetown Rural wins sixth straight PEISAA senior AAA girls' basketball title
Jason Malloy(Jason.Malloy@theguardian.pe.ca)
When her team needed her the most, Amy Plaggenhoef rose to the occasion.
With her Charlottetown Rural Raiders trailing the Three Oaks Axewomen 6-2 just over a minute into the Domino's Prince Edward Island School Athletic Association senior AAA girls' basketball final, Plaggenhoef drained three treys to give the Raiders an 11-6 lead. They would not trail again, winning their sixth straight banner with a 76-50 victory.

The 18-year-old Stratford native, who finished with a game-high 24 points and was named the playoff MVP, deflected credit to her teammates for making extra passes to put her in a position for good shots.
"It's just getting open and your teammates hitting you. It's really just everybody working together."
Raiders head coach Peter Lawlor said the shots were needed as Charlottetown Rural players got their feet under them. "We were kind of cold to start the game, and we have games like that where we start cold, and we eventually get it going, but it needs something to give it a kickstart. And (Plaggenhoef) definitely gave it a kickstart and a big one (tonight)." The host Raiders held quarter leads of 19-12, 37-20 and 58-33.
Three Oaks head coach Garth Turtle said they knew they were in tough against a strong Charlottetown Rural squad. "I'm very pleased with the result. I like to win, but I don't mind losing like that," he said. "We hoped to score 40 and we scored 50, so they should leave the gym with their heads held high. They played hard (and) every single kid got to play."
Katie Vidito had 15 points for the Raiders while Sydney Lawlor chipped in 13 and Jaelyn Power contributed 12. Megan MacDonald had a team-high 14 to pace the Axewomen while Paige MacLean had 10, Jill Power nine and Reagan Betts eight. Jaelyn Power (Rural) and Emily McKenna (Three Oaks) were named the players of the game.
Three Oaks went on an 8-0 run to start the fourth quarter before Abigail McGeoghegan hit a free throw 1:55 into the final frame and Plaggenhoef drilled a trey to halt the run. Plaggenhoef said it was nice to be able to complete her high school career with a third provincial hoops title.

"We put in a lot of hard work this season and it was a lot harder just because we weren't allowed to play all the games that we would have in a normal season," she said. "But our coaches and all of our teammates really did a good job at working together and working hard through the whole season and it really paid off."

Monday's contest was a rematch of last year's title game. But a lot has changed in a year. The 2020 championship was the last sports game before the COVID-19 pandemic shut the province down. School sports didn't return until the fall.

This season wasn't normal with lockdowns and circuit-breaker measures leading to stretches of no activity for school sports teams. While everyone understood the measures were needed to keep everyone safe, it did have an impact on the season. "We only played 10 games all year, that's a third of a normal schedule, so it was really hard for the young kids to get better," Turtle said. "We had to be very innovative (with practice) in terms of what drills we put in. We couldn't keep doing the same stuff."
The provincial basketball final is usually one of the most raucous events of the Island sports season. But a limited number of people allowed in the gym on Monday made for a slightly different environment.

"You have to find your energy somewhere else," Plaggenhoef said.
"The fans we did have here were loud and making some noise," coach Lawlor said, "so it was probably one of the louder environments we've had at any game this year and that made it a little bit more exciting and made it feel more like a provincial final."

Plaggenhoef, Jaelyn Power, McGeoghegan and Jenna Cyr are the only seniors on the Raiders' roster. Seven of the remaining eight players were Grade 11s, giving the Raiders a strong returning nucleus for 2021-22.
"And there's some other girls that played on the No. 2 team and got some experience," coach Lawlor said. "We're kind of lucky here that we've got good players feeding in year after year."
Bronze
The Bluefield Bobcats defeated the Colonel Gray Colonels 42-35 in the bronze medal game.
The Bobcats led 9-5 after the first quarter but trailed 17-15 at the half before taking a 29-27 lead to the fourth quarter.
Julie Goodwin had 19 points for the Bobcats while Sydney Strain had 17 for the Colonels.