PEISAA Domino's Senior AAA Basketball Championship
2020 PEISAA DOMINO'S PIZZA SENIOR AAA BASKETBALL CHAMPIONS
| | | | |
| --- | --- | --- | --- |
| | Gold | Silver | Bronze |
| AAA Girls | Charlottetown Rural High | Three Oaks Senior High | Colonel Grey Senior High |
| AAA Boys | Three Oaks Senior High | Charlottetown Rural High | Westisle Composite High |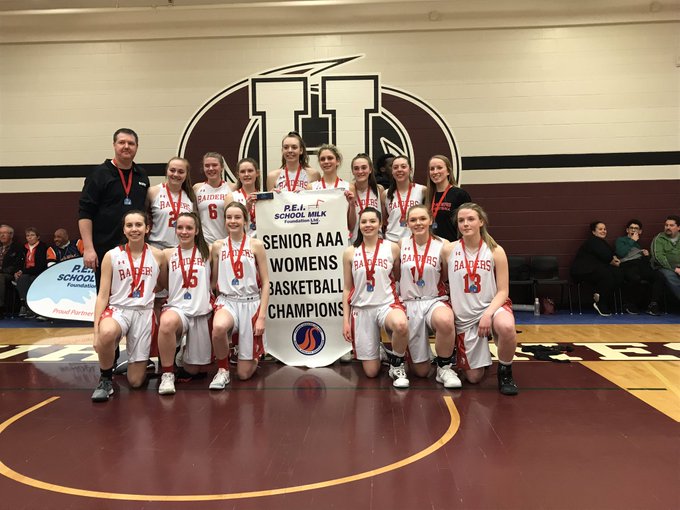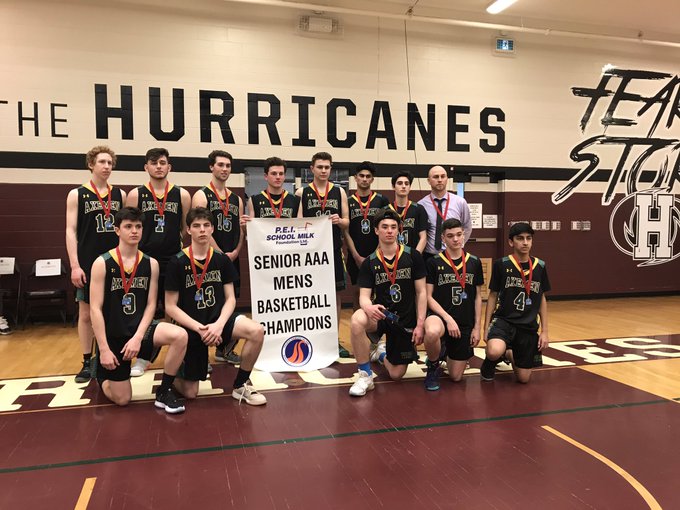 ——————————————————————————————————————–
The Ch'town Rural Raiders women captured their 5th straight PEISAA Senor AAA Basketball championship by defeating Three Oaks in the final at Holland College and sponsored by Domino's Pizza. Colonel Gray got by Bluefield to claim the Bronze. For more info, click on Read More!
SENIOR AAA WOMEN BASKETBALL RESULTS
GOLD MEDAL GAME
THREE OAKS vs CH'TOWN RURAL
1Q: Rural 19 and TOSH 13…Devon Lawlor had 7, Sydney Lawlor 5 for Raiders. Megan MacDonald had 5 for Axewomen.
2Q: Too much Devon Lawlor driving on a break, the slashes on the offense or hitting a trey for TOSH to handle as the Raiders steadily moved away leading 46-26 at the half. Devon Lawlor had 18, Sydney Lawlor 10 and Amy Plaggenhoef 6 for Raiders. Alyssa Richard hit for 6 with MacDonald and Jill Power each 5 for Three Oaks.
3Q: 63-42 after
3rdFINAL: 83-52 Rural RaidersRural wins gold and TOSH claims the silver medals.Top players for Rural: Devon LAwlor 20, Sydney LAwlor 17, Amy Plaggenhoef 14, Taylor Mitton 5 boards and 2 blocks, Katie Vidito 8
Top players for TOSH: MacLean 10, Lilly 9, Alyssa Richard 8, Jill Power 7.

BRONZE MEDAL GAME BLUEFIELD at COL GRAY:
1Q: 14-9 CGHalf: 24-19 CG  Helena Vos had 4 treys for Colonels and Elesea Glenn 6pts , 4 boards and 2 blocks for the Bobcats.
3Q: 32-30 CG4th Q:Eight points in first two minutes (treys by Sydney Strain and Vos)  pushed Gray ahead by 10, 40-30.FINAL: 56-41
Col Gray wins PEISAA SENIOR "AAA" WOMEN bronze medals
Tops for CG:Vos 23, Strain 18Tops for BF: Grace Morrison 10, MacKayla Vos 9, Glenn 8
TOURNEY ALL-STARS and MVP #8 CG> Helena Vos#7 RUR> Taylor Mitton#11 TOSH> Paige MacLean#15 RURAL> Amy Plaggenhoef#4 TOSH> Lauren LillyMVP: #4 RURAL DEVON LAWLOR
SENIOR AAA MEN BASKETBALL
GOLD MEDAL GAME RURAL vs TOSH:
1Q: 19-14 RURAL over TOSHJose Chrisostomo and Isaac Hughes had 6 each for Raiders. Ben MacDougall and Justin Caron had 4 each for TOSH.
2Q: Halftime 45-31 TOSH: Hughes picked up his third foul and TOSH started to control the boards. MacDougall upped total to 13, and Sahib Singh 11.
3Q: An 8-0 run to start the third continued the Axemen's momentum and they carried it through the quarter to lead 70-48 after 3rd quarter.
FINAL: 93-69 TOSH win "AAA" MEN GOLD MEDAL;   
CH"TOWN RURAL WINS SILVER MEDAL 
Tops for RURAL: Chrisostomo 19, Kalen MacDonald-Wood 16, Nolan Ryan and Hughes 10 eachTops for TOSH:MacDougall 19, Caron 18, Charlie Turner and Vlersim Musliu 16 each and Sahib Singh 14.

BRONZE MEDAL GAME
WESTISLE vs COL GRAY
1Q: Colonels were off and running with 7 players scoring and opening up a 19-8 lead over the Wolverines.2Q: 36-21 CG: Tops were Jeremy Norman with 12 and Stuart Ferguson with 7. Teddy Newfield led Westisle with 12.
3Q: 58-42 CGFINAL: Westisle went on a 12-0 run to start the first 3 minutes of 4th quarter on a run of successful three pointers and a called time out saw the lead reduced to 58-54 Colonels.
With 5:00 remaining the score was even at 60-60 after 3 consecutive treys by Nathan Ellsworth (2) and Ramsay for Westisle. They moved ahead 69-64 but a three by Patrick Muise made it 69-67 with 44.6 sec left. Neufield hit 2 foul shots with 28.5 to play and increased the Wolverine lead to 4 but Muise hit another three to reduce score to 71-70. Matthew Smith, fouled making a defensive rebound,hit a foul shot with 15.7 seconds to make the lead 2 and after an offensive rebound by Smith, Chris Ramsey hit one of 2 to make the lead 3. Again, Smith was fouled taking a defensive board,scored one more foul shot with 4 seconds left to make the final 74-70 and complete the remarkable comeback. 
Westisle wins the PEISAA SENIOR MEN "AAA" Bronze Medals 
Top for Colonels:Norman 22, Ian Kerr 15 and Muise 9, 
Tops for Wolverines: Neufield and Smith 20 points each and Smith had 19 rebounds, Ellsworth 14 , Ryan Leard 11, Ramsay 8.

TOURNEY ALL-STARS and MVP>Westisle, #12 Matthew SmithTOSH: #6 CharlieTurnerRural #11 Kalen MacDonald-WoodTOSH #11 Justin CaronRURAL #5, Jose ChrisostomoMVP: TOSH #15, Ben MacDougall
Charlottetown Rural earn PEISAA senior AAA girls' basketball banner
Jason Malloy(Jason.Malloy@theguardian.pe.ca)
A ACHARLOTTETOWN, P.E.I. —
It was over early.
The Charlottetown Rural Raiders jumped out to an 11-3 lead on the Three Oaks Axewomen and cruised to a 83-52 victory to capture the Domino's Prince Edward Island School Athletic Association senior AAA girls' basketball championship in Charlottetown.
The Raiders held quarter leads of 19-13, 46-26 and 63-42.

Tournament MVP Devon Lawlor had game-high 20 points while Sydney Lawlor had 17 and Amy Plaggenhoef 14. Taylor Mitton had five rebounds and two blocks.
Paige MacLean scored 10 to lead Three Oaks while Lauren Lilly had nine, Alyssa Richard eight and Jill Power seven.
Three Oaks wins PEISAA senior AAA boys basketball title
Jason Malloy(Jason.Malloy@theguardian.pe.ca)
AAA CHARLOTTETOWN, P.E.I. —
The Three Oaks Axemen used a big second quarter to win the Domino's Prince Edward Island School Athletic Association senior AAA boys' basketball championship Thursday in Charlottetown.
The Axemen defeated the Charlottetown Rural Raiders 93-69 at Holland College, sending their six Grade 12s home with a win in their final high school game.
The Raiders led 19-14 after the first quarter but tournament MVP Ben MacDougall hit a bucket in the paint and completed the three-point play to give the Axemen a 24-21 lead three minutes into the second quarter.
Three Oaks never trailed again.
Before the final buzzer sounded for the half, the Axemen had built a comfortable 45-31 lead. They slammed the door shut on any potential comeback by scoring the first eight points of the third quarter and answering any Raiders' runs.
MacDougall finished the game with 19 points to lead Three Oaks' balanced attack. Justin Caron had 18 while Charlie Turner and Vlersim Musliu each recorded 16 and Sahib Singh contributed 14.
Jose Chrisostomo had 19 points to pace the Raiders while Kalen MacDonald-Wood had 16 and Nolan Ryan and Isaac Hughes each chipped in 10.
Three Oaks seniors were MacDougall, Turner, Singh, Musliu, Caron and Jack Somers.
---
Three Oaks to meet Charlottetown Rural in PEISAA senior AAA basketball gold-medal games Thursday
CHARLOTTETOWN, P.E.I. —
The latest chapter in the long-standing rivalry between Three Oaks Senior High School in Summerside and Charlottetown Rural High School will be written Thursday night.
The two schools will meet in the Domino's Pizza P.E.I. School Athletic Association senior AAA basketball gold-medal games at Holland College in Charlottetown. The girls' game between the Three Oaks Axewomen and Charlottetown Rural Raiders is scheduled for 6 p.m., followed by the Axemen-Raiders' boys' final at 8 p.m.
In Wednesday's semifinals at UPEI, the Axewomen defeated the Colonel Gray Colonels 55-45 and the Raiders cruised to an 81-32 victory over the Bluefield Bobcats. The Axemen defeated the Westisle Wolverines 105-71 in an all-Prince County clash while the Raiders topped the Colonels 62-45 in a clash of Charlottetown schools.
The bronze-medal games will also be played at Holland College on Thursday. Bluefield and Colonel Gray will meet in the girls' match at 2 p.m., and Westisle and Colonel Gray will decide the third-place team on the boys' side at 4 p.m.
Following are recaps of the semifinal games:
Girls
Raiders 81 Bobcats 32
Amy Plaggenhoef's nine points sparked the Raiders to a 33-8 lead after one quarter en route to leading 56-13 at halftime and 66-22 after three quarters.
Devon Lawlor poured in a game-high 24 points to lead the Raiders, who received a 16-point effort from Plaggenhoef.
Elesea Glenn (11) and Makayla Vos (9) were the top scorers for Bluefield.
Axewomen 55 Colonels 45
Lauren Lilly's 25-point performance, including 12 in the first half, sparked the Axewomen. Paige MacLean added eight points for Three Oaks, which took a 24-17 lead into halftime after holding an 11-9 advantage after the opening quarter.
Three Oaks, led by Lilly's 11 points in the third quarter, would extend its lead to 41-27 heading into the final period.
Helena Vos (22) and Azara Carey (15) were the top offensive producers for Colonel Gray.
Boys
Axemen 105 Wolverines 71
The Axemen spotted the Wolverines a 7-2 lead after four minutes before roaring back to take control. Three Oaks would build leads of 22-11 after one quarter, 54-21 at the half and 87-40 following three quarters.
Ben MacDougall (17), Justin Caron (15) and Vlerisim Musliu (13) were the leading scorers for the Axemen.
Teddy Neufeld scored a game-high 24 points for the Wolverines, who received 12-point efforts from Ryan Leard and Matthew Smith.
Raiders 62 Colonels 45
Logan MacDonald-Wood paced the Raiders' offence with a 15-point performance while Daniel Quinn contributed 14, including a hat trick of three-pointers. Jose Chrisostomo added seven points, 11 rebounds and three steals.
Jeremy Norman (12) and Patrick Muise (9) sparked Gray's attack.
The Raiders held period leads of 18-10, 26-14 and 46-27.