PIESAA Domino's Senior A Basketball Championships
2020 PEISAA DOMINOS PIZZA SENIOR A BASKETBALL CHAMPIONS
| | | | |
| --- | --- | --- | --- |
| | Gold | Silver | Bronze |
| A Girls | Kishora* | Colonel Gray Senior High | Grace Christian |
| A Boys | Three Oaks Senior High | Charlottetown Rural HIgh | Kensington Intermediate/Senior |
Kishora* is a team comprised of players from Kensington Intermediate-Senior High School (KISH) and Kinkora Regional High School (KRHS)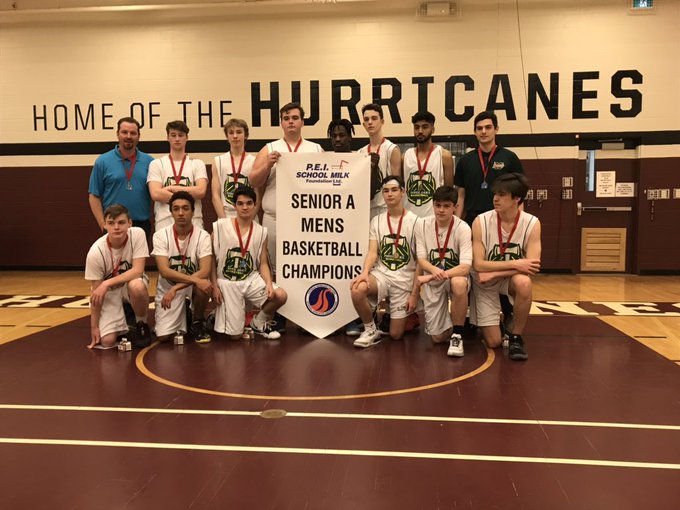 SENIOR "A" CHAMPIONSHIPS
2020-03-06
Story lines for Senior "A" Medal games
GRACE CHRISTIAN at SOURIS Score tied 9-9 after 1st quarter.Halftime 15-12 Grace.3rd Q: 27-23 Grace ChWith 1:25 the score was tied 33-33 but 4 foul shots by Brianna Rancourt and a hoop by Anna Paquet gave the Grace Ch Knights the bronze medal victory  by a final 39-35.
Top players for Grace Christian:  Rancourt 17 pts and 10 rebounds, Christianne Riveroll 9 pts, Emily Chong 8 and Paquet 5 offensive and 5 defensive rebounds
Top players for Souris:Rae Matheson 12 pts and10 rebounds, Georgia Fraser 7pts and  Brooke Robertson 6 ptsGrace Christian Knights win "A" W Bronze medals
KISH at FRAN BUOTE 1st quarter:FB over KISH 15-102nd quarter: at half, 28-17 FB…Micah Wiltshire hit for 12 points including 2 treys. Canyon Clarke 7 for the Torchmen.3rd Quarter:KISH went on a 13-2 run to overtake the Jaquars and lead 36-30 after three. Matthew Gallant and Clarke hit threes to spark the run and Robert Baquiran made several nice passes setting up the shots.4th Quarter:with 3:09 to play, KISH was ahead 41-39. A 9-0 run propelled the Torchmen to the bronze medal victory 50-40. 
Top for KISH: Clarke 16 pts, Hunter Hopping 8 , Robert Baquiran and Matthew Gallant each had 7.
For the Jaquars: Micah Wiltshire had 12, Ian Cormier 11 pts, Mounzer Al-Malayah 8pts plus 7 offensive and 12 defensive rebounds.
COL GRAY at KISHORA 1st Q: It was Ellen Cole 10 and Devon Costello 8 after the first quarter as KISHORA took the early lead over the Colonels..2nd Q: It was more of the same in second quarter as Kishora used a size advantage to lead 25-12. Cole now had 18 pts and Hillary Murray 8 boards for KISHORA while for Col Gray Costello had 12 and Lauren Smith 5 boards.3rd Q: 38-26
KISHORA FINAL: 51-30 for Kishora as they win the "A" Women's Gold MedalTops for KISHORA: Cole 35 points,Ellen Murphy 6 points, double-digit assists and 9 boards, and Hillary Murray 17 rebounds.Tops for Col Gray: Costello,  20 pts, and Urmila Khanal 6 points. 
Tourney All-stars:Grace Christian, Brianna RancourtCol Gray: Lauren SmithKishora: Hillary MurrayKishora: Ellen MurphyCol Gray: Devon CostelloMVP: Ellen Cole Kishora
RURAL#3 at TOSH #31st quarter: 25-17 TOSH HALF: 48-38 TOSH It was raining threes for Three Oaks who hit seven led by Cole Gaudet with 4 and Kyle Cameron with 3. Alex McCarron had 16 points for the Raiders.3rd Q:66-53 TOSH4th>>
Final TOSH 84  RURAL 67 TOSH wins "A" Men Gold and Raiders win silver.Tops for Rural:Alex McCarron 23 and 17 boards, Ben Young 7, Tyson Laybolt , Owen Power and Ben Young 6 eachTops for TOSH: Gaudet 37, Cayden Wadman 15 and Kyle Cameron 14 
Tournament all-stars: Mounzer Al-Malayah, Fran BuoteCanyon Clark,  KISH Cayden Wadman, TOSH Kyle Cameron, TOSH Alex McCarron, RURAL MVP: Cole Gaudet, TOS
———————————————————————————————————–
Cole, Gaudet deliver in PEISAA senior A basketball gold-medal games
The Journal PioneerPublished: a day agoUpdated: a day agoFacebookTwitterMore186
Provincial senior A championship tournament MVPs lead KISHORA, TOSH to titles
A ACHARLOTTETOWN, P.E.I. —
Ellen Cole and Cole Gaudet delivered in a big way for their respective teams Friday night.
Cole's 35-point performance accounted for over half of KISHORA's scoring in a 51-30 victory over the Colonel Gray Colonels in the gold-medal game of the Domino's Pizza P.E.I. School Athletic Association (PEISAA) Senior A Girls Basketball League.
Gaudet poured in a game-high 37 points in leading the Three Oaks Axemen to an 84-67 victory over the Charlottetown Rural Raiders in the PEISAA senior A boys' provincial championship match.
Both finals were played at Holland College's Centre for Community Engagement in Charlottetown.
Also Friday, the Grace Christian Knights outlasted the Souris Spartans 39-35 in the girls' bronze-medal game while the Kensington Torchmen defeated the Francois Buote Jaguars 50-40 to claim third place in the boys' tournament.
KISHORA 51 Colonels 30
Cole, who was selected the most valuable player of the provincial championship tournament, was consistent throughout the game as she scored 18 points in the first half and 17 in the final two quarters.
KISHORA, a team comprised of players from Kensington Intermediate-Senior High School (KISH) and Kinkora Regional High School (KRHS), led 10-8 after the first quarter, increased that margin to 25-12 at halftime and took a 38-26 advantage into the final quarter.
Ellen Murphy and Hillary Murray also had big performances for KISHORA. Murphy finished with six points, recorded double digits in assists and hauled in nine boards while Murray contributed 17 rebounds.
Devon Costello's 20-point effort led the Colonels. Urmila Khanal chipped in with six points.