SSNS 2021 Senior Soccer Championship
GIRLS' 2021 SSNS SENIOR VARSITY SOCCER CHAMPIONSHIP
| | | | |
| --- | --- | --- | --- |
| | DIVISION 1 | DIVISION 2 | DIVISION 3 |
| GOLD | Charles P Allen | Halifax Grammar | New Germany Rural HS |
| SILVER | Halifax West HS | Northeast Kings Education Centre | CB Highlands Education Centre/Academy |
| BRONZE | Cobequid Education Crentre | Breton Education | Tatamagouche Regional Academy |
Div 1 Girls: Charles P Allen vs Auburn Drive; Cobequid Education Centre vs Halifax West HS
Div 2 Girls: Northeast Kings Education Centre vs Richmond Education Centre & Academy; Halifax Grammar vs Breton Education Centre
Div 3 Girls: New Germany HS vs Tatamagouche Regional Academy; CB Highlands Education Centre/Academy vs Bridgetown Regional HS
BOYS' 2021 SSNS SENIOR VARSITY SOCCER CHAMPIONSHIP
| | | | |
| --- | --- | --- | --- |
| | DIVISION 1 | DIVISION 2 | DIVISION 3 |
| GOLD | Citadel HS | Amherst Regional HS | Musquodoboit Rural HS |
| SILVER | Halifax West HS | École Secondaire Mosaïque | Hants North Rural HS |
| BRONZE | Bay View Community | École Secondarire du Sommet | Sacred Heart School of Halifax |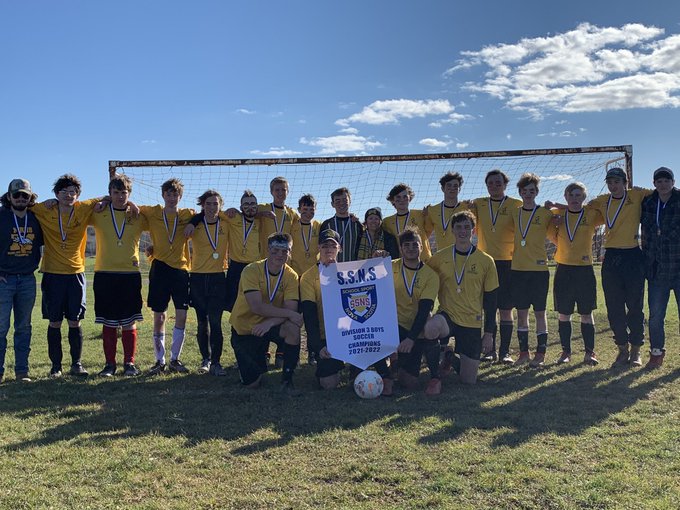 Teams
Div 1 Boys: Citadel HS vs Charles P Allen; Bay View Community School vs Halifax West HS
Div 2 Boys: École Secondaire du Sommet vs École Secondaire Mosaïque; Amherst Regional HS vs Island View HS
Div 3 Boys: Musquodobiot Rural HS vs Sacred Heart School of Halifax; CB Highlands Education Centre/Academy vs Hants North Rural HS
HIGH SCHOOL: CPA girls win soccer provincials for first time since 1997
Citadel wins boys' Division 1 crown
Willy Palov Saltwire
The drought is over for the C.P. Allen girls' soccer program.
The Cheetahs defeated the Halifax West Warriors 2-0 in Saturday's School Sport Nova Scotia Division 1 provincial final to win the school's first banner in girls' soccer since 1997.
Emi Foster had the clean sheet and Katelyn Wilton and Aine O'Neil scored the goals for the Cheetahs, who led 1-0 at the half.
Cheetahs captain Emma Tye said it was a thrill to end the school's long title drought.
"That was super exciting and pretty cool, especially being a senior, that we get to put up a banner in our school.
"It was exciting and an even game the whole way. We had to fight for everything."
With the 1-0 first-half lead, the Cheetahs played shut down defence the rest of the way.
"We really set a wall up in defending and kept them out as much as we could and when we had our chances up front we took whatever we had and went for it."
Auburn Drive 3, CEC 1: In the bronze medal game, Madalyn Hatfield, Rachel Kibble and Rylin Matheson found the net for the Eagles.
Chloe Hart had the goal for the Cougars.
Division 3
Sarah Hall scored twice to power New Germany to a 4-1 win over Cape Breton Highlands in the gold medal game.
Lauren Hall and Madison Hayward also scored for New Germany and Summer Deveau was the Cape Breton Highlands scorer.
Tatamagouche 8, Bridgetown 1: In the bronze medal game, Ella Ozolins notched a hat trick and Jennie MacLean, Paige Matheson, Kiah Hounsell, Sofie Almeida and Kylie Ricketts added singles.
Emma Garde had the Bridgetown goal.
Boys
Noah Baird, George Wright and Jeff Thompson scored as the Citadel Phoenix edged Halifax West 3-2 to capture their third straight provincial banner.
Alan Hamo and Rodrigo Hues replied for the West.
Bay View doubled up on C.P. Allen 4-2 to win the bronze medal. Scorers were not available.
Division 2
Amherst edged Mosaique 2-1 for the banner. Scorers were unavailable.
Division 3
Isaac VanWychen scored twice and Mason Dunlop added a single as Musquodoboit Rural edged Hants North 3-2 to repeat as provincial champions. Dillon Miller had both Hants North markers.
Sacred Heart 4, Cape Breton Highlands 2: Ire Awosokanre tallied twice, Jacob Scott and an own goal helped Sacred Heart capture bronze. Simon Fraser and Isaac MacNeil replied for CBH.