The rising popularity of Esports
ELECTRONIC SPORTS (ESPORTS)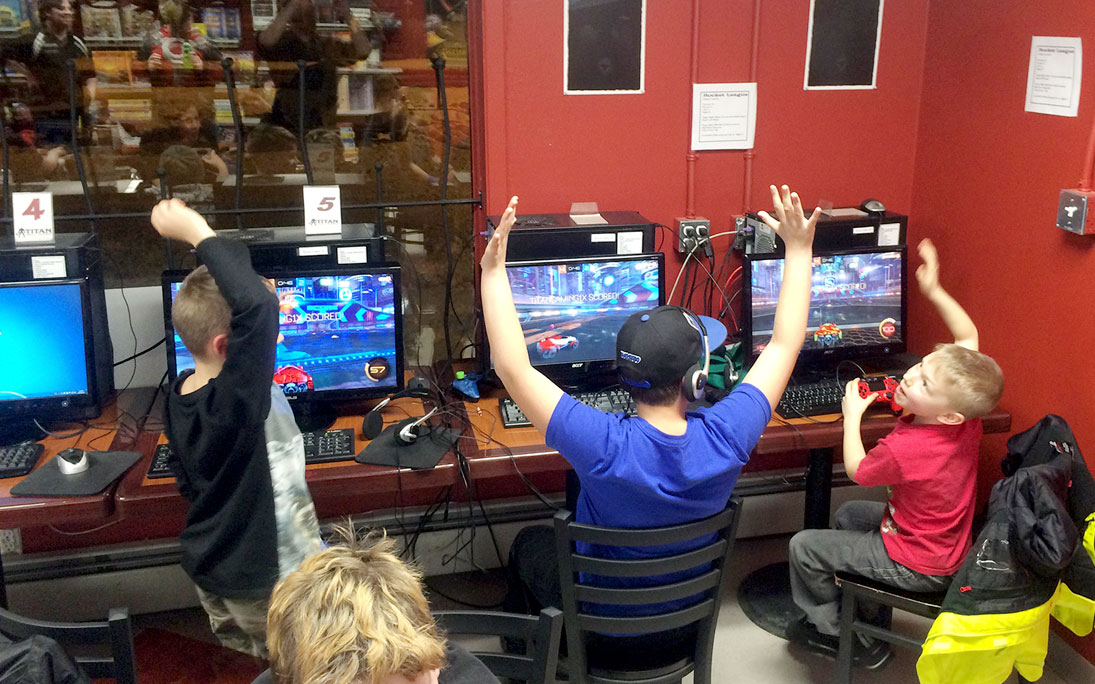 Photo by Photo Submitted
TOURNAMENT IN ACTION – Michael Dibbs (right) oversees the participants in Saturday night's Fortnite tournament. Fortnite is the biggest video game to hit the scene recently and is popular with a large demographic of competitive gamers. Titan Gaming and Collectables hosts numerous Esports tournaments, featuring different games. Photo submitted by CHRIS VAINIO
The rising popularity of Esports
Let us start this thought process with the definition of sport.
Comparatively to what most people would consider sport, the above definition, states the traits of sport, which are reasonably standard.
Now, let's consider other traits we would associate with sport. Dedication to the craft, whether it is through practice, film-study and time. How about hard work, camaraderie and teamwork to attain predetermined goals? Can we agree that these are facets of sports as well?
The world of sports is ever changing, with new sports coming to the forefront. One such sport that is gaining traction is electronic sports (Esports) or as some may say video games. You may have heard of them, video game tournaments are selling out stadiums, but why do people have a hard time recognizing gaming as a legitimate sport?
Michael Dibbs, who hails from Whitehorse, has been a part of the Esports community for as long as he can remember, and has competed in tournaments, playing a game called Dota 2, amongst others. Dibbs believes that Esports should be considered in the conversation as a legitimate sport.
"It is a sport in every way definable, other than the fact that it is not a physical sport," said Dibbs.
"Although you can argue that the keyboard work, the mouse work is physical."
There are some sports that require very little physical activity. The recovery from playing isn't going to be as long as something like basketball, but it is incredibly taxing mentally."
Dibbs says he has put in over 3,000 hours worth of time in becoming a competitive player, and that the amount of work put into gaming, is the equivalent of training for a traditional sport.
"You're going to have team managers, you are going to have owners of those teams, and they are going to have a certain direction they want you to go," said Dibbs. "You have to practice at the allotted practice times just as much as you would on a normal sports team. You still have all the same pressures on you, as you are going to huge tournaments."
As well as practicing constantly to maintain their skills in a game, Esports players have to consistently evolve because a video game is ever changing, based on the discretion of the developer. This adds another challenge to Esport players that athletes in traditional sports do not regularly have to face.
"A game like Dota will flip things entirely," said Dibbs. "They will change the maps and characters. That's the thing, if you don't constantly evolve you lose all that time put in, because one update, one small little change, the addition of one hero out of 150 heroes will change the game drastically. This is a consistent thing in all video games."
This is the effort that the professionals put into Esports, as the tournaments they are entered to play in are worth large sums of money. According to Dibbs the last Dota 2 tournament's prize pool was worth more than 20 million dollars.
But what about Esports at the grassroots level? Titan Gaming and Collectables here in Whitehorse hosts regular Esports tournaments. While there, if you were to close your eyes, you would not be able to tell what sporting event you were at. The store was loud, first before the match started, you could hear the mumblings of strategy being discussed, and once the game play got going, the teams communicated, at a level that any in a traditional sport would envy.
Although there is no official Whitehorse team, Dibbs says one of the great things about Esports is that you are not confined by space, so the players in Whitehorse have access to the best players across the world.
"Because Whitehorse is so secluded it is hard to get into Esports, but if you practice enough and are really good at what you do, you will definitely get picked up by a team," said Dibbs. "[Whitehorse] doesn't hold you back to much because of the Internet."
If I am playing hockey here, it's going to be so much harder to get into the NHL, because your level of competition, a lot of the time, is where you are based out of. If I am playing other players in my hometown, their maximum skill level is going to determine my maximum skill level. If they aren't constantly pushing to get getting better, then you will plateau. The beauty of online is you are not limited to your local region, which makes Esports great in small towns."
Fortnite is the big game to hit the scene, "it's an absolute juggernaut" says Dibbs. It is the game Dibbs sees most people playing when they come into the shop.
"Fortnite is the big kid on the block right now," said Dibbs. "Fortnite came out and we got a huge influx of young kids, who usually would not come down to play games. It's a competitive game, but it's not set up for a tournament style, but the gaming community is behind Fornite, we have to get creative in how we set up the tournaments, but we give the players a place to show their skills and get rewarded."
When drawing back on the definition of sport, it says that sports are for entertainment, which does not just mean for people playing, but for the spectators as well. Professional Esports tournaments will fill stadiums; another huge boost to the world of Esports comes from Twitch.
Twitch is a streaming platform for gaming, where people watch others play the games while the streamer gives commentary. It gives players the opportunity to learn new skills and techniques about the game, as evidenced at Titan before the Fortnite tournament. The participants were tuned into the Twitch streams to get a better understanding of the game.
Although video games are more accepted and played by a much larger demographic of people than before, the world of Esports is still carving out its place in the sports landscape. Dibbs believes that once people realize the work that gets put into Esports, it will change their perspectives.
"There is still tons of people who think it's not a sport and I think it's ignorant," says Dibbs. "Some people just don't get the concept, I think people don't realize that these Esports teams go through all the stresses that a traditional athlete goes through, especially if they want to make it a career, it's hyper-competitive."
Whether or not you agree or disagree that competitive gaming should be considered in the conversation as a sport, it is clear that is growing in popularity, as it is one of the most accessible forms of competition for someone. Anywhere in the world somebody is ready and waiting to challenge you.
---
Esports – http://www.nfhs.org/sports-resource-content/esports/
Esports in High School
The National Federation of State High School Associations (NFHS) and the NFHS Network have entered into a partnership with PlayVS to begin the rollout of esports competition in high schools throughout the nation.
PlayVS, an online gaming provider, will work directly with the NFHS and the NFHS Network to introduce esports to high schools and state associations beginning this fall, with an initial rollout in at least 15 states. After regular-season competition between schools on the PlayVS online platform, state championship games will be played before a live spectator audience and streamed on the NFHS Network.
"PlayVS' philosophy on high school-based sports and focus on participation perfectly aligns with the NFHS and its member state associations," said Mark Koski, CEO of the NFHS Network. "We looked at many potential esports partners, and PlayVS was the clear choice thanks, in part, to its overall education-based concept, mission and vision.
"As schools look to provide participation opportunities for high school students, esports is a great option on two fronts," Koski said. "First, esports may involve students who haven't been involved in a sport or activity in the past. Second, the costs to implement esports are minimal compared to starting a traditional sport, which can be extensive with equipment and facilities."
Koski noted that with 72 percent of teens playing video games regularly, esports is a great way to engage additional students with after-school activities. Nearly 200 colleges in the United States and Canada are actively recruiting and offer scholarships for esports. Additionally, companies within the esports industry are looking to hire those with experience across multiple aspects of gaming.
"We believe the NFHS, NFHS Network and PlayVS make a great team to help jump-start esports activities in high schools across the country," said Bob Gardner, NFHS executive director. "With the rollout of this partnership, we anticipate that there will be tremendous initial and growing interest in esports from students, and we are excited to broadcast these events on the NFHS Network."
PlayVS will operate all esports competitions for NFHS member state associations in a turnkey fashion.
"We're excited to partner with the NFHS and NFHS Network to introduce esports in high schools nationwide," said Delane Parnell, CEO and founder of PlayVS. "This partnership combined with our technology and publisher relationships will help us create the first scalable competition for high school students. Esports is about more than just playing games – it can be used to help students grow their STEM interests and develop valuable life skills; and since there are more high school gamers than athletes, it's about time we foster this pastime in an educational setting."
How It Works:
Managed through a partnership with PlayVS, Esports will be played in two seasons (Oct-Jan/Feb-May) with different games that have been approved by the participating  state association
Each season consists of a pre, regular and post season competitions with a state champion being crowned for each game at the end of the season.
Student teams are matched up with other schools across the states based on skill level.
There is no traveling during the regular season! All matchups will happen within their own school walls with competitions played through the PlayVS online platform.
Each school can field as many teams as they can for as many games in a season. Schools are required to have a faculty advisor, access to internet and computers.
Students are required to pay a $16 per month participation fee
How to Get Started:
State associations can contact Mark Koski (mark.koski@nfhsnetwork.com) for more information on how to adopt Esports as a sanctioned activity in their state.
Schools can contact their state associations or email Esports@NFHSnetwork.com to get included on the latest information on Esports in high schools.