Turner Fenton Win 6th Wrestling Overall Title
Turner Fenton again wins OFSAA wrestling title
Sixth consecutive title for Turner Fenton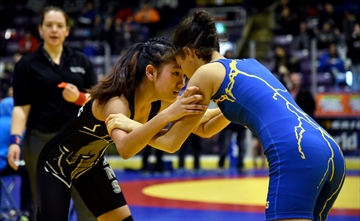 Rob Beintema/Metroland
Athletes from across Ontario were competing at the start of the OFSAA Wrestling Championships at the Powerade Centre Thursday. Brampton's Riannon Gurung from Turner Fenton (black) looks for an opening in a mtach against Israel Rain Roberts from Our Lady of Lourdes in Guelph. Mar 2, 2017.
Sixth consecutive title for Turner Fenton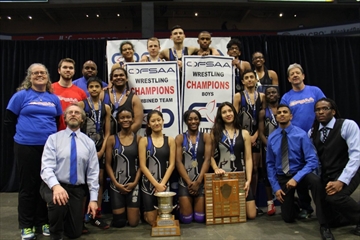 Turner OFSAA champions
Submitted photo
The Turner Fenton Trojans captured the OFSAA overall team wrestling title and the boys team crown at the championship, March 2 and 3 in Brampton at the Powerade Centre. March 3, 2017.
Brampton Guardian
For a record sixth consecutive time, and seventh overall, the Turner Fenton Trojans are the Ontario Federation of Schools Athletic Association (OFSAA) team wrestling champions.
The Brampton school took the team title during the meet on March 2 and 3 at the Powerade Centre. Head coach Richard Knill also won a record eighth team title. He also won the crown as coach with Turner in 2009 and Bramalea in 2001.
Turner also won the boys' team title for a second consecutive year. The girls finished fourth ending a string of five consecutive crowns.
The Trojans had two gold medallists. Akash Gangerdeen won the boys 38 kilograms title. Daina Armstrong claimed the girls 54 kg crown, after winning at 51 kg last year. In the boys Ikjyot Randhawa gave Fletcher's Meadow a gold medal in the 130 kg division. Patrik Leder of St. Francis Xavier earned a second consecutive OFSAA gold medal, this time at 61 kg. He won at 47.5 kg in 2016. Biduran Thanarajah of Mentor College won gold at  51 kgs.
Silver medals in the boys went to: Mofe Ogunyomi TF 38 kg; Shahzain Naqvi TF 41 kg; Adesh Gangerdeen TF 47.5 kg; Paul Nguyen Heart Lake 54 kg; Jacob Alexander Torres TF 57.5 kg; and Noel Narine-James TF 130 kg.
Girls claiming silver medals were: Kelyn Young Mayfield at 41 kg; Tran Tran TF at 72 kg; Tatyanna Foster TF 115 kg.
Angus Young from Central Peel picked up a bronze medal in boys 57.5 kg. Also placing with fourths were Chiara Decena Barbieri from Xavier in the girls 41 kg; Garrette Saunders Turner boys 51 kg and Rabjot Sandhu Lincoln Alexander boys 67.5 kg.
There were fifths by: Ethan Turner of Turner in the boys 54 kg; Angel Williamson Xavier, girls 77 kg; Michael Sousa Meadowvale boys 77 kg. Riannon Gurung of Turner was sixth in the girls 44 kg with Terry Seo from Meadowvale finishing sixth in the boys 77 kg division.
More than 800 wrestlers from across Ontario competed at OFSAA. This is the sixth time it has been held in Brampton and the third in the last five years.
This story was corrected on March 6 to add that Biduran Thanarajah of Mentor College won gold at 51 kgs.
---
ROPSSAA wrestling champs crowned
Brampton will host OFSAA tournament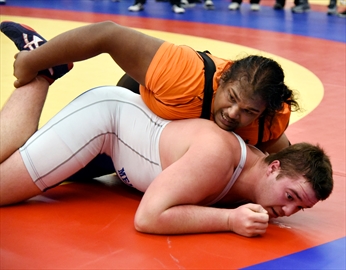 ROPSSAA_Wrestle-Finals
Rob Beintema/Metroland
Turner Fenton hosted the final ROPSSAA open wrestling bouts of the season on Thursday. Noel Narine-James of Turner Fenton about to get the win against Ried James from Meadowvale in a boys 130 kg semi-final match. Feb 16, 2017.
Brampton Guardian
Turner Fenton Trojans once again dominated the Region of Peel Secondary School Athletic Association (ROPSSAA) open wrestling championship held Thursday, Feb. 16 at Turner Fenton.
The Trojans won the boys, girls and overall divisions. In the boys, Heart Lake (HL) was second, St. Francis Xavier (SFX) was second in both the girls and overall competition.
Top two individual finishers in each weight class have qualified for the Ontario Federation of Schools Athletic Association (OFSAA) tournament from March 1 to 3 in Brampton at the Powerade Centre. Turner Fenton is the five-time defending overall champion and has taken six of the last eight championships. The Turner Fenton girls are also going for a sixth consecutive team crown.
Since 2009, Peel schools have won five of nine boys' titles, three by Turner Fenton and two by Heart Lake.
Turner Fenton (TF) girls who finished first were: Riannon Gurung, Onyinye Onyeka Daina Armstrong, Jenell Wright, Tran Tran and Tatyanna Foster.
Other girls firsts were: Kelyn Young, Mayfield; Ayesha Mazhar, SFX; Tasheka Williams, Louise Arbour (LA); Bianca King, SFX; Allison French and Nicole French, Humberview; and Kyra Williams, Ascension.
First-place boys were: Akash Gangerdeen, TF; Shazain Naqvi, TF; Fayez Shaikh, Central Peel (CP); Adesh Gangerdeen, TF; Viduran Thanarajah, Mentor College (MC); Ethan Turner, TF; Jacob Alexander Torres, TF;  Patrik Leder, SFX; Nashane Ralph, HL; Rabjot Sandhu, Lincoln Alexander (LINAL); Stefan Todosijevic, Clarkson; Michael Sousa, Meadowvale;  Jamuel Mingo, Judith Nyman (JN); Conner Tenn, SFX; Benjamin Heath, LINAL; and Ikjyot Randhawa, Fletcher's Meadow (FM).
Second-place girls were: Chiara Decena-Barbieri, SFX; Kristen Ekels, Clarkson; Shania Randall, FM; Megan Nghiem, Mississauga; Leticia Rodrigues, MC; Danielle Berno, Humberview; Jaden Nicholls, FM; Elizabeth McNamee, SFX; Olena Podolna, SFX; Christine Nabati, Ascension; Vanessa Fonrose, TF;  Marissa Hall, Judith Nyman; and Lidija Rentel, SFX.
Second-place boys were: Mofe Ogunyomi, TF; Troy Kowlessar, FM; Sagar Syal, LA; Garrette Saunders, TF; Paul Nguyen, HL; Angus Young, CP; David Kumar, MC; Noor Qaderi, HL; Kishawn McIntyre, St. Augustine; Thomas Dang, TF; Javian Thomas, HL; Malwinder Johal, Ascension; Javian Prince, TF; Trevaughn Lindsay, TF; and Noel Narine-James, TF.
---
Turner Fenton triumphs at junior wrestling championships
Brampton school takes home nine individual titles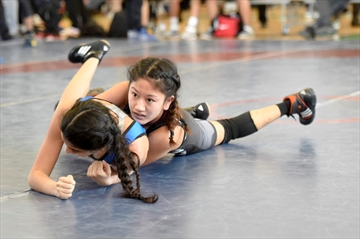 Mat work
Bryon Johnson/Metroland
Eva Panesar from Mississauga Secondary School appears to have control of Riannon Gurung from Turner Fenton at the ROPSSAA Junior Wrestling Championship held at Louise Arbour Secondary School on Feb. 9. However Gurung won the 47.5 kg match en route to gold in her division.
Brampton Guardian
Turner Fenton Secondary School was once again in the spotlight at the Region of Peel Secondary School Athletic Association (ROPSSAA) junior wrestling championships on Feb. 9 at Louise Arbour Secondary.
A wrestling powerhouse for years, Turner Fenton students won nine gold medals as well as the girls, boys and overall team titles.
Gold medals were won by Riannon Gurung (girls' 47.5 kilograms), Kathy Nguyen (girls' 51 kg), Jenell Wright (girls' 67.5 kg), Saskia Ramaischrand (girls' 64 kg), Vanessa Fonrose (girls' 72 kg), Akash Gangerdeen (boys' 38 kg), Adesh Gangerdeen (boys' 54 kg), Trevaughn Lindsay (boys' 95 kg) and Harnoor Khattar (boys' 130 kg).
As well, Karn Bansal (boys' 54 kg), Rajay Dunn (boys' 64 kg), David Nguyen (boys' 77 kg), Mofe Ogunyomi (boys' 38 kg) and Jawairia Channa (girls' 47.5 kg) won silver in their divisions.
Central Peel had a strong showing at ROPSSAA as well, ranking second in the overall school standings.
They were sparked by gold medals from Seth Frias (boys' 67.5 kg) and Isabella Tsan (girls' 57.5 kg) while Nathan Richie (boys' 51 kg), Taegveer Tut (boys' 95 kg), Angelina Dukhan (girls' 77 kg), Crystal Hoover (girls' 57.5 kg) and Fayez Shaikh (boys' 44 kg) won silver.
Other gold medallists from Brampton include Gurtaj Dhaliwal (boys' 61 kg), Troy Kowlessar (boys' 44 kg) and Jai Sodhi (boys' 72 kg), all from Fletcher's Meadow, Marissa Hall from Judith Nyman (girls' 83 kg) and Jordan Brown from Heart Lake (boys' 41 kg).
The silver medallists from Brampton were Deven Ali (boys' 67.5 kg) and Samir Slade (boys' 72 kg) from Heart Lake, Dilpreet Kang from Judith Nyman (boys' 89 kg), Lucas Kuehn (boys' 41 kg) and Arshnoor Sekhon (boys' 61 kg), both from Fletcher's Meadow.
Fletcher's Meadow and Heart Lake ranked high in the boys' team rankings, finishing second and third, respectively.
A number of the athletes involved in the junior championships will be back in action on Thursday, Feb. 16 in the ROPSSAA open wrestling championships while Turner Fenton will host the Ontario Federation of School Athletic Associations championships from March 1-3.