YSAA – Dawson Invitational Volleyball Tournament 2021
Teams in attendance include secondary schools from the communities of Watson Lake, Carmacks, Pelly, Haines Junction and of course the home team Robert Service School!
2021 Dawson Invitational Volleyball Tournament
| | | |
| --- | --- | --- |
| Junior Boys | Robert Service School | Carmacks |
| Junior Girls | Robert Service School | |
| Senior Girls | Robert Service School | Haines Junction |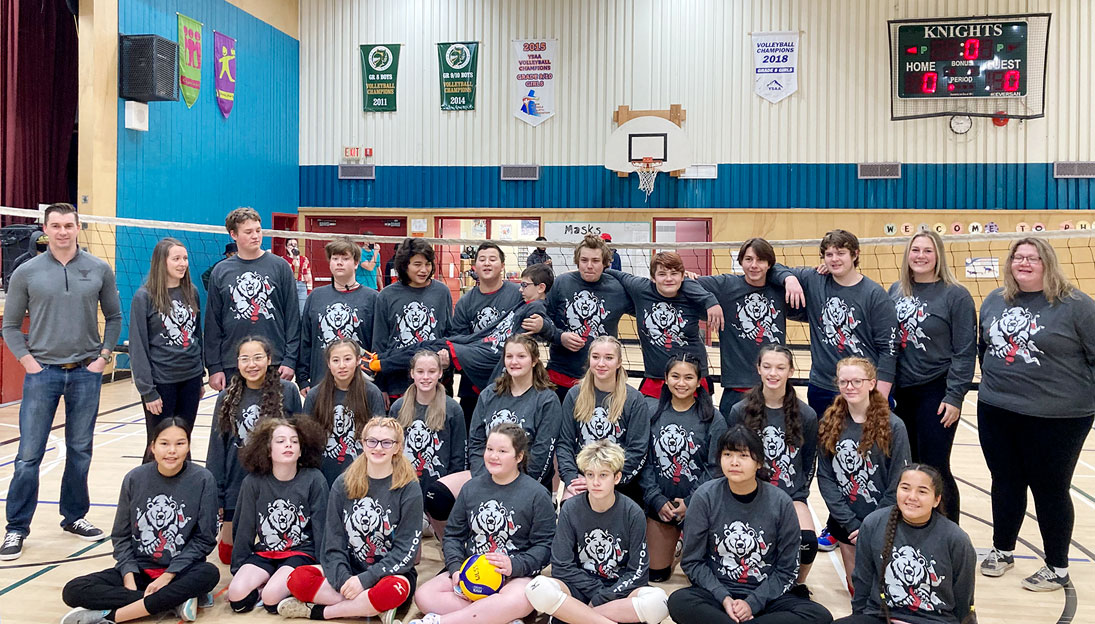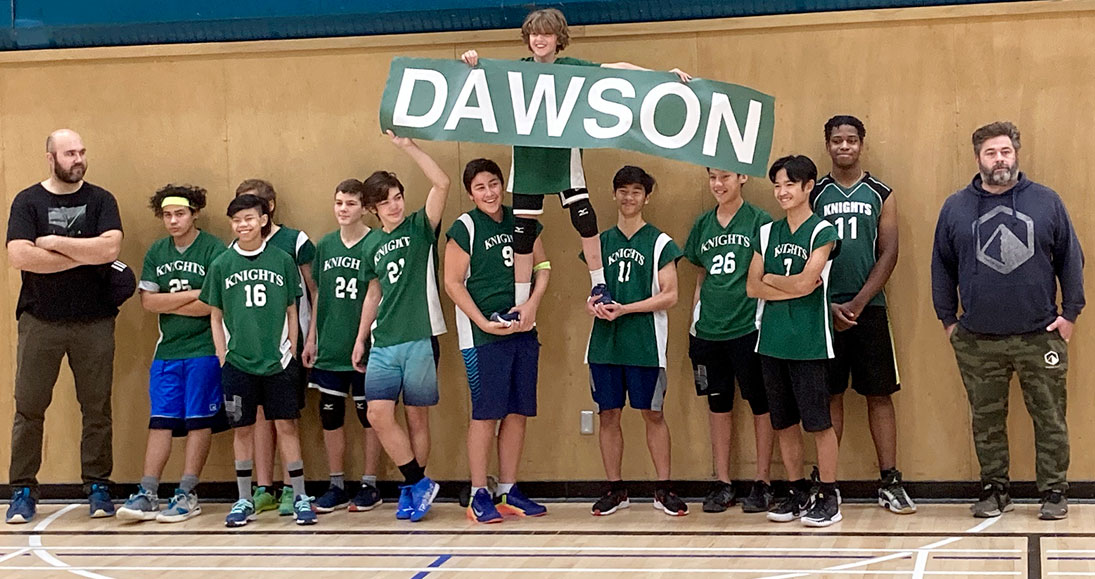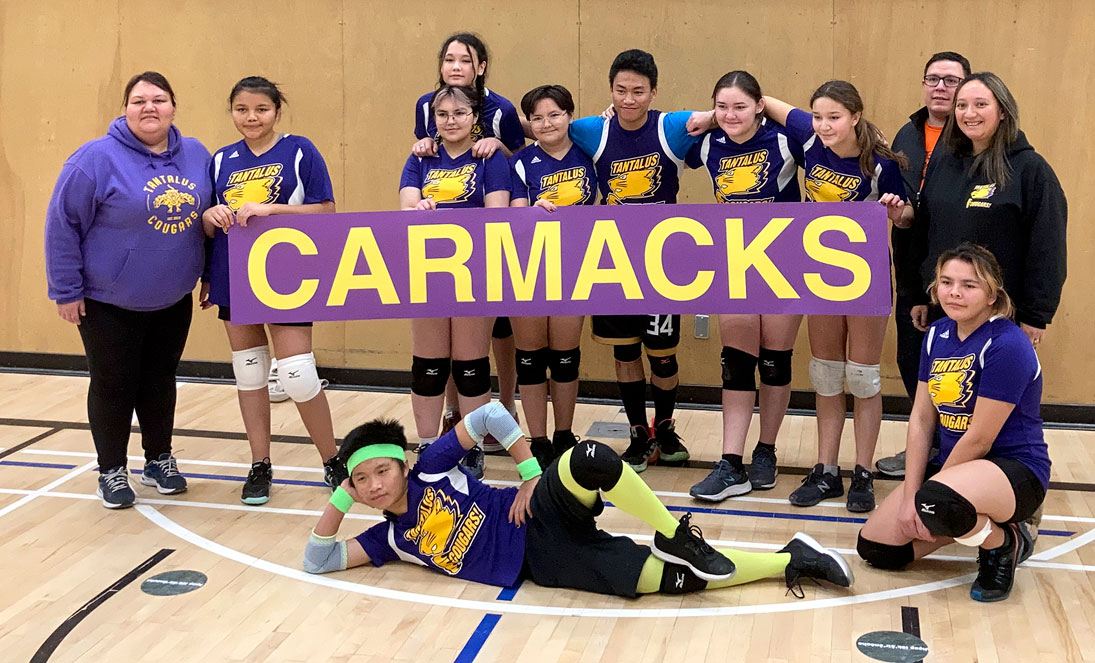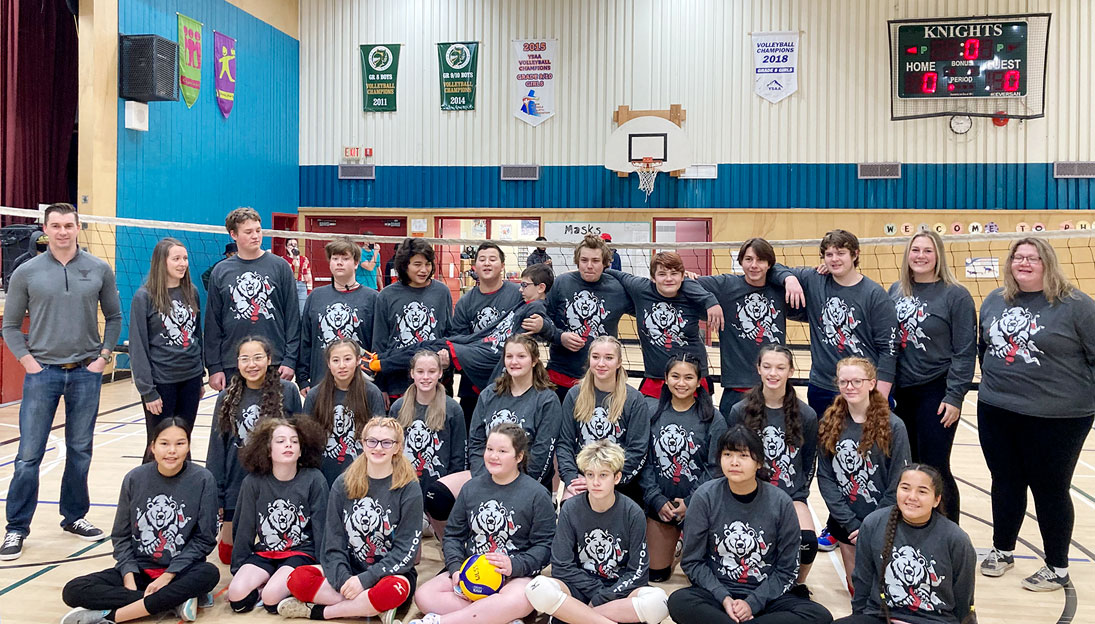 Photo by Photo Submitted
GROUP PIC – Watson Lake sent a large contingent to the DIVT this year.
Volleyball alive and well in rural Yukon
After an absence of over two years, the gym at Robert Service High School was once again filled with the trill of whistles, the booming of spikes, and screams of excitement. DIVT has returned. Rural teams included Watson Lake Secondary School, St. Elias (Haines Junction), Eliza Van Bibber (Pelly), and Tantalus School (Carmacks).
The Dawson Invitational Volleyball tournament (DIVT) has been a highlight of the school volleyball season for 42 years. With COVID-19 canceling the event last year, anticipation was high as teams prepared to travel to Dawson and compete with each other for DIVT bragging rights. Tournament organizer David Rawlings was faced with many challenges in putting the tournament together, including new COVID restrictions, and almost daily changes in registrations. In the end, although high schools from Whitehorse chose not to attend, the tournament went ahead, much to the delight of coaches from rural schools.
Darian Meadows is the volleyball coach from Pelly. He said his team has been looking forward to this since April.
"This year's DIVT tournament is a tremendous opportunity for us to build on the momentum that was started last spring" said Meadows. "Carmacks hosted a rural schools volleyball championships, and the kids were just so excited to keep playing ever since then. They have been practicing hard three times a week."
The Eliza Van Bibber Wolverines' hard work paid off. For the first time in recent memory, the school team recorded a win on the volleyball court.
"Yes, the kids were thrilled with the win," said coach Meadows. "But this tournament means so much more than that. It's an opportunity to develop life skills, like time management, working as a team member, and a measure of independence. For others, it was an opportunity to meet other athletes, and see volleyball at a higher level. It gives them something to work towards. They are already working toward next year. I am so proud of these young men and women."
Also bringing a large contingent to the tournament was Watson Lake High School. Volleyball features prominently in their school culture, and coach Tiffany Picketts said attending this year's DIVT was especially important.
"Our community has been through so much in the last year," said Picketts.
"We were devastated when events were cancelled last year, and we are so grateful to Dawson for hosting this event"
Picketts went on to say that the teams fundraised over $5,000 to be able to attend the tournament.
"The whole community got behind our efforts. They supported our car washes, our carnival day, bottle drives, dinners, etc. They all knew it was really important for us to have this positive experience."
Over 30 students and staff made the long trek from Watson Lake to Dawson.
Other Rural volleyball teams attending were Haines Junction and Carmacks.
Both teams showed a very high level of play, and look forward to competing in the YSAA Schools Championships. The Junction finished second in the Senior Girls category, and Carmacks captured second in Junior Boys.
The host school, Robert Service, won the Senior Girls category, as well as the Junior Boys. They also had four teams entered in a grade 7-8 jamboree. I caught up with tournament organizer, David Rawlings, as he was leaning on a broom during clean up. He had these reflections.
"I'm so glad this tournament happened," said Rawlings. "Not only does it provide a competitive atmosphere for teams to test their skills, it is an opportunity for our staff and students to show what they are capable of pulling off. I am especially proud of our senior students, who were instrumental in ironing out the many details, as well as all the younger students who helped as linesmen and scorekeepers.
"This year, with schools from Whitehorse not attending, the tournament had an all-rural vibe. The moment that defined the tournament for me this year, was when the song YMCA came on the loudspeaker during the warm up. All four teams stopped playing, and broke out into a spontaneous line dance. It was a moment of pure joy."
With reviews like that, we can only hope this tournament lasts another 42 years.
–Submitted by Peter Grundmanis
History of the Dawson Invitational Volleyball Tournament from 2018
The next 40 years of the Dawson Invitational Volleyball Tournament (DIVT) kicks off on Oct. 25 in Dawson City. The DIVT celebrated its 40th anniversary in 2018 with a special mass assembly to honour the years of success and the two teachers who started the whole thing. Roberta Joseph, Tr'ondëk Hwëch'in Chief, thanked all the staff and volunteers, present and past, who have made this event possible every year. "Their ideas continue on today. This is a positive activity that we all get to share together."
"The DVIT has been the Yukon's number one volleyball competition for 40 years," said Wayne Potoroka, mayor of Dawson City. "And a big reason is the out-of-town players and coaches and guests who liven up our streets and our community for the next few days.
"This tournament isn't because the school needs it to happen. It's because good people want it to happen."
From Whitehorse, Peter Grandmanis, long-time coach of the F.H. Collins Warriors, spoke next. "On behalf of the literally thousands of students and coaches that have come through this tournament–sometimes I see them in Tim Hortons, or restaurants and we reminisce and often their favourite memory is of coming to Dawson. They cherish those days that they spent in Dawson."
On behalf of all those people, he presented a plaque to the organizers of this year's event. Destined for the trophy case in the hall, it read: "1979 to 2018: 40 Years. Thanks for the memories."
"Forty years ago, Peter Cassidy and Bob Sutherland came up with this idea to allow rural kids to play competitive ball before they went to the championships in Whitehorse," said Melissa Flynn, vice-principal at Robert Service School. Flynn graduated here in 1998 after playing all through her high school years.
"Bob came up with the idea," said Cassidy, who was teaching in Mayo at that time. "He had students who wanted to go play in the big city."
Cassidy joked that his students and Sutherland's needed to learn which ball was the volleyball and how to set up the nets. Once persuaded to bring his players to Dawson, that was the beginning of the events.
"We were always guaranteed coming to Dawson there would be two things: cold weather (I don't know what's happening this year), and awfully good volleyball."
He noted that it has become a generational thing and that it was fantastic to see people he had known as student players now leading their schools and coaching. Stephanie Cayen, another RSS grad and former player now on staff, noted that those early years had been just rural schools, but after Cassidy moved to Whitehorse, the city schools began to get involved.
"Throughout the years, students from all over the Yukon have participated in and enjoyed DIVT," she said. "And when we began planning the 40th anniversary celebrations, we heard many wonderful stories."
Quite a bit of this material can be viewed or read on the Facebook site: Dawson City RSS Volleyball DIVT 40th.
Flynn called Cassidy and Sutherland to the front of the crowd to present them with some memorial gifts, including a 40th anniversary T-Shirt and an inscription on a memorial plaque to be installed in the gym.It reads "In appreciation, Bob Sutherland and Peter Cassidy. We wish to express our gratitude for creating the Dawson Invitational Volleyball Tournament in 1979, bringing Yukon students together to play competitive volleyball. Over the past decades, DIVT has become a highlight in every volleyball player's year. Thank you for your dedication and advocacy for our communities.