YSAA Teams Set to Crown Supervolley Supremacy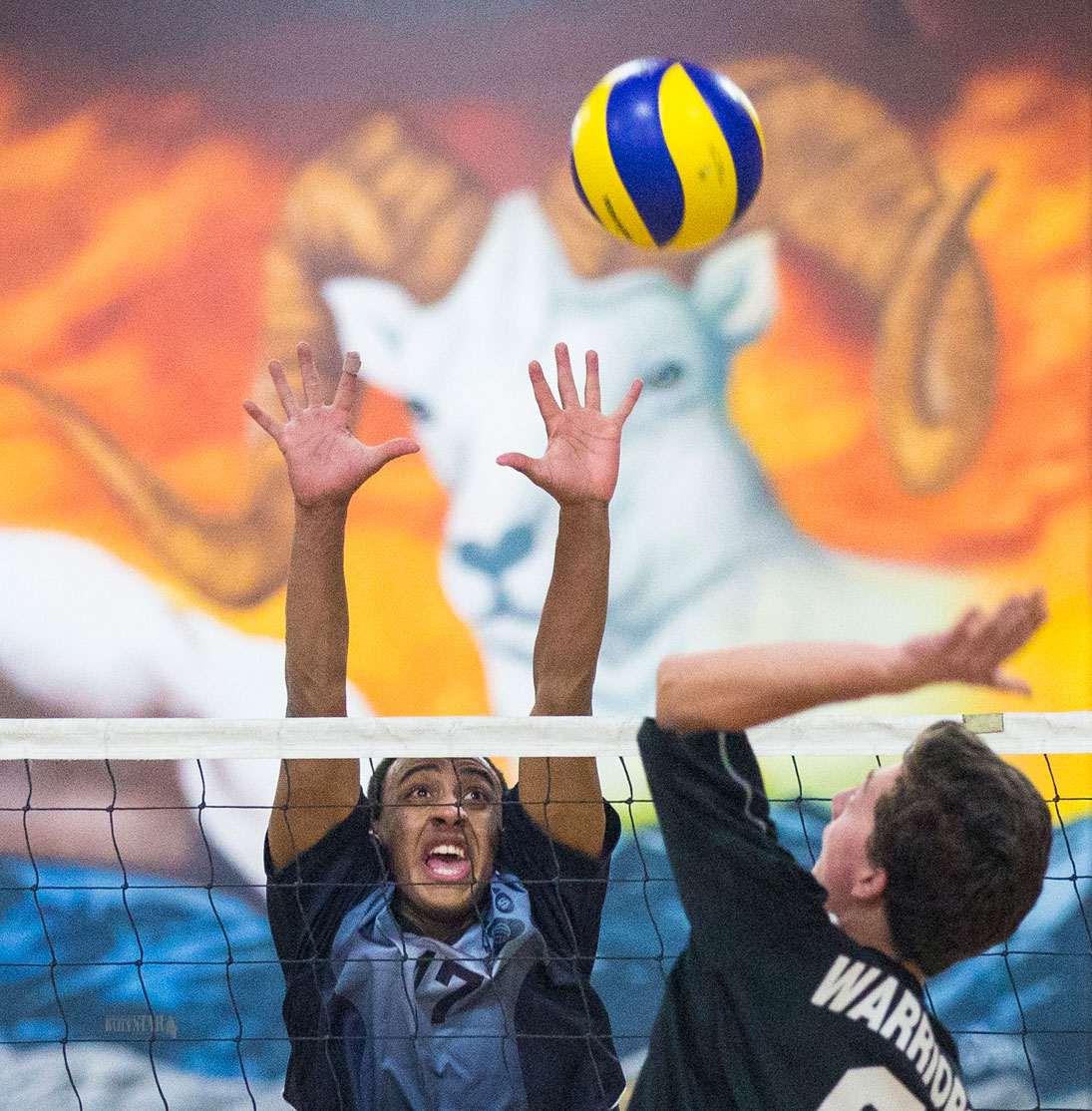 AT THE NET – Vanier Catholic School Crusaders' Jesse McCuaig jumps up to block a kill from an F.H. Collins Warriors player during the boys Supervolley semifinals at Porter Creek Secondary School Thursday night. The Warriors won 3-0 and will face the PCSS Rams at 6:30 (Friday).
Courts set for tonight's Supervolley finals
It will be a battle between F.H. Collins and Porter Creek Secondary Schools for Supervolley supremacy.
It will be a battle between F.H. Collins and Porter Creek Secondary Schools for Supervolley supremacy.
In the semifinals last night at Porter Creek Secondary School (PCSS), the F.H. Collins lady Warriors won 3-1 against the Vanier Catholic School Crusaders to win a berth in tonight's final against PCSS.
With the most wins during regular season round-robin play, PCSS earned a bye into the final.
"Unfortunately for us, it just didn't work out for us," said Vanier coach Bruce Gillard.
In his first season coaching senior girls volleyball, Gillard helped the Crusaders to a silver medal in Dawson last weekend. He has 18 years of coaching experience.
The Crusaders dropped the first set 25-16 before a disappointing 25-4 loss in the second set.
But they came back in the third, fighting to a 25-20 victory to make the game 2-1 for the Warriors.
"They came out really well in the third set. They really stepped it up and took advantage of the other team being a little bit on a streak and on a high and thinking they were going to get that third set easily," said Gillard. "We used that to our advantage and got that third set and fought as hard as we could for the fourth."
But it wasn't enough, as the Warriors took the fourth set 25-20 for the game win.
In his fifth year coaching the lady Warriors, Adam Robinson said they got off to a bit of a slow start to the season.
"We've had our ups and downs, mostly ups. It's been good. The girls are improving. Slowly but surely they're improving."
Robinson wasn't overly impressed with the quality of volleyball in the girls semifinal.
"I don't think that either team played at their potential. I was looking forward to some more exciting volleyball from both sides," he said. "But we did some nice things and Vanier certainly had some nice moments."
He said this season the Warriors have been working on playing as a team instead of as individuals.
"Before we even step on the floor, I want them focused on each other and on volleyball," he said.
The Warriors face the PCSS Rams in the Supervolley finals at 5 p.m. at PCSS tonight. Supervolley is the Whitehorse-area senior volleyball league.
Robinson hopes the girls teams will bring more enthusiasm to the final.
"Win or lose it's nice when both teams are playing really good volleyball," he said. "It's more fun."
On the boys side, the Warriors swept the Crusaders in three straight sets last night to take the remaining berth in the final tonight against the Rams.
Mike Kelly, head coach for the Warriors said that tonight is one of the biggest games of the season.
Since being transferred to F.H. Collins from PCSS, he has been working to encourage strong mental awareness with his team.
"I was looking to see grit, determination, competitiveness," he said. "They had all the tools. They had the passing, the hitting, the setting, but I wanted to see them compete and practise every game. I also wanted to see them play like a unit on the court, not as six individuals, but as a team.
"Every day that I'm with them I feel like they're getting closer and closer."
After the game last night, Kelly told his team to visualize the plays for tonight, to eat and hydrate and get some rest, but most of all, to "Get ready to battle."
"Porter Creek, every time we play them has brought their 'A' game and I'm not expecting anything less," he said.
"They have been ready to compete with us from the first serve to the last point and they're going to be ready to go, so we have to be ready to go."
For the Crusaders, it was a disappointing end to the Supervolley season.
"We just came out dull," said coach Erik Gray. "Cement blocks. Couldn't really move today."
Their strategy of "feeding the beast," a.k.a game MVP Jesse McCuaig almost paid off with a late comeback in the second set, but they ultimately came up short.
"This year we've been knocking on the door. We've been getting better every game minus this one and I think we're hopefully going to come together right at the end," said Gray. "Yukon Champs I'm hoping we just kick the door down."
The Supervolley finals kick off tonight at PCSS at 5 p.m. with the girls game and the boys matchup to follow at 6:30 p.m.