BCSS 2016-2017 Football Championships
2016 DATES: NOV. 19th – DEC. 3rd
BCSS 2016-2017 BOYS' FOOTBALL CHAMPIONSHIPS

AAA
Terry Fox over Notre Dame, 17-14
AA Tier 1
Seaquam over Vernon, 21-0
AA Tier 2
Pitt Meadow over Eric Hamber, 33-14
JV AA
Nanaimo District Islanders over John Barsby, 23-0
JV AAA
Lord Tweedsmuir over Mount Douglas, 17-14
Grade 8
Notre Dame over Vancouver College, 44-6
Coverge by Howard Tsumura
SENIOR VARSITY DOUBLE A FINAL
TERRY FOX  17 NOTRE DAME  14
VANCOUVER — Over the course of a B.C. high school football campaign whose penultimate finish came Saturday night at B.C. Place Stadium with the Subway Bowl senior varsity triple-A championship final, Jeremie Kankolongo and Steven Moretto became this season's transcendent figures, each seemingly with the ability to summon greatness on demand.
And so after Terry Fox running back Kankolongo caught a deflected pass on defence for the No. 1-ranked Ravens and returned it 71 yards for a first-half touchdown, of course Notre Dame quarterback Moretto was going to answer for his No. 2-ranked Jugglers, which he did by scrambling 56 yards for a major.
Yet in a game which sat tied 14-14 for its entire second half, it was a series of rare 11th-hour miscues by the pair which branded the game an instant classic, one hwose tension was finally released when Devin Passaglia, the second cousin of one the greatest kickers the game has ever seen, booted a 29-yard field goal in overtime.
Final score: Terry Fox 17 Notre Dame 14.
"We did a hell of a job on Kankolongo and they did a hell of a job on Moretto," said Notre Dame head coach Richard Scott, whose team was playing in its first top-tiered senior varsity final since winning it all in 1993. "It was exciting and disappointing all at the same time."
Added Terry Fox head coach Martin McDonnell: "They are both such similar players in what they do for their teams, a mirror image of each other in a way. But honestly, I don't know what to say, It was so strange to watch them both fumbling the ball."
Early in the fourth quarter, a Moretto fumble recovered by Kankolongo eventually put the Ravens at fourth-and-goal at the Notre Dame two-yard line, where an epic goal-line stand by the Jugglers kept the game tied 14-14.
Kankolongo later fumbled with about 40 seconds left in the game to put Notre Dame first-and-10 at the Ravens' 20-yard line, however an eventual field-goal attempt fell shy with four seconds remaining to force overtime.
Notre Dame opened with the first series of downs from the 10-yard line, and on its opening snap, Moretto took the ball and seemed to disappear into a sea of Ravens' tacklers. Somewhere in that mass of bodies, he lost the ball, because Terry Fox defensive lineman Adam Tennent emerged with it, setting the stage for Passaglia's heroics.
"Everything was just white noise around me," said Passaglia, whose dad is a cousin of former B.C. Lions' kicker Lui Passaglia, himself a former Notre Dame grad. "This is a beautiful moment."
Notre Dame was hoping to Saturday would finish as well for their school as it had started.
Subway Bowl's five-game slate of title games at B.C. Place had opened with the Jugglers' Grade 8s winning a provincial title for the first time since 2012, when the team consisted of this year's crop of Grade 12s.
"I think we have come a long way," said Scott. "This group set a standard when they were in Grade 8, and now they have become the example for the Grade 8s that won it this year."
Yet Saturday's final was truly one of those games, which if played 100 times, would be split 50-50. That much seemed apparent to all, and thus the winners could only feel thankful.
"All I can say is that the football gods wanted us to win," said Kankolongo, "and once they missed that field goal, I felt like this was our game. We just had belief, man. Right now this is surreal. Crazy. I can't describe the feeling."
SENIOR VARSITY DOUBLE A FINAL
SEAQUAM 35 VERNON 15
VANCOUVER — Jerry Mulliss' coaching career may have come up a year short of joining football's half-century club, but the gridiron gods weren't going to be sticklers about it.
In a send-off that seemed to have been scripted by a higher power, the 70-year-old Mulliss capped a 49-year sideline career by winning his first every title as a coach, guiding North Delta's No. 2-ranked Seaquam Seahawks to a 35-15 win over the No. 1-ranked Vernon Panthers in the 2016 Subway Bowl B.C. senior varsity double-A championship final Saturday night at B.C. Place Stadium.
"I don't really know what to say," said Mulliss, who last spring underwent sextuple bypass heart surgery yet returned to his team in the fall ready to coach. "It hasn't sunk in yet, but it's especially sweet because it's the end of a career."
The Seahawks, led by a blood-thirsty defence and a big-play offence led by its Grade 11 Philpot twins, Jalen and Tyson, and senior Nico Bertuzzi, were a step ahead of the Panthers from the first snap of the ball.
Well, actually, the second.
That's when Jalen Philpot dipped, deked and dashed downfield to the tune of a 48-yard gain, setting in motion both his game-opening one-yard touchdown run and a cascade of Seahawks' points which would put them ahead 21-0 at the half and 28-0 before Vernon's provincial Player of the Year, tight end Ben Hladik, was finally able to get his team on the scoreboard with 33 seconds left in the third quarter after hauling in a 13-yard pass from quarterback Thomas Hyett.
Up until that moment, it was all Seaquam.
Twin brother Tyson, not to be outdone, picked off Vernon quarterback Thomas Hyett at the midfield stripe and returned it to the 25 yard line. With 14 seconds left in the opening quarter, the North Deltans were up 14-0 after quarterback Josh Haydu fired a 16-yard scoring strike to Tyson.
Early in the second quarter, it was yet another big play from the Seahawks.
Linebacker Nico Bertuzzi intercepted a Hyett pass, and this time took it straught to the end zone with a 54-yard sprint down the sideline. Two scores in two minutes and it's 21-0 Seaquam.
"Those guys are fast and when you see it on film you don't realize how fast," said Vernon head coach Sean Smith. "It took us a while to get used to that speed."
"The kids just played an incredible game," added Mulliss. "You could just tell in the dressing before the game that this was going to be our day. I told them 'Don't be denied' because chances like this can come around once in a blue moon. I know that."
Seaquam's second half opened after taking over at the Vernon 32-yard line and not too soon after, Jalen Philpot, the workhorse on the drive, capped things with a one-yard touchdown run and a 28-0 lead.
After the Hladik touchdown, the Seahawks answered with yet another major, this one coming less than two minutes into the fourth quarter. A big gain by Tyson Philpot took the 'Hawks into the red zone and Bertuzzi's second major of the game, from two yard out, put Seaquam ahead 35-7.
Hladik added another touchdown, and the two-point convert from Riley Bos made it 35-15.
Smith added that he was proud to coach against Mulliss in his final game.
"I emailed him a few days ago just to tell him how much I respect him," Smith said. "He's 70, he's had bypass surgery and he's out there coaching kids. If I have to lose to somebody, that is the guy I am going to lose to."
The victory came in an important milestone year for the Seaquam football program, which was celebrating the 10th anniversary of its one-and-only previous title, the double-A Subway Bowl title that it won 10 years ago in 2006.
Senior AA Varsity – Tier 2 Final
PITTS MEADOW 33 ERIC HAMBER 14 
The Pitt Meadows Marauders won their first-ever football championship on Saturday at BC Place, as they downed the Eric Hamber Griffins 33-14 to cap an undefeated season.
Coach Matt Todd said his players were "laser focused" as they arrived at the locker room in Pitt Meadows at 6:40 a.m., and then drove to The Dome.  "It did not take much to get them all ready for the game because they were all so jacked to play in BC Place for a chance to win Pitt Meadows first championship," he said.
There was no score in the first quarter. Hamber tried to establish their ground game, but Todd said outstanding play by the entire defence, led by Brandon Hunt, Haydn Barton, and Tayden Mountford stopped the run.  On offence, Haydn Barton hit Mountford for a huge gain, but it did not end up with a score.  "We were held scoreless in the first frame but we gaining confidence with every play," said Todd.  Mountford took a punt return for a huge gain, giving the Marauder offence great field position to get the first score of the game, with Brandon Hunt running it in.  Barton was next into the end zone, driving it in on quick hitting run.  Hamber responded with their first touchdown of the game, and the score was 13-7 with four minutes left in the half, and there was enough time for the Marauders to score again.  They drove the field with a combination on runs and passes, and a big third down pass from Tato Ferreyro to Barton put them a perfect spot score again before halftime.
"We pounded them with the run, taking time off the clock, and scored with a run solid run by Barton," said Todd.
With 30 seconds to halftime it was 20-7 for Pitt.
Hamber came back with deep passes that put them in position to answer, but a huge knock-down in the end zone by Marauder Matt Mullen ended the half.  The third quarter started with an onside kick by Eric Hamber, but Kevin Purdon was ready for it and had no problem handling the kick.  Pitt's next score came when Barton blocked a punt to create a short field for the offence, and Hunt ran it in.  The defensive line made adjustments and started to dominate the game. Defensive ends, Ferreyro and Angus Mcdonald were sealing the outside, and the Griffins could not run at all.
The score heading into the fourth quarter was 26-14, and the Griffins again tried an onside kick. Purdon was ready and recovered his second onside kick.  In the fourth quarter the Marauder defence game up nothing. Hamber abandoned the run, but the Marauder line was all over the Griffin QB as he tried to pass. Ferreyro, Mcdonald, Gio Manu and Cody Driver brought the heat, which led to a great interception by Brayden Anderson.  BC Secondary Schools Football AssociationPitt's last score came with Ferreyro throwing a strike to Mountford.
"We were a young determined team that came together as one, and improved each week," said Todd. "I am so happy for these boys for all the time they put in and to become Pitt Meadows marauders first-ever football champions."
The Marauders have a bright future. Todd noted the winning roster had just three Grade 12 players, while there were six Grade 9s who played up with the senior team, who could end up playing four years of senior ball.
JUNIOR VARSITY TRIPLE A FINAL

LORD TWEEDSMUIR 17 MT. DOUGLAS 14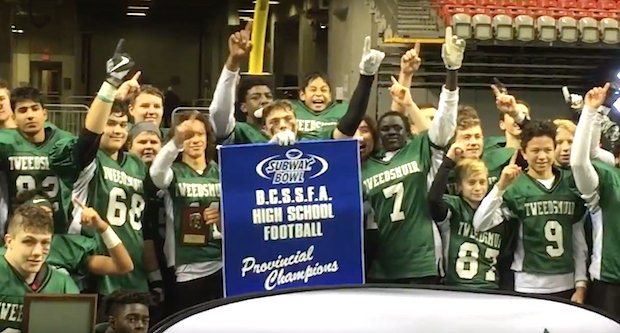 VANCOUVER — The Lord Tweedsmuir Panthers just keep continuing to build for their breakthrough season as a senior varsity Triple-A title contender.
Based on what they'll be getting next season from their junior varsity team, the good times could be coming to Cloverdale quite soon.
The Panthers staved off a determined late surge from Victoria's Mt. Douglas Rams and its gutsy, injured quarterback Gideone Kremler to post a 17-14 victory in the triple-A junior varsity final.
It was the sixth title at either the Grade 8 or junior varsity level since 2005, when the Panthers won the B.C. Double-A junior varsity title.
The Panthers also won Grade 8 titles in 2009, 10, 11 and 14.
But Mt. Douglas made it close Saturday.
Kremler, limping with sore knee, literally hopped around in the pocket and found receiver Conor Way with a 23-yard touchdown pass, pulling themselves within 17-14 with 1:34 remaining after the ensuing two-point covert failed.
The Rams surrendered the ball on the ensuing onside kick attempt and Lord Tweedsmuir took possession at the Mt. Douglas 34-yard line and ran out the clock.
Early in the fourth quarter, the Rams had missed a critical 24-yard field goal attempt.
Over an opening half that produced eight turnovers pretty much split down the middle, Lord Tweedsmuir took a 10-0 lead into the halftime lockers.
Quarterback Trey Jones' 20-yard end zone pass to Jaden Simon was the only major of the opening half, and Surrey's Panthers tacked on a short field goal to make their 10-0 gap after two quarters complete.
Kremler, the star of the school's senior varsity team, had battled a knee in just over the past six weeks, started the game, left with an injury, but returned to the huddle.
The Panthers struck first in the second half, Simon hauling in a 24-yard TD strike from Jones for a 17-0 lead.
The Mt. Douglas Rams ended their offensive drought when Giedone Kremler hit brother Zairech Kremler with a six-yard touchdown pass. Dante carbone came in at pivot for the two-point convert and found Zairech Kremler to make it 17-8.
JUNIOR VARSITY DOUBLE A FINAL
NANAIMO DISTRICT 23 JOHN BARSBY 0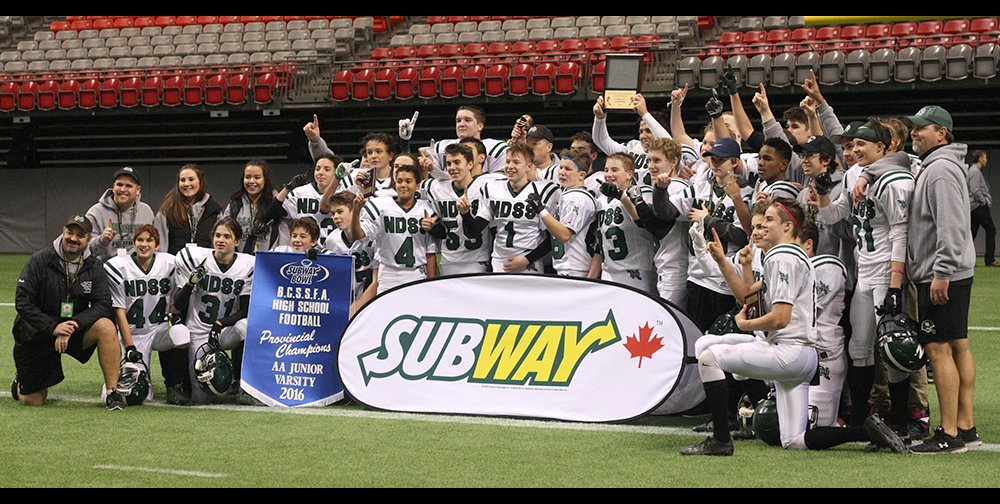 VANCOUVER — The Nanaimo District Islanders won their school's first-ever high school football championship at any age or tier Saturday and they did it in decisive fashion, topping their crosstown rivals, the John Barsby Bulldogs, 23-0.
A distinct lack of offence dominated the proceedings, but things opened up in the fourth quarter when the Isles' Clayton Hennesey scored off a 60-yard pick-six with 2:47 remaining to put the game away for the Islanders.
NDSS' championship game MVP Finn Bradbrooke, after a scoreless third quarter, opened the fourth quarter by capping a patient drive with a four-yard scoring scamper.
Barsby's special teams had a long opening half, giving the Islanders short fields to work with, and on one occasion, NDSS scored the game's first touchdown, capping a drive with a six-yard run by Anthony Comas six minutes before the break.
GRADE 8 CHAMPIONSHIP FINAL
NOTRE DAME 44 VANCOUVER COLLEGE 6
VANCOUVER — The last time the Notre Dame Jugglers won s Subway Bowl Grade 8 B.C. title, back in 2012, those players went on to fashion pretty storied high school careers.
In fact, they are playing in today's senior triple-A championship final against the Terry Fox Ravens.
The Jugglers started what they hope is another championship cycle Saturday with its first Quadra Cup title since 2012, getting four touchdowns from running back Jude Buchanan in a decisive win over the Vancouver College Fighting Irish at B.C. Place Stadium.
The win capped a perfect 9-0 season for Notre Dame.
Buchanan's dominant day began early after he recovered a fumble forced by a Notre Dame sack and took it 52 yards for the game's first score.
Jugglers' quarterback Carmelo Renzullo then threw a 15-yard scoring strike to Johsua Gabriele for a 12-0 lead.
After Gabriele scored 20-yard run for a 19-0 lead, the Jugglers lined up in the wildcat and Buchanan took the direct snap 24 yards into the end zone for a 25-0 lead with 1:06 left on the opening half.
Buchanan added another two touchdowns to open the third quarter, scoring on runs of 15 and then 63 yards for a 38-0 lead.
The Irish finally got on the scoreboard with 3:03 left in the third quarter on a one-yard run by and two-point convert from Jayden Cheong made it 38-8.
Notre Dame got six of those points back with 6:44 left in the game when Renzullo feathered an 11-yard TD strike to Luca Brown in the end zone.
Notre Dame came into the contest with a perfect 8-0 record on the season, including a 4-0 league campaign. Said head coach Joe Garcea of what the day represents to the Notre Dame community: "This was the appetizer. Tonight, we hope, will be the main course."