OFSAA 2018 Gymnastics Festival
Welcome to OFSAA Gymnastics 2018!
Bonjour! Hello! Aanii! Host school École secondaire catholique Champlain welcomes you and your team to the Greater Sudbury Area. Cette année marque le 50e anniversaire de la gymnastique de la FESSO. This year marks the 50th anniversary of OFSAA Girls' Gymnastics. We'll be celebrating in style!
OFSAA 2018 GYMNASTICS FESTIVAL

 

Level 1

Level 2

Level 3

Vault
Ireland Toohey, Holy Names
Abi Allison, Lindsay
Linn Neumaier, Centennial
Bars
Brooke Croke, Horizon
Natasha Gombai, L'Essor
Janelle Lalande, Horizon
Beam
Sophie-Rose Croteau, College Notre-Dame
Megan Beaudry, ChamplainMarissa Prevost, College Notre-Dame
Jessica Chalmers, Sandwich
Floor
Kaitlyn Moncrieff, Centennial
Karine Boucher, College Notre-Dame
Top 3 Teams
Ridley College, CISAA

Centennial, COSSA

College Notre-Dame, NOSSA

L'Essor, SWOSSAA

Centre Hastings ,

COSSA

College Notre-Dame, NOSSA

Cayuga, SOSSA

Ridley College, CISAA

Lakeshore Catholic, SOSSA

 

Level 4

Level 5

Level 6

Vault
Mackenzie Cortes, Manitoulin
Anna Anderson, L'Essor
Holly Lavigne, Brennan
Bars
Katie Tchang, Westlane
Sarah Watson, Greater Fort Erie
Portia-Rain Schatz, Brennan
Beam
Elisabeth Lawton, Lajeunesse
Taylor Thompson, Napanee
Holly Lavigne, Brennan
Floor
Katie Tchang, Westlane
Halley Baker, Confederation
Ema Kralik, Herman
Top 3 Teams
Lajeunesse, SWOSSAA

Marymount, NOSSA

Horizon, NOSSA

Napanee, EOSSAA

Champlain, NOSSA

Greater Fort Erie, SOSSA

F J Brennan, SWOSSAA

Bracebridge & Muskoka Lakes, GBSSA

College Notre Dame, NOSSA

OFSAA 2017 GIRLS' AEROBIC GYMNASTICS FESTIVAL

 

1st
2nd

3rd

Aerobics Novice
Centennial, COSSA
Centre Hastings, COSSA
Lockerby, NOSSA
Open Aerobics
College Notre Dame, NOSSA
Marymount, NOSSA
Lo-Ellen Park, NOSSA
LEVEL 1 – Ridley College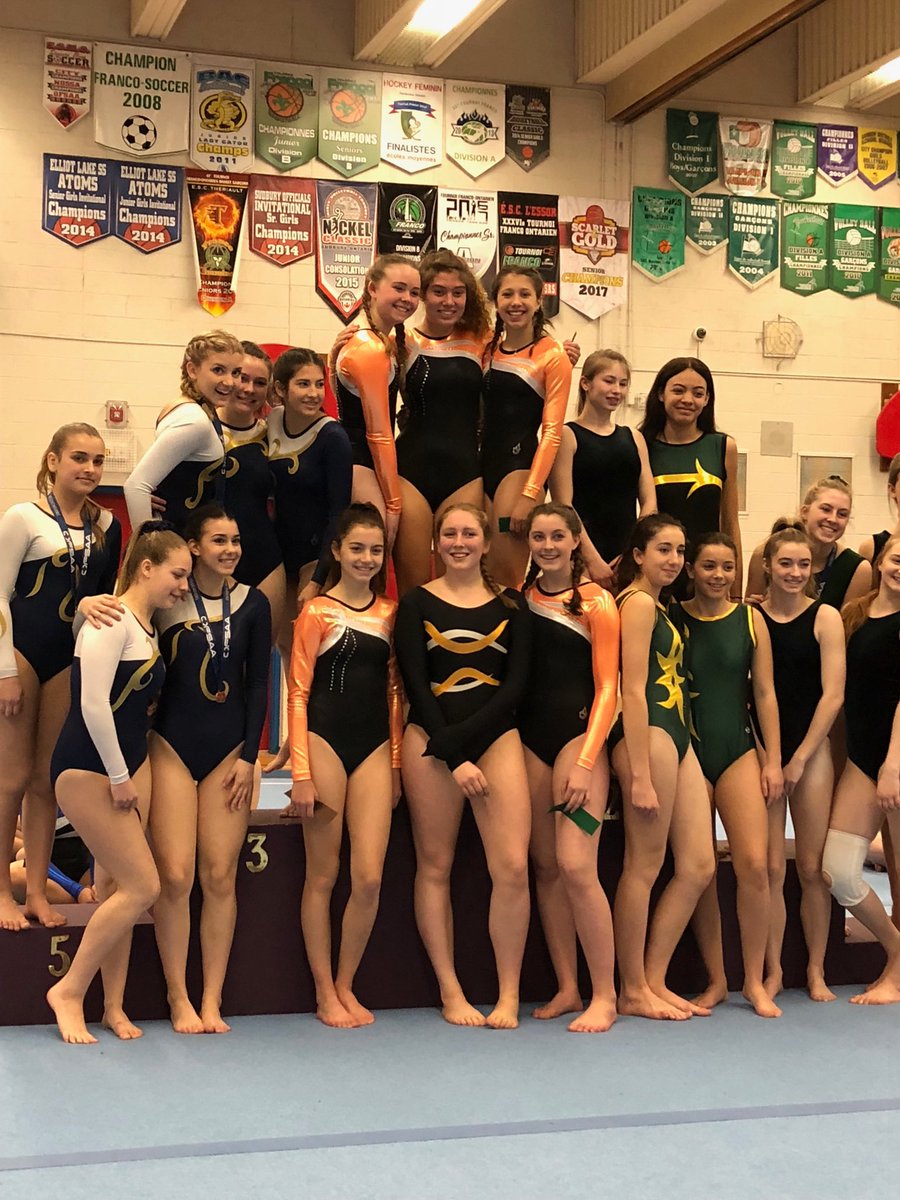 LEVEL 2 -École secondaire catholique l'Essor
Aerobics Novice – Centennial High School
---
Provincial high school gymnastics' future in doubt amidst declining participation
Executive council to decide on future of OFSAA Gymnastics in June
Brenna Duncan of Napanee District Secondary School takes on the vault at the 2018 OFSAA Gymnastics Festival in Sudbury. This year could be the last in the 50-year history of OFSAA Gymnastics. (Benjamin Aubé/CBC)
The best high school gymnasts in Ontario have been meeting to compete annually for five decades, but OFSAA Gymnastics' 50th anniversary year could very well be its last.
The vibrant energy at this week's gymnastics festival in Greater Sudbury was partially muted by the fact OFSAA's executive council will decide this summer whether or not to keep the tournament going in future years amidst declining participation.
Tournament organizers and athletes alike were aware of event's dim future as the two-day festival wrapped up on Tuesday at Sudbury's École secondaire Macdonald-Cartier.
Heather Theijsmeijer is a longtime gymnastics teacher and a member of the event's convening committee.
She said between 220 and 250 young athletes from schools across the province competed this week.
"It's about what we expected, but it's lower than past averages," noted Theijsmeijer. "The sport's been on a slow decline over the past couple of decades. But if there's 225 or 235 girls willing to compete, we'll take 'em."
Angelaya Fulcher of Niagara Falls' Saint Paul Catholic High School was one of between 220 and 250 high school athletes competing at the 2018 OFSAA Gymnastics Festival in Sudbury this week.
Every prominent high school sport features an OFSAA provincial tournament, but the gymnastics event has already been downgraded from "Championship" to "Festival" due to the decline in registration.
Theijsmeijer explained that designation mostly affects tournament funding. But she added it's also a sign of the times for the sport.
"Of course I sit on a side: I would love to see it continue," she said. "I was an OFSAA athlete for five years myself. I've been coaching and helping out for 17 years, so it's bittersweet if this is the last one."
Sudbury-area athletes will be affected
The Northern Ontario Secondary School Athletic Association (NOSSA) had 11 schools competing at this week's festival, coming from Greater Sudbury, Sturgeon Falls and Manitoulin Island. Southwestern Ontario (SWOSSAA) led the way with 12 participating  schools.
If it is the last year for OFSAA Gymnastics, Theijsmeijer vowed it won't be the end for the sport in local high schools. She said NOSSAA already has plans to host its own regional competitions and tournaments.
"But we also have some true high school athletes here, who start gymnastics in Grade 9 or 10 having never done a cartwheel or anything before, so it would be that group of students that will miss out the most if there's no more OFSAA festival or championship," she added.
Bella Matarazzo is a Grade 10 student and gymnast from Sudbury's Lockerby High School. She says OFSAA gives competitive and non-competitive gymnasts alike something to build toward. (Benjamin Aubé/CBC)
Bella Matarazzo, a Grade 10 student at Sudbury's Lockerby Composite School, agreed.
A former club competitor, she explained that OFSAA gives her and her teammates something to aim for.
She added high school gymnastics gives students a chance not only to stay active in a sport they enjoy, but that it also becomes a support system of sorts.
"You don't need any experience to be part of a gymnastics team. I feel like a lot of girls that are coming into high school for the first time, it's a really good team for them to join. It gives them experience and an opportunity to make new friends," said Matarazzo.
OFSAA's manager of sport, Shamus Bourdon, said a decision on the future of provincial high school gymnastics is expected to come in June.