YSAA – 40th Dawson Invitational Volleyball Tournament
40  ANNUAL DAWSON
INVITATIONAL
VOLLEYBALL TOURNAMENT
 RESULTS
SR. GIRLS:    FH COLLINS WARRIORS
SR. BOYS:     VANIER CRUSADERS
JR. GIRLS :    Porter Creek SS  RAMS
JR.  BOYS:      Porter Creek SS  RAMS
BEACH DIVISION:   Porter Creek SS  JR. BOYS
---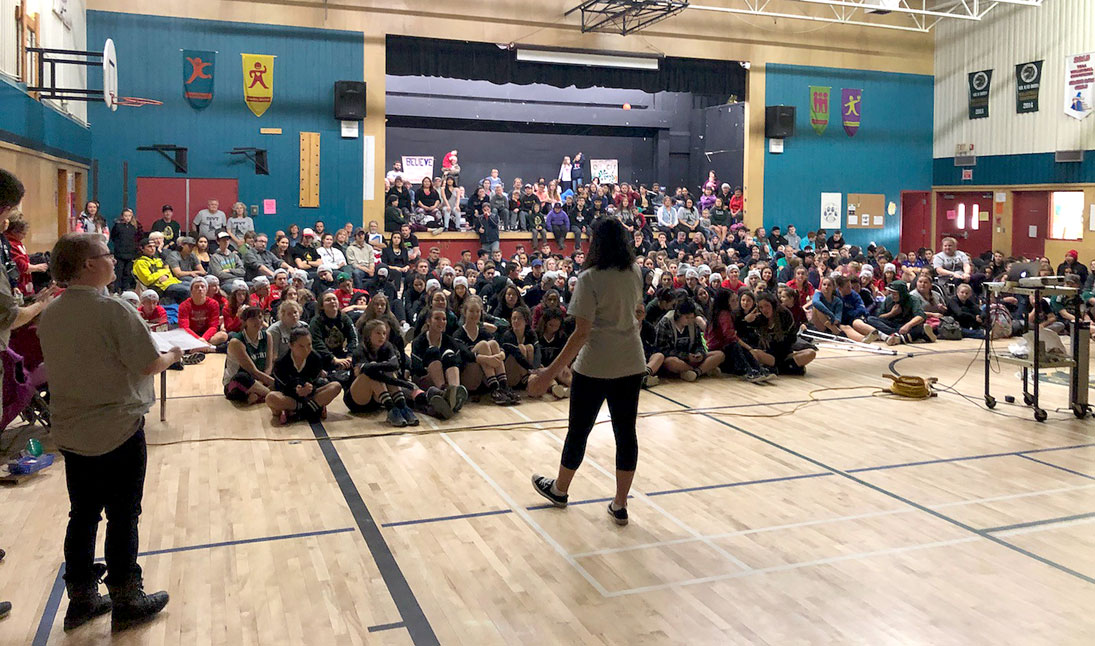 Photo by Photo Submitted
THE OPENING CEREMONIES – Teams from across the Yukon gather in the Robert Service School gym Thursday for the opening ceremonies of the Dawson Invitational Volleyball Tournament. The ceremony took place in the middle of the day after the teams had already played some of their round robin games. Photo by PETER GRUNDMANIS
The 40th annual Dawson Tournament
Another year, another Dawson Invitational Volleyball Tournament (DIVIT) is in the books.
"Hats off to all the staff at Robert Service School for making it such a special event," said Grundmanis. "This truly is a Dawson school event."
Throughout the tournament Dawson had days of sunshine and temperature around 8-degrees. This allowed the tournament to have a unique feature.
"I got to Dawson and it was so nice," said Grundmanis. "So I called some people who hadn't left Whitehorse yet, and told them to bring the beach net. The net allowed the younger kids to play. We probably won't make this a yearly thing, next year it will probably be 30 below. It was a complete anomaly."
Teams from across the Yukon arrived in Dawson last Wednesday in preparation for the games which began early on Thursday morning, going late into the night.
"There is a lot of volleyball played because there is so many games and the school only has two gyms," said Grundmanis. "Everything went according to schedule. The final game Friday was played at 11:15 and we got finished just before midnight. Again that is a testament to the organizers of the tournament."
For some schools in the Yukon, the Dawson tournament gives the players a place to showcase their skills, as the communities often only have one team. Grundmanis thinks that DIVIT will hopefully attract more young people to the sport, and all other sports in their communities.
"For some of these schools to travel to Dawson is a once a season effort because it is so far," said Grundmanis. "We had a combined team from Ross River, Mayo and Faro. As well we had Watson Lake bring up a boys and a girls team.
It was the first time in a long time, they brought a boys team to Dawson.
"We are always looking to attract younger players. What a tournament like Dawson does is build history within the school, so kids will want to live up to that, experience that."
With the gyms consistently packed with fans, Grundmanis says all in attendance were treated to very high levels of volleyball.
"We know what the Whitehorse teams are, as they have competition to compete against," said Grundmanis. "The level of volleyball from the Dawson City and Watson Lake teams was pretty high. Dawson always brings consistent good teams."
Unlike the Supervolley here in Whitehorse which plays best of five sets, DIVIT plays best of three. All in attendance were treated to four championship games, junior and senior boys and girls. The championship games lived up to the billing.
"All the final games were very competitive," said Grundmanis. "The gyms were packed for all the championships, the atmosphere was great."
In the first matches on Sunday, the Porter Creek Rams boys and girls junior teams swept the championships.
The senior girls championship game saw the Porter Creek Rams take on the F.H. Collins Warriors. The Warriors, who had battled the Rams tightly in their regular season Supervolley matches, but never managed to overcome them, finally got that elusive win, taking the tournament with a final score of 2-1.
In the senior boys final, the Vanier Crusaders took to the court opposite the Porter Creek Rams. The Crusaders, who went undefeated in their Supervolley regular season, kept their winning streak alive, taking down the Rams in straight sets winning 2-0, in a "great game" said Grundmanis.
With the Dawson Invitational Volleyball Tournament finished for another year, all the teams involved will turn their attention to the Yukon Volleyball
---
Dawson ready for volleyball tournament
Robert Service School has been spending the last week holding small events leading up to the 40th edition of the Dawson Invitational Volleyball Tournament (DIVT),
DAWSON CITY – Robert Service School has been spending the last week holding small events leading up to the 40th edition of the Dawson Invitational Volleyball Tournament (DIVT), which was started in 1979 by then Social Studies teacher and volleyball coach Bob Sutherland, who has now been retired for several years.
Former player, and now one of two vice-principals at the school. Melissa Flynn, announced it on Facebook with this high energy post:
"The Dawson Invitational Volleyball Tournament was started in 1979 by Bob Sutherland and Peter Cassidy to bring Mayo and Dawson students together to play competitive Volleyball. As years passed more communities got involved and this tournament has become a favourite every year!!!
"We are celebrating the 40th Annual DIVT on October 25th – 27th."
Excited replies came from as far away as South Africa.
As current PE teacher David Rawlings says, "This tournament brings all the communities in the Yukon together with a single goal …to play volleyball."
Beginning on October 17, the school had a series of special days to ramp up the enthusiasm. Twin Day, Glitter/Face Paint Day and Formal Day finished off that week.
This week kicked off with Pyjama Day on Monday, and carried on with Jersey Day and Green and White (the school's colours) Day. Today will also be the day for the afternoon pep rally, where all the RSS teams show off their moves.
Games will start on Thursday at 8 a.m. as quite a few of the teams will have arrived on Wednesday evening. The actual formal opening ceremonies will take place around noon on Thursday.
The rest of the teams – from Faro, Carmacks, Whitehorse, Pelly Crossing, Watson Lake and Ross River – will have arrived by then.
The sport is very popular at RSS, which has two teams of 7/8 girls, one of 7/8 boys, one each of 9/10 girls and boys, one each of 11/12 girls and 11/12 boys.
"It's extremely popular," says teacher/coach Andrew Laviolette, as he supervises some Grade 7/8 players.
"It's sort of a way of life for the students here, particularly in the fall. They eat, sleep and breathe volleyball at the school. This group of 7/8s practices twice a week. They've already been to Whitehorse for the early bird tournament.
"They'd play volleyball every day of the year if they could. The staff can't keep up.
"For teachers," he says, "it's a nice way to connect with the students outside of the classroom."
RSS Alumnus Harmony Hunter (class of 1998) was in town for the Tourism Association of Yukon fall conference, and recalled just that level of excitement from her high school years.
"It was such an amazing team experience, with the best coaching and team spirit. We played hard. We travelled. A trip to Inuvik was memorable.
'The DIVT was one the most favourite of my high school memories. The dance and the pomp and the pep rally was unbelievable. The community came together to cheer us and that was great."
Vice-principal Helen McCullough is too busy now to coach, but she used to, and she remains a teacher chaperone for the Gr. 11/12 boys team.
"I've been at the school for 20 years and have participated in 18 DVITs."
McCullough actually recalls coming to Dawson in 1981 or '82 for these events when she was a student at F.H. Collins in Whitehorse.
"The teams from Whitehorse love coming here, partly because they get to see everyone play."
In the territorial tournament in November the games are spread out among all the different high school gyms. Here, there are nearly always two games going on in the divided gym from 7 or 8 in the morning until nearly midnight.
"All of our kids in high school participate, whether they play or not," she said. "Some run the concession, do flagging, score-keeping, helping to keep the tournament on track."
As well as former players who coach, there are a number of alumni who come out to referee.
The 7/8 teams don't actually get to play in this 9-12 event, so they will have a special set of games on Wednesday evening.
The ancillary room will play host to a buffet dinner on one night and there will be a dance at the Tr'ondëk Hwëch'in Community Hall on Friday night.
Playoffs will be on Saturday and Sunday. The gym is always packed for these events.
Everyone is hoping that this week will not have a recurrence of the icy weather that closed some sections of the Klondike Highway